A broken or cracked phone is a more common problem than you'd think. Once the outer screen is damaged, the phone's memory is at risk and a user can end up losing significant amounts of data. Recovering or extracting data from the phone should always be your first priority in such a situation. After all, instead of spending much money in broken phone repair, searching for tips on recovering data from the broken Samsung phone is quite economical.
Use media recovery software for broken Samsung - Broken Android Data Extraction to rescue and restore data from broken Samsung Galaxy S8/S7/S6/S5/Note 7/6/5/4 can help you save a lot of money and time for repairing it. With this program, you can:
* Hassle freely to access screen-broken Android device without USB debugging.
* Easily recover and backup photos, videos, contacts, SMS, etc. from broken Samsung device and save to PC.
* Fix problematic Android device with black, broken, dead screen, and even restore system of a damaged Android.
More Similar Guides:
Recover Text Messages from Android with Black Screen
The Broken Samsung Media Extraction is easy to use and a blessing for all Android users. Just follow the steps in the below to effortlessly recover your media files like photos, videos and music files from a broken Samsung Galaxy S/Note.
How to Recover Photos/Videos/Music from Broken Samsung Galaxy?
Step 1. Launch the broken Samsung data extraction software
Launch the program after downloading and installing it. Then, choose the option "Broken Android Phone Data Extraction" from the left side of the program screen and use a USB cable to connect your broken Samsung to the computer.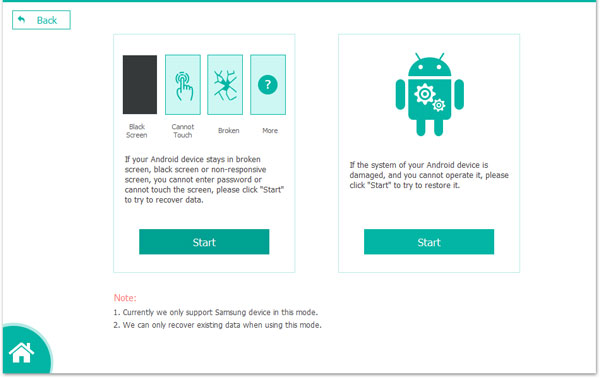 Step 2. Confirm name and model of your Samsung phone
Select the fixing mode and click "Start". Then choose the name and model number of your Galaxy and click "Confirm". If you are not sure about the information of your phone, you can click question mark the program will show you how to find the information.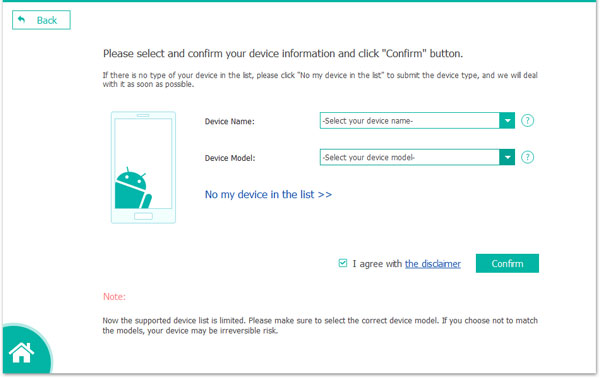 Step 3. Put your broken Samsung into download mode
Follow the onscreen prompts to put your broken Samsung in Download mode. After that, the program will detect the phone and scan out data on it instantly.
Step 4. Start to recover media files broken Samsung
All the recoverable files on your Samsung phone will be scanned out in categories, such as text messages, contacts, videos, photos, etc. Select the media files you want to get back and click "Recover" button to save them on your PC.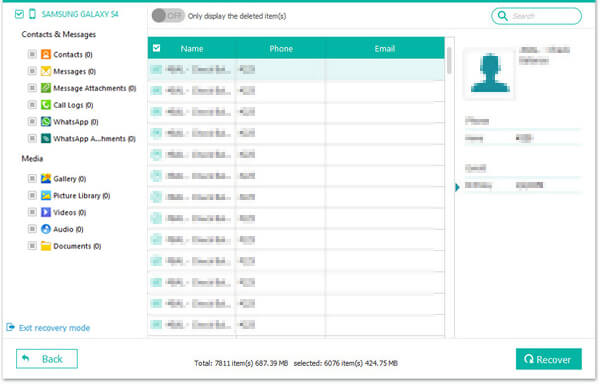 Broken phones do not seem that daunting anymore, do they?
Check Supported Devices of Broken Android Data Extraction
Samsung Galaxy Note:
Note 3: SM-N900, SM-N9002, SM-N9005, SM-N9006, SM-N9007, SM-N9008 SM-N9008V, SM-N900S
Note 4: SM-N9100, SM-N9106W, SM-N9108V, SM-N9109W, SM-N910C, SM-N910F, SM-N910G, SM-N910H, SM-N910K, SM-N910L, SM-N910P, SM-N910R4, SM-N910S, SM-N910T, SM-N910U, SM-N910V, SM-N910W8
Note 5: SM-N920C, SM-N920G, SM-N920I, SM-N920K, SM-N920L, SM-N920P, SM-N920R4, SM-N920S, SM-N920T, SM-N920W8
Samsung Galaxy S:
S4: GT-I9500, GT-I9505, SCH-R970, SCH-R970C, SGH-I337M, SGH-M919, SPH-L720
S5: SM-G900F, SM-G900FQ, SM-G900I, SM-G900K, SM-G900L, SM-G900M, SM-G900P, SM-G900R4, SM-G900R6, SM-G900S, SM-G900T, SM-G900T1, SM-G900W8
S6: SM-G9200, SM-G920F, SM-G920P, SM-G920T, SM-G925F, SM-G925P, SM-G925T, SM-G928P, SM-G928T
Samsung Galaxy Tab:
Tab Pro 10.1: SM-T525
Related Articles: