What cases can cause a black screen problem on Android devices?
Finding the cause of the Android device with black screen problems is not always easy. However, there are some common causes that may be considered first. Here's a few that users and developers alike may share when discussing their experience. First of al, because the screen on the phone has a inverter board (back light), it is just like that of a desktop or laptop computer. Meaning if the back light is broken or is faulty, the user will not see any image at all because the display will only show a black screen. Another common problem is when the user drops their android device in water or some other type of liquid. When these problems occur, the circulatory components can malfunction and cause the screen to become black.
Read Similar Guides: How to Recover Android Data After Factory Resettings?
It is not the most terrible thing to have your Android device stuck on black screen, the most concern is how to get back data from this damaged Android device. Just like the topic says - how to recover text messages from an Android phone with black screen? First of all, you need to find methods used to solve the black screen problem. Fortunately, there are many different things the user can do to resolve it including:
- Pulling out the battery while it is still on to do a soft reset.
- Removing any third party applications.
- Doing a hard reset by removing everything including the operating system and its applications to start all over again.
How to Recover Lost/Deleted SMS from Android Phone with Black Screen?
After you rescue your Android phone out of from the black screen problem, the next thing you should do is picking out a reliable program to help you recover deleted or lost text messages from the Android phone. Broken Android Data Extraction has been designed with a number of different recovery capabilities including recovering lost or deleted files, such as contacts, text messages, pictures, videos, music, documents and more from the phones external and internal SD cards in Android phone. Therefore, recovering data does not have to be a problem of concern that causes unnecessary issues for the user. This application is also great for many reasons since consumers can rely on it to be quick, reliable and easy to use so that no one has to experience unnecessary problems with this process.
You may also want to know: How to Recover Deleted SMS from Samsung Galaxy?
Step 1. Get ready with the broken Samsung data extraction software
Download, install and launch the Broken Android Data Extraction software. Then, select "Broken Android Phone Data Extraction" from the left panel. Then, use a USB cable to connect your Android phone with black screen to the computer.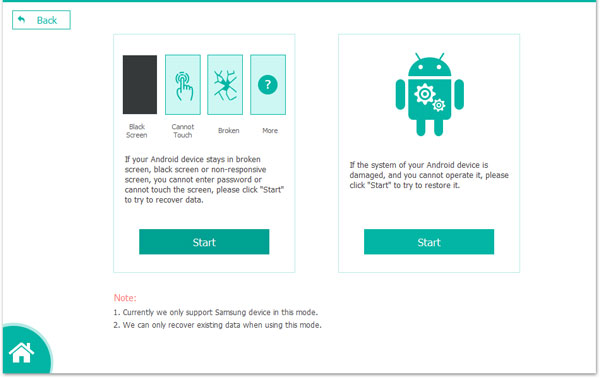 Step 2. Select and confirm device info
Select the fixing mode and click "Start". Then choose the name and model number of your Android device and click "Confirm". If you are not sure about the information of your phone, you can click question mark the program will show you how to find the information.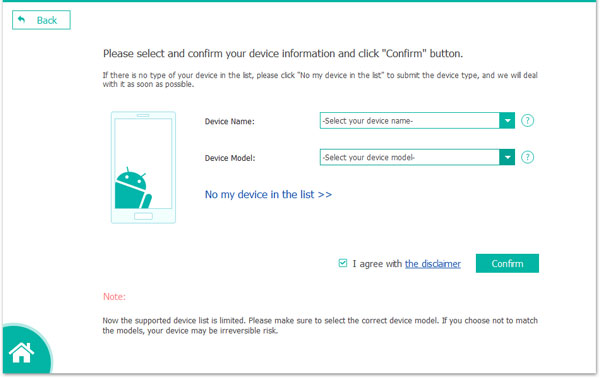 Step 3. Enter Download Mode and get it fixed
You will be asked to put your Android device into Download Mode. Just follow the onscreen prompts to put your black screen Android in Download mode. After that, the program will detect the phone and scan out data on it instantly.
Step 4. Restore WhatsApp chats from broken Samsung
When the scanning is complete, please tick off the "Messages" category and click "Recover" button to save them on your PC. You can select a place on your computer to store those recovered files.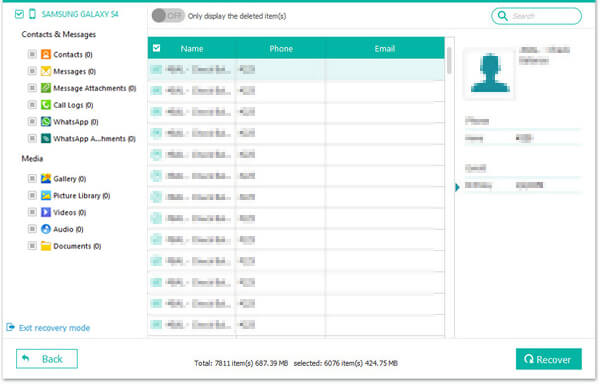 Check Supported Devices of Broken Android Data Extraction
Samsung Galaxy Note:
Note 3: SM-N900, SM-N9002, SM-N9005, SM-N9006, SM-N9007, SM-N9008 SM-N9008V, SM-N900S
Note 4: SM-N9100, SM-N9106W, SM-N9108V, SM-N9109W, SM-N910C, SM-N910F, SM-N910G, SM-N910H, SM-N910K, SM-N910L, SM-N910P, SM-N910R4, SM-N910S, SM-N910T, SM-N910U, SM-N910V, SM-N910W8
Note 5: SM-N920C, SM-N920G, SM-N920I, SM-N920K, SM-N920L, SM-N920P, SM-N920R4, SM-N920S, SM-N920T, SM-N920W8
Samsung Galaxy S:
S4: GT-I9500, GT-I9505, SCH-R970, SCH-R970C, SGH-I337M, SGH-M919, SPH-L720
S5: SM-G900F, SM-G900FQ, SM-G900I, SM-G900K, SM-G900L, SM-G900M, SM-G900P, SM-G900R4, SM-G900R6, SM-G900S, SM-G900T, SM-G900T1, SM-G900W8
S6: SM-G9200, SM-G920F, SM-G920P, SM-G920T, SM-G925F, SM-G925P, SM-G925T, SM-G928P, SM-G928T
Samsung Galaxy Tab:
Tab Pro 10.1: SM-T525
Related Articles:
Samsung Galaxy Desktop Manager Software