It is not uncommon for people to carry their Samsung mobile phones in their pockets. The safest place sometimes seems like the best place to carry it. However, if you forget that you have placed your phone in the same pocket as your loose change, keys, odds are great that you may drop the phone by mistake when removing one or more of the items. Or, you may simply sit on it. That's just one of the reasons that cause Samsung phone's screen broken. The thing that matter most is how to restore important data, such as WhatsApp chats from the broken Samsung.
With a high success rate, Broken Android Data Extraction is standing up for its powerful function in recovering lost data from damaged Android devices with broken, black and non-responsive screen. It also supports to fix Android device stuck in starting loop, download mode and FoneGo interface. You can extract all types of data including contacts, messages, WhatsApp data, call logs, social media data, gallery and documents. Keep a backup of Android data safely on your computer.
More Similar Guides:
Recover Text Messages from Android with Black Screen
Models like the Samsung Galaxy S8/S8 Edge/S7/S6/S5 and Galaxy Note series are compatible with the Broken Android Data Extraction software. Just follow the steps in the below to effortlessly recover your WhatsApp chats from a broken Samsung Galaxy S/Note.
How to Retrieve WhatsApp Data from Broken Galaxy S8/S7/S6?
Step 1. Get ready with the broken Samsung data extraction software
Download, install and launch the Broken Android Data Extraction software. Then, select "Broken Android Phone Data Extraction" from the left panel. Then, use a USB cable to connect your broken Samsung to the computer.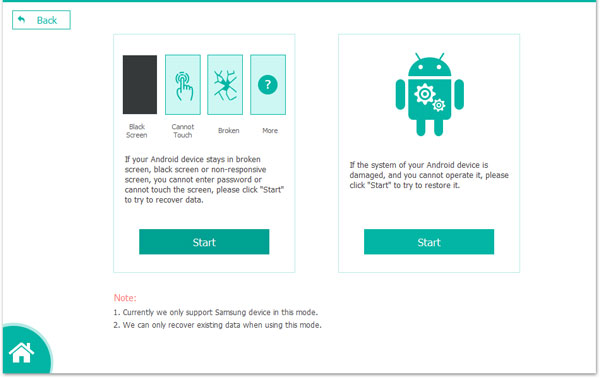 Step 2. Select and confirm device info
Select the fixing mode and click "Start". Then choose the name and model number of your Galaxy and click "Confirm". If you are not sure about the information of your phone, you can click question mark the program will show you how to find the information.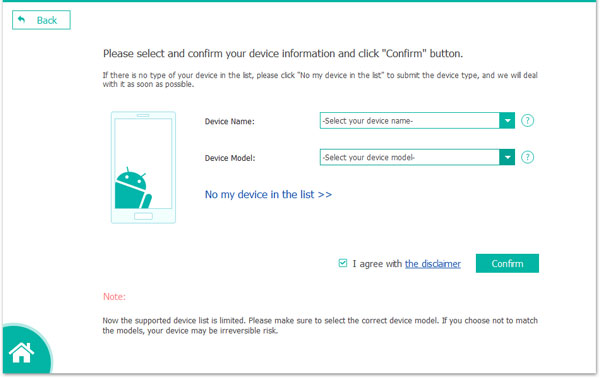 Step 3. Enter Download Mode and get it fixed
You will be asked to put your Samsung device into Download Mode. Just follow the onscreen prompts to put your broken Samsung in Download mode. After that, the program will detect the phone and scan out data on it instantly.
Step 4. Restore WhatsApp chats from broken Samsung
When the scanning is complete, please tick off the "WhatsApp" category and click "Recover" button to save them on your PC. You can select a place on your computer to store those recovered files.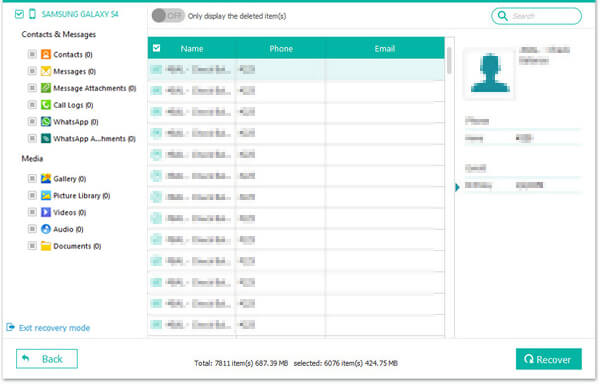 Here you go. You can easily get your WhatsApp data back from your broken Samsung phone without a hitch.
Check Supported Devices of Broken Android Data Extraction
Samsung Galaxy Note:
Note 3: SM-N900, SM-N9002, SM-N9005, SM-N9006, SM-N9007, SM-N9008 SM-N9008V, SM-N900S
Note 4: SM-N9100, SM-N9106W, SM-N9108V, SM-N9109W, SM-N910C, SM-N910F, SM-N910G, SM-N910H, SM-N910K, SM-N910L, SM-N910P, SM-N910R4, SM-N910S, SM-N910T, SM-N910U, SM-N910V, SM-N910W8
Note 5: SM-N920C, SM-N920G, SM-N920I, SM-N920K, SM-N920L, SM-N920P, SM-N920R4, SM-N920S, SM-N920T, SM-N920W8
Samsung Galaxy S:
S4: GT-I9500, GT-I9505, SCH-R970, SCH-R970C, SGH-I337M, SGH-M919, SPH-L720
S5: SM-G900F, SM-G900FQ, SM-G900I, SM-G900K, SM-G900L, SM-G900M, SM-G900P, SM-G900R4, SM-G900R6, SM-G900S, SM-G900T, SM-G900T1, SM-G900W8
S6: SM-G9200, SM-G920F, SM-G920P, SM-G920T, SM-G925F, SM-G925P, SM-G925T, SM-G928P, SM-G928T
Samsung Galaxy Tab:
Tab Pro 10.1: SM-T525
Related Articles:
Samsung Desktop Manager Software