How to Transfer Everything from BlackBerry to A New iPhone?
I'm planning to buy an iPhone 5S after trading in for BlackBerry Z10. I've used Z10 for about a month and have a lot of data on it. I have my contacts, notes, many many bookmarks and several calendar notes and appointments. Can I export this data and then import it into iPhone 5S, may be through iTunes or any other software? Any help is appreciated.
So you just can not escape being attracted by the BlackBerry's advertisements in the streets and made up your mind to give the newest platform a try. However, you are disappointed in it very soon and pass your affection to the shiny new iPhone 5S or iPhone 5C. Well, we can't censure that you are such kind of person who loves the new and loathes the old, after all, iPhone is regarded as the best smart phone all over the world and the latest iOS 7 brings users a lot of excellent features to make iPhone's performance more attractive. For those people who are ready to switch from a BlackBerry phone to a new iPhone, there is a problem need to be considered: how to transfer important data from BlackBerry to iPhone?
With the BlackBerry to iPhone Transfer at hand, you are no longer afraid of losing all important data on the BlackBerry phone. You can use the phone to phone transfer to transfer everything on your BlackBerry mobile phone, including contacts, SMS messages, apps, call logs, videos, music, photos and more to iPhone 5S/5C/5/4S/4/3GS. The following step by step guide will show you how to move all files from BlackBerry phone to iPhone by using BlackBerry to iPhone Transfer. With only 3 steps, you can get everything important on your BlackBerry phone transferred to the new iPhone without any quality loss.
In the very beginning, you need to free download the BlackBerry to iPhone Transfer tool to get ready.
Approach to Copy Data/Files from BlackBerry Phone to iPhone 5S/5C/4S?
Preparation: Backup BlackBerry to computer
First of all, install BlackBerry Desktop Software and launch it on your computer. Connect your BlackBerry phone to the same computer's USB ports via a USB cable and click "Backup Now" option to backup your BlackBerry device on your computer.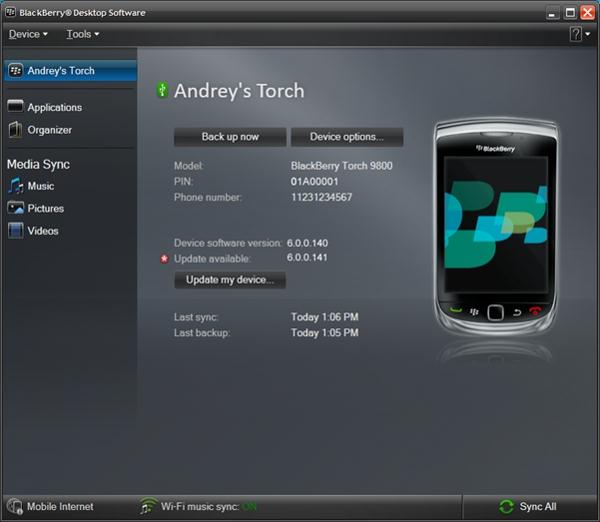 Step 1. Launch the BlackBerry to iPhone Transfer Tool
Firstly, install the transfer software on your computer, run it and you will see its primary interface like below picture. Select Restore from Backups and click the "Start" button to go to the next step.
Note: Please make sure you have installed iTunes on your computer.
Step 2: Connect iPhone and BlackBerry to the PC
Connect your iPhone with the computer using USB cables. The BlackBerry to iPhone Transfer will detect the phone and the BB's backup file automatically and show them side by side.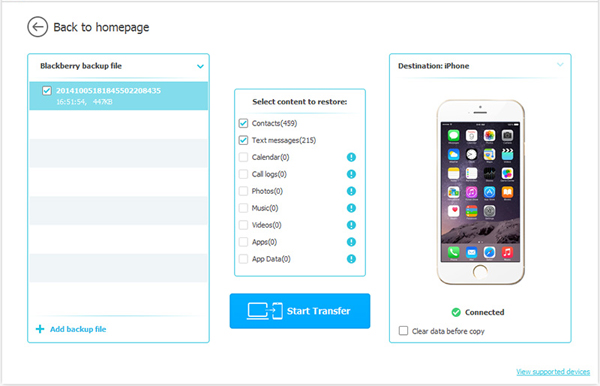 Step 3. Start to Copy data from BlackBerry to iPhone
All the files transferable on your BlackBerry phone are displayed here. Choose the ones you want to transfer to iPhone by ticking the checkboxes in front of them. Press "Start Transfer" to begin transferring selected files from your BlackBerry to iPhone.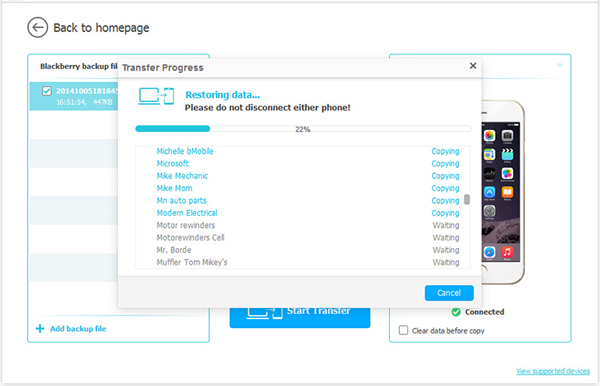 Make sure the two phone are well connected to the computer during the transferring process. Ok, that's all about how to transfer data from BlackBerry phone to iPhone. Click to download it and have a try right now!
Related Articles:
Transfer Contacts between LG and Samsung