When you get a new phone, you will want to quickly get all your important files from your old phone. So forget about the old-fashioned Bluetooth transfer or the drag & drop way using a computer; there are many cell phone cloning software/apps that bring you an easier and faster transferring experience.
Below, you will learn the 7 best phone cloning software and apps. These tools enable you to transfer files from one device to another with minimal hassle and high speeds.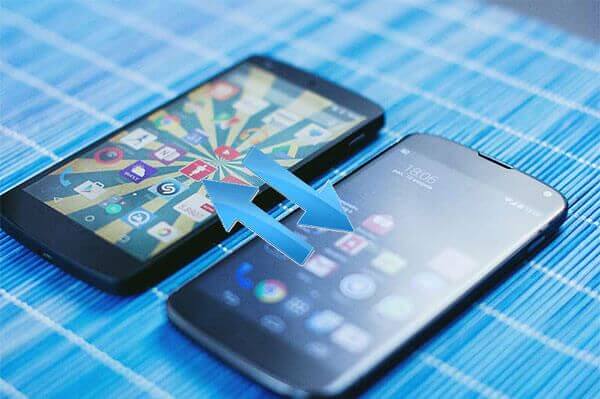 1. Coolmuster Mobile Transfer
2. MOBILedit
3. CLONEit
4. Phone Transfer
5. Phone Clone from Huawei
6. SHAREit
7. Xender
1. Coolmuster Mobile Transfer
Coolmuster Mobile Transfer is one of the best phone cloning software that allows you to transfer files from Android to Android, iOS to iOS, or between Android and iOS.
Highlights of Coolmuster Mobile Transfer:
Transfer data between two phones even if they are running different operating systems.
Supports various data types, including contacts, call logs, SMS, photos, music, documents, videos, apps.
Compatible with the latest iOS and Android.
Two connection modes for Android: Wi-Fi & USB.
Move files smoothly without consuming mobile data.
Pros:
Interactive user interface that allows beginners to handle the data transfer without trouble.
Supports substantial mobile devices.
Offers flexible connection methods for Android users.
Cons:
The free version has limited functions.
Phone cloning software free download:
How to transfer data from Android to Android using Android cloning software:
Step 1: Connect two Android devices to the computer using a USB cable. Follow the on-screen prompts to let the computer detect your devices.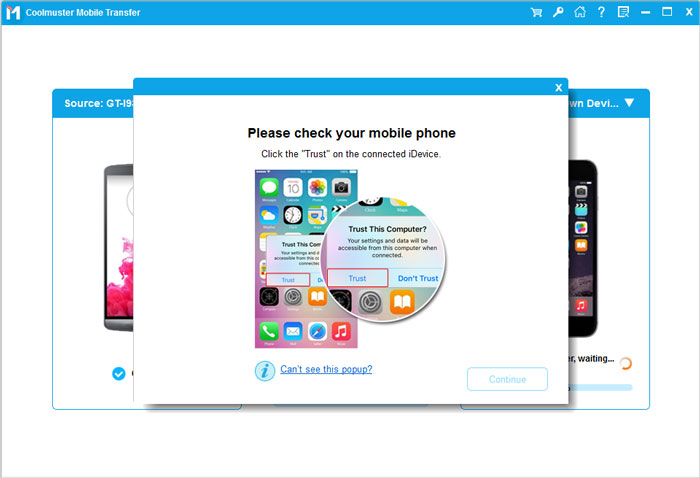 Step 2: Once connected, make sure your two devices are in the correct positions. If not, you can click the Flip button to make a switch.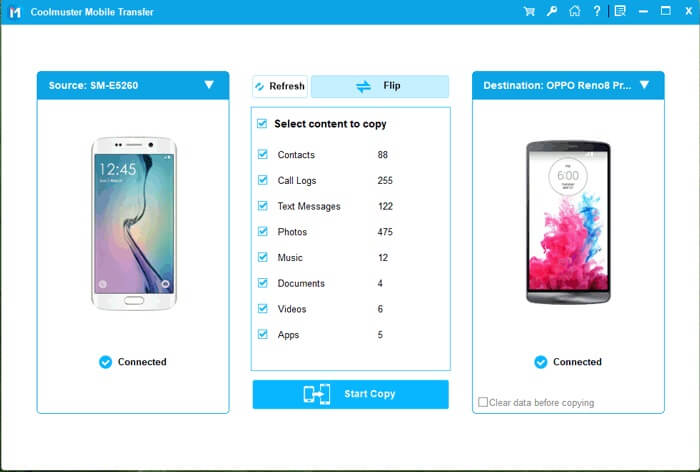 Step 3: Select the data you want to transfer, then hit the Start Copy button to transfer files from one Android to another.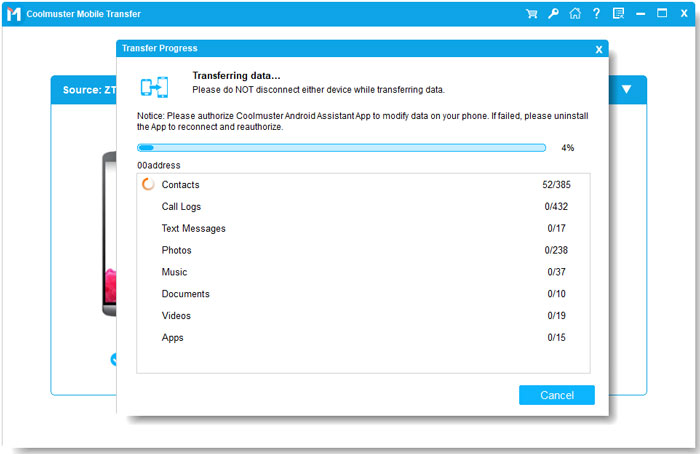 You may like:
How to Clone an Android Phone to Another?
How to Clone an iPhone 12/11/XR/XS/X/8 Easily?
2. MOBILedit
Phone Copier Express from MOBILedit is another professional cell phone cloning software used to transfer phone data. It offers a reliable solution to migrate important files from the old phone to the new one with a few clicks on your computer.
Highlights of MOBILedit:
Transfer data between two mobile phones.
Supports cross-platform transfer.
It can detect your mobile phone model quickly.
Works on iOS, Android, Windows phone, Symbian.
Supports most file types, such as contacts, SMS, calendars, photos, music, etc.
Pros:
It is compatible with many phone operating systems.
Cons:
The setup process is a bit complex and the instructions are not clear enough.
It requires you to activate only the destination phone to use. If you activate the wrong one, you will need to buy a new license again.
Download link: https://www.mobiledit.com/phone-copier-express
Learn more: Smoothly Restore Backup to New iPhone | Practical Ways and Restoring Fixes
3. CLONEit
CLONEit is a phone cloning app you can use to copy up to 12 types of data from old phone to new phone easily. It uses a Wi-Fi hotspot to do the transfer, which doesn't need to consume your cellular data.
Main features of CLONEit:
Transfer apps, contacts, SMS, MMS, call logs, pictures, videos, music, etc.
The data transfer rate is 20 Mbps, which is 200 times faster than Bluetooth.
It also comes with some additional features, including uninstalling apps, cleaning phone storage space, etc.
It is offline transfer, so you don't need to worry about data leaks.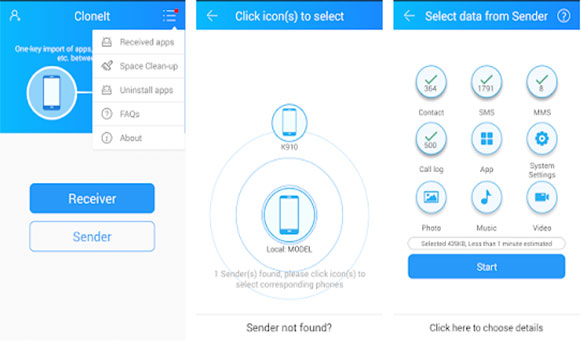 Pros:
It's free to use.
The interface is so simple that any novice can use it.
Cons:
Some users reported that the cloning process would stop for no reason.
Sometimes it takes a lot of time to detect devices; even they are next to each other.
Contains ads.
Download it from the Google Play Store >>
4. Phone Transfer
Phone Transfer is an easy-to-use phone cloning software for Android and iOS. Just simply connect your two devices to a PC, select the data type you want to transfer, and this program will get the job done quickly.
Main features of Phone Transfer:
1-click to transfer all the contacts, photos, or other media files from one phone to another.
Transfer files between two iOS devices, two Android devices, as well as iOS and Android.
Supports many media files, including music, playlist, movies, podcasts, iTunes U, ringtones, audiobooks, etc.
Compatible with the latest Android and iOS systems.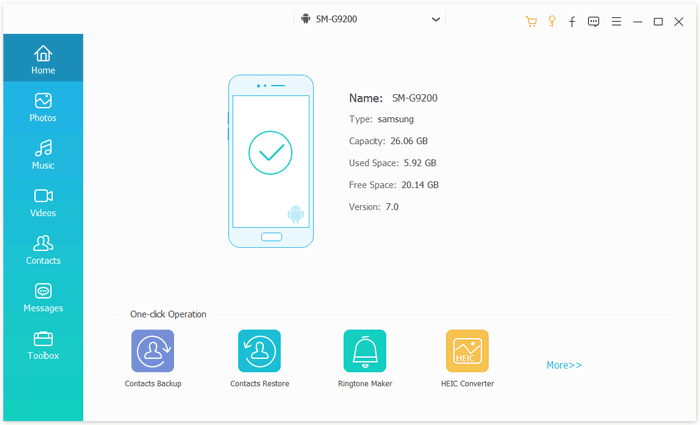 Pros:
The 1-click transfer process is smooth and quick.
Supports a lot of media files.
The connection is simple.
Cons:
It lacks the support for SMS and call logs.
Mobile cloning software free download:
5. Phone Clone from Huawei
If your new phone is Huawei, then Phone Clone is your solid choice to transmit data from your old phone to new phone. Developed by Huawei, Phone Clone aims to help users quickly transfer files from an Android/iOS device to Huawei via a WLAN hotspot.
Main features of Phone Clone:
Transfer your important files from Android or iOS phone to HUAWEI wirelessly.
Supports contacts, photos, messages, call logs, apps, etc.
Move files at speeds of up to 8 GB per minute.
The connection is private and encrypted.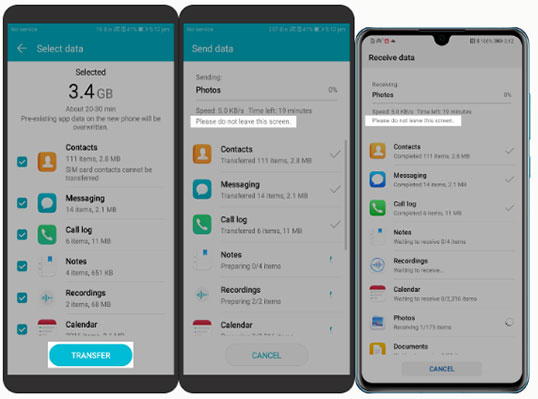 Pros:
No need to use a data cable or network connection.
The transfer speed is fast.
Cons:
The receiving device has to be Huawei.
Download it from here >>
Further reading: Phone Clone Troubleshooting: How to Fix if Phone Clone Not Working
6. SHAREit
SHAREit is one of the best phone cloning apps for transferring data from one device to another. It is available on many platforms, including Android, iOS, PC and Mac. So besides phone to phone transfer, SHAREit also enables you to transfer files between phone and computer.
Main features of SHAREit:
Share files between Android, iOS, Windows, and macOS.
File sharing speeds can go up to 20 megabytes per second.
Transfer files without any file size limits.
It also comes with extra features, including video and music playback, galleries of GIFs and wallpapers, etc.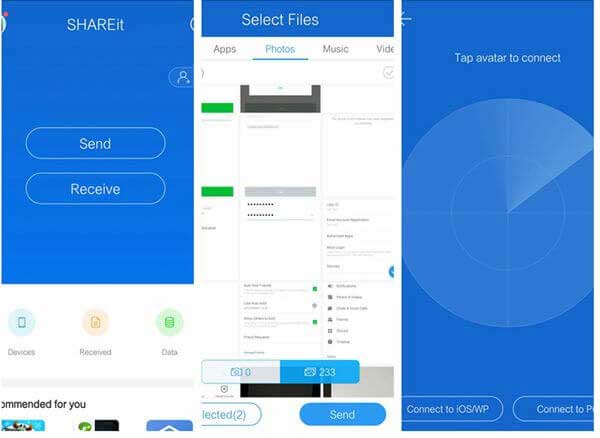 Pros:
It is completely free to use on Android.
It supports most devices.
The transfer is speedy.
Cons:
The interface is very cluttered.
The setup is not so straightforward.
It contains plenty of ads.
Download it from the Google Play Store>>
You may like: SHAREit Review: Features, Security, Pros, Cons & Alternative
7. Xender
Xender is also a good option to share your files between devices. It is not just a cell phone clone app since it widely supports Android, iOS, Windows, Mac and Tizen. You can do the cross-platform transfer in a quick and free way.
Main features of Xender:
Send files between two devices using the Wi-Fi direct technology.
It supports music, videos, photos, and many other files.
The highest speed can reach 40 Mb/s.
Some extra features including file manager, videos downloader, video to audio converter, etc.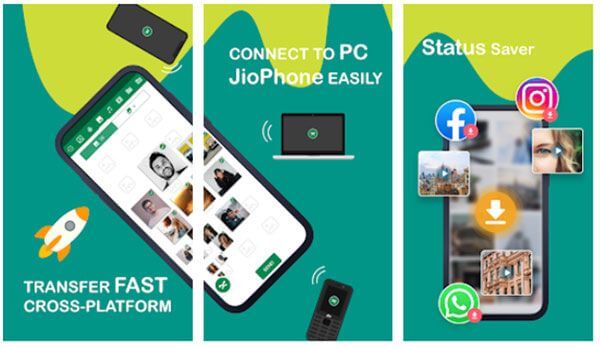 Pros:
It is easy to work and very efficient.
High-speed data transfer.
Cons:
Sometimes there are error messages when connecting.
The process of receiving a file is a bit complicated.
Download it from the Google Play Store >>
Conclusion
If you don't want to use a computer, you can opt for a cloning app. It enables you to share files between devices without a cable, a PC, or a network connection. Most of them are free to use, but they may have plenty of annoying ads.
If you have a computer around, we recommend you try phone cloning software. Usually, it is more stable and seldom gives error messages as a cloning app does. And the interface is more intuitive and simpler, without any odd extra features. Besides, some clone device software, like Coolmuster Mobile Transfer, also allow you to transfer data wirelessly.
Related Articles:
Top 10 Android to Android Data Transfer Apps
Best Phone Transfer Software for Android & iOS in 2023
A Full Guide to Huawei Data Transfer: 7 Surprising Huawei Transfer Tools You May Not Know
Efficient 9 Ways to Transfer Data from Android to Android
How to Transfer Apps from Android to Android in 6 Ways