Top 3 Phone Cloning Software of 2018
Summary: Wondering what the best phone cloning software of 2018 are? Don't worry - we can help you choose the right one. Here we list 3 popular cell phone cloning software for your choice. You can read and pick out your favorite one.
Many wonder about the need to clone their phones. But in this day and age, the reasons to clone your phone are more than one. The purchase of a new phone is the primary reason. If you have bought a new phone in the past and tried to copy the contacts and other files from the old phone to the new one, then you know how painstakingly hard the process is!
But now, with the help of third party software, the process that once hard became an easy one. That's why we wrote this article to introduce some of the popular phone cloning software in 2018 for your reference.
Top 1: Coolmuster Mobile Transfer
Top 1: Coolmuster Mobile Transfer
The top 1 on our list is Coolmuster Mobile Transfer (Mac Version), which is specially designed for mobile device users to transfer data, including contacts, SMS, photos, videos, music, apps, etc. from one phone to another. Apart from phone transferring ability, it also enables you to backup phone data on computer to be secure with no data loss even if your phone fails on you and restore the backup record to any phone with one click. The software can be installed on both Windows and Mac. Also, it supports not only Android to Android transfer, but also can do Android and iOS sync.
Read More:
Top 5 Android Backup & Restore Software
Top 5 Android Photo Recovery Software
After getting to know about the powerful functions of this cell phone cloning software, you can then follow the steps in the below to see how to use it to transfer content from one phone to another.
1. Download, install and launch the Mobile Transfer program on your computer. Choose "Phone to Phone Transfer" mode from the primary interface and click the button of "Next" to go to the next window.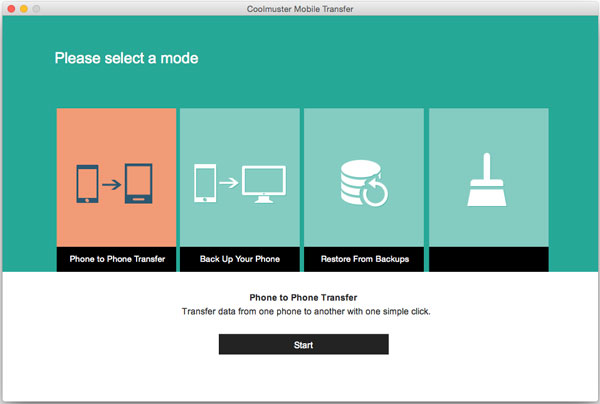 2. Connect your two phones with the computer using two USB cables. Then, Mobile Transfer detects the two phones and show them on the screen side by side. All transferable file types are displayed here, including Contacts, SMS, Photos, Videos, Music, Apps, etc.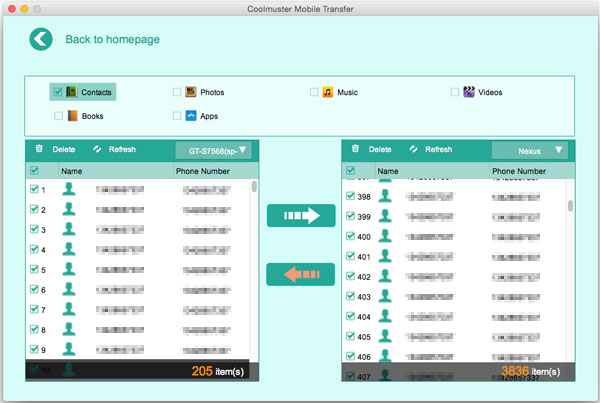 3. Preview and select the files that need to be transferred by ticking them off. Then, click the transferring icon in the middle to kick off the phone cloning process.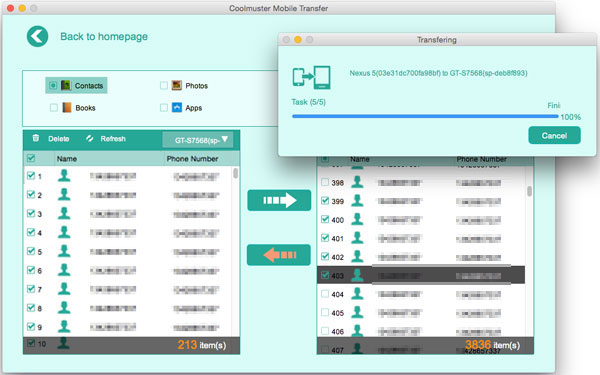 Top 2: Dr.Fone Switch
The second software on our list is bundled software Dr.Fone Switch that comes with many useful features to help your phone in the areas of recovery, backup, and cloning. A dr.fone switch is a cloning software that comes as a part of a toolkit. The software works on both Windows and Mac so you won't have any issues based on the ecosystem you use. The software also supports data sharing, such as photos, text messages, contacts, notes, and many other file types between Android, iOS, and Windows.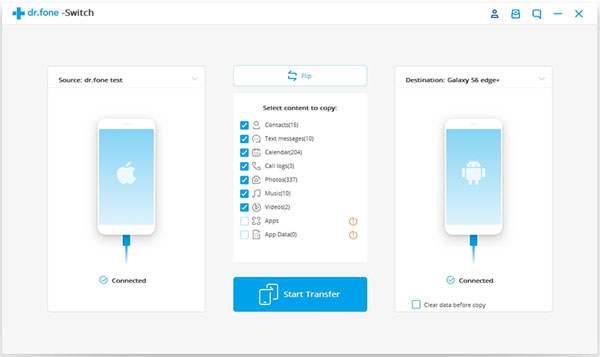 Top 3: Phone Clone by Huawei
This software comes directly from the phone manufacturer Huawei. This doesn't mean that the software only supports Huawei phones. You can easily get your phones cloned with this software and that too wirelessly! The app is downloadable at Play Store and iTunes. This app supports iPhone - Android and Android - Android cloning abilities. The reason this app ranks third is that it does not use a PC in between to facilitate the transfer. You may think the elimination of the third entity is a good thing, but it is not! Having a PC in between gives a safe and risk-free transfer of your phone's data.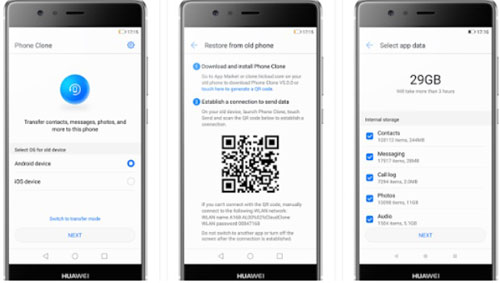 Conclusion: Get the One You Need
Our list concludes here with the three best phone cloning software currently on the market. If you have bought a new phone and need to transfer data between your old device and new, you now have the list of the perfect cloning software to choose from. However, we feel that Coolmuster Mobile Transfer is the best of the three because:
1. It's simple to use and really easy to ensure that you never lose out on data and information or memories that really matter to you.
2. For mobile phone cloning, Mobile Transfer is almost identical in functions to Dr.Fone Switch but has a more intuitive setup and interface.
3. Mobile Transfer has competitive price for its full version - $34.95, and Dr.Fone Switch is 39.95.
Related Articles:
How to Transfer Contacts from One iPhone to Another