"As others have mentioned, at some point, iPhone defaulted to saving photos to HEIC. We take photos with iPhone and back them up with Google Photos, which we pay monthly for the full resolution photos. Does this mean all the photos we have been taking for the last year are in a lower HEIC resolution, and even converted to JPEG for viewing on the computer cannot solve it? Also, is there any way to convert all those photos to JPEG at once? we can't open them anywhere except Google Photos and our iPhone without converting them."
- Excerpted from Google Photos Help
What is the difference between HEIC V.S. JPEG? Is HEIC format better than JPEG? Most people are familiar with the standard JPEG format but know little about a HEIC file, let alone the difference between the two. Stop getting puzzled! After reading this article, you will figure out the differences between them and adopt the format that suits you best.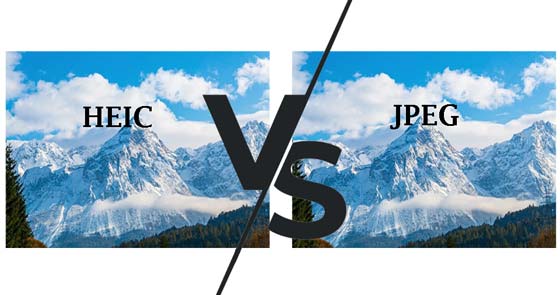 Part 1. HEIC V.S. JPEG: Features
Part 2. HEIC V.S. JPG: File Size
Part 3. HEIF V.S. JPEG: Image Quality
Part 4. JPG V.S. HEIC: Compatibility
Part 5. JPEG V.S. HEIC: Pros & Cons
Part 6. How to Convert HEIC to JPEG
Bonus Tips: How to Take JPEG photos instead of HEIC on an iPhone?
Part 1. HEIC V.S. JPEG: Features
HEIC, the acronym for High-Efficiency Image Container, is a modern photo format that keeps multiple images in one file, like live photos, burst-photo shots, and animation sequences. It is first introduced in iOS 11 and macOS High Sierra in 2017 and has been widely used in all iOS devices since then. You can modify the HEIC images, change the layers, and crop and rotate them without storing them again.
Meanwhile, JPEG is the traditional image format extensively applied to graphic design, digital photography, etc. It has been used since the early 1990s, and nearly all applications can open JPEG photos. With the usage of the JPEG compression algorithm, you can minimize the image size and accelerate the loading time of the picture.
Part 2. HEIC V.S. JPG: File Size
As HEIC uses the HEVC (High-Efficiency Video Container) or h.265 video compression to encode pictures, the photos captured and stored with HEIC format only take up half of the size of a JPG file. That is to say, a 2 MB of JPEG file only occupies 1MB space if saved as a HEIC file, which allows you to save twice the number of pictures on iPhone and is also why Apple creates HEIC formats in iOS devices.

Part 3. HEIF V.S. JPEG: Image Quality
Both HEIC and JPEG do a lot of compressions to produce small-size pictures. But HEIC has better image quality compared with JPEG in these aspects:
Improved shadow details, highlights, and mid-tones.
Wide dynamic range.
Detailed information.
Transparency.
16-bit colors (compared with 8-bit colors of JPEG).
Lossless edits.
Bonus: Are HEIC and HEIF the Same?
Then, are HEIC and HEIF the same? HEIF means the High-Efficiency Image File Format, which stored images in smaller sizes but keeps the high-definition image quality. It can capture all the extended dynamic ranges offered by the camera's 10- or 12-bit color output.
HEIC is a variant of HEIF that Apple chooses for naming the file format and shares similar features as HEIF. Actually, Apple does not create HEIC. Instead, it is created by the MPEG group, which also creates AAC and other popular codecs.
Part 4. JPG V.S. HEIC: Compatibility
There is no denying that JPG is a more widely compatible image format than HEIC that works with all smartphones, computers, and browsers without any limit. Users can freely open and view the JPG pictures on all Mac, Windows, Android, and iPhone versions as they want.
While HEIC only works with iPhone 7 and macOS High Sierra and later running iOS 11 and up, and does not support Windows PC and Android devices. Therefore, you have to convert HEIC to JPG before opening them on Windows and Android devices.
Part 5. JPEG V.S. HEIC: Pros & Cons
Is HEIC format better than JPEG? Below are the advantages and disadvantages of HEIC V.S. JPEG on iPhone:
HEIC or HEIF:
Pros:
Non-destructive image editing.
Occupy half of the file size than JEPG but maintain the same photo quality.
Support up to 16-bit color range.
Support live photos, image animation, etc.
Cons:
Incompatible with Windows PC, Android devices, Google Chrome, and most web browsers.
Not work with some social platforms, like Instagram, Facebook, etc.
Non-open-source, and Apple proprietary only.
JPG or JPEG:
Pros:
Adjust the compression degree and photo quality.
Widely compatible with all Windows PC, Macs, Android, iOS devices, and browsers.
High-quality photos.
Cons:
Take up double storage space than a HEIC file.
The JEPG output is not always progressive.
Part 6. How to Convert HEIC to JPEG
By now, HEIC images are not compatible with Windows PC, Android, and most web browsers. As a result, you have to convert HEIC to JPEG before viewing and opening them on non-Apple platforms. Coolmuster HEIC Converter is a powerful tool that enables you to convert unlimited HEIC to JPG/PNG simultaneously on Windows without any restrictions.
Besides, you can even adjust the image quality and preserve the Exif data before or during conversion.
Let's see how to convert HEIC to JPEG in one click.
1. Install the HEIC converter on your computer.
Install and open the program on your computer. Please connect your iDevice to the computer if you want to convert HEIC images from your iOS devices directly.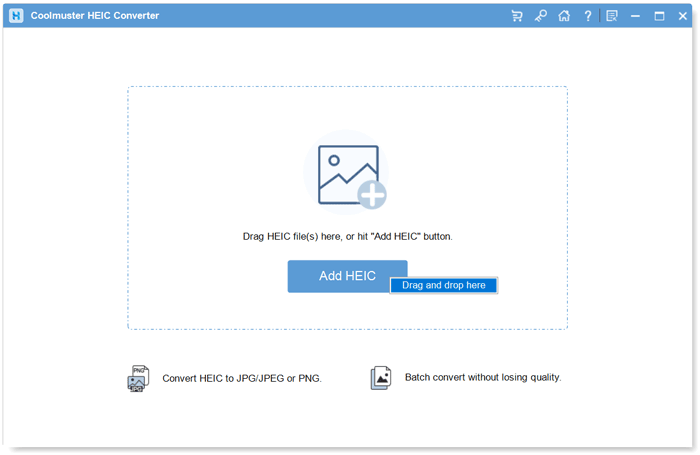 2. Add HEIC photos to the program.
Tap the Add HEIC button on the initial interface, or drag the HEIC files to the window and tap Drag and drop here. To add HEIC files from your iDevice, go to This PC\Device Name\Internal Storage\DCIM and drag the HEIC pictures to the interface. Once added, you will see all the HEIC images on the interface.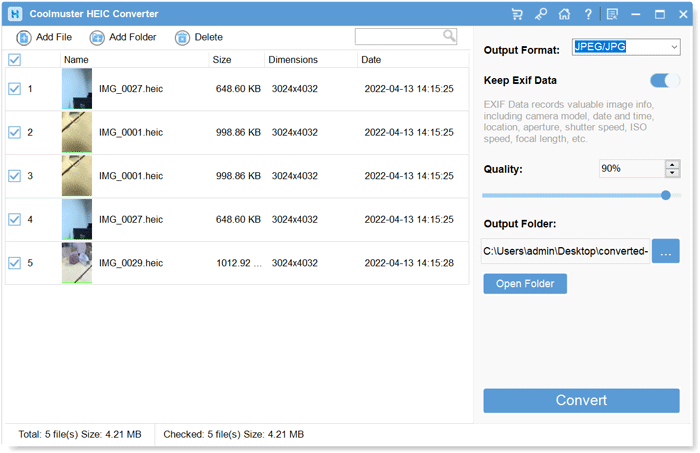 3. Convert multiple HEIC images at the same time.
In the right window, set the output format as the JPG/JPEG, define a storage location, and click the Convert button to start the conversion process. If needed, you can check the Keep Exif Data option. Once done, tap the Open folder button to preview the converted images on the PC.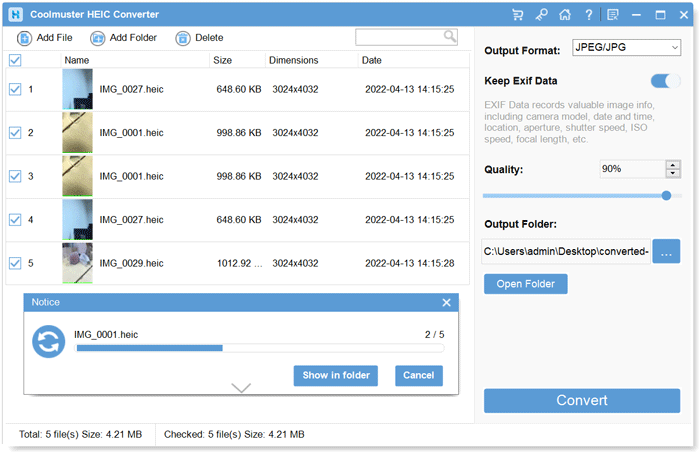 Further reading: 11 Best HEIC to JPG Converters on Windows and Mac
Bonus Tips: How to Take JPEG photos instead of HEIC on an iPhone?
Apple offers two options for you to take new photos - HEIC or JPEG. What to do to stop your iPhone from taking HEIC photos automatically? Well, you can try the following steps.
Open the iPhone's Settings > Camera > Formats.
Tap the Most Compatible option. Later, all the newly-shot photos will be in JPEG instead of HEIC.
Conclusion
By the end of the article, you may distinguish HEIC V.S. JPEG. Although JPEG is a more widely compatible image format, HEIC is still popular among iOS users for its small size and high quality. As for which format is best for you, you can consider it according to your demands.
If you adopt HEIC finally, you can convert HEIC to JPEG with the Coolmuster HEIC Converter software introduced in Part 6. If you have any queries while using, please leave a comment below.
Related Articles:
5 Ways to Batch Convert HEIC to JPG in 2023
A Complete Guide on iMazing HEIC Converter Review & Its 7 Alternatives
How to Convert HEIC to PNG Online or Offline? (6 Simple Methods)
How to Compress Photos on iPhone? 4 Ways to Reduce Photo Size
How to View iPhone Photos on PC? 4 Easy Ways
iCloud vs. iTunes Backup: What's the Difference between Them? (Full Guide)