Apple released iPhone 6s with new features of 3D Touch which caused a heat discussion on this force touch. The different generation Apple iPhone give us a brand new experience and change the direction of mobile phone market. The new iPhone will actually be fresh and unique especially on press function. According to the dependent sources, the 3D Touch is the next generation of Multi-Touch. It's reported that it is the first time that iPhone 6s senses how much pressure you apply to the display. Apart from Multi-Touch gestures such as Tap, Swipe, and Pinch, 3D Touch introduces peek and pop.
With 3D Touch new features, iPhone 6s provides a different experience for Apple users and for whom looking forward to having a try with iPhone 6s. This function will let your iPhone responds with subtle taps so that you can see and feel what a press can do. Many users are confused with the Peek and Pop, here I am going to introduce for you. Peek and Pop enables you to preview all the content and you can even act on it directly without opening it in advance. To be specific, you can Peek at each emails in your email folder with a light pressing and if you want to check details, you can just press a bit harder then you can see emails with details.
A Big Step or Tasteless Feature?
The majority of people believe that 3D touch can do much more with new iPhone 6s, it is esay to handle and display. As a matter of fact, the effect of the screen will change with your finger's pressing. If you press lightly, then your iPhone 6s will appear blur. On the contrary, if you press deeply, the "pop" interface will come up and you can switch fast among apps. By using this operating method, you can find what you want in rapid speed. In other words, all the operations on your iPhone 6s will become more quickly and directly.
According to USA Today, 3D Touch make a big step on the road of saving time and building a more intelligent life. You are likely to use 3D Touch when you are taking a photo through a camera feature which will be turned on by Live Photo. It will become alive within a second. From my point of view, this feature is one of the big highlights of the new iPhone 6s series which rank the second generation of Force Touch technology as I mentioned above, so that we have the reason to expected this developed technology will be much more attractive and practiced.
And on the conference stage, Apple's senior vice president let other users to try pressing lightly to read a simple text message and close it, which shows us the powerful and sensitive new feature of iPhone 6s series.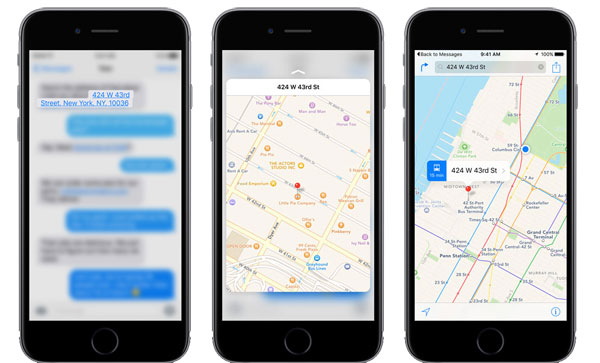 However, 3D Touch on iPhone 6s still can not satisfy some Apple users who think highly of iPhone 6s. Some people are afraid that 3D Touch will never let you know the location of the hidden menu. And some applications are not support this 3D Touch function, which makes you need to find the hidden things all the time. This problem may lead to a tendency of users giving up trying this powerful touching function.
Although it can adapt to the interface when you are press the screen hardly and makes you possible to open apps without going back to the main interface, this new feature is not enough to appeal millions of iPhone 6 users to update to iPhone 6s or iPhone 6s Plus. Some Apple fans are still keep looking forward to the released of iPhone 7.
Related Articles:
Tutorial on How to Recover Lost Photos from iPhone