Everyone knows that a mobile phone is the best camera you have. We snap photos to capture all sorts of memories that might otherwise be forgotten. However, sometimes life gets busy, and we accidentally delete precious pictures from our phones without realizing it. So, how to recover deleted photos from iPhone?
If you accidentally deleted some important photos, do not worry – there is still hope! This article will discuss several methods that will let you recover your deleted pictures from your iPhone with ease.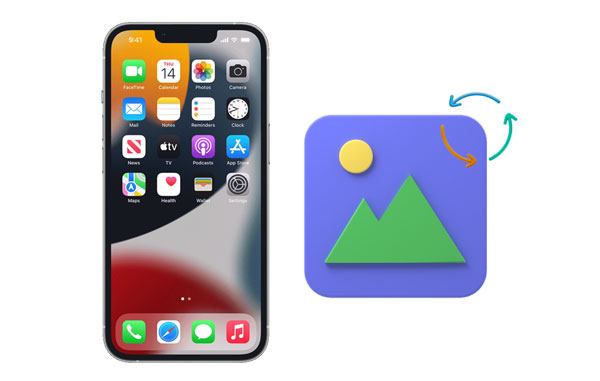 Part 1: FAQs about Recovering Deleted Photos from iPhone
Q1. Where do deleted photos go on iPhone?
When you erase photos on your iPhone, the photos don't disappear from the device immediately. Maybe you want to know where to find deleted photos on the iPhone. In fact, they are relocated to the Recently Deleted files folder, found in your Photos app amongst your albums, below the camera roll. You need to tap on a photo and restore it.
Q2. Can you recover deleted photos from an iPhone?
Yes, you can. If the deleted images are still in the Recently Deleted folder, you can restore them easily from the folder. On the other hand, if the photos were deleted permanently, you can restore them from iCloud, provided you have backed them up. If you don't have a backup, you can still use data recovery software to recover them.
Q3. How to restore permanently deleted pictures from my iPhone after 30 days?
The best way to recover your deleted photos after the expiry of the 30 days is to download them from your local iTunes backups.
Part 2: How to Recover Deleted Photos from iPhone via 5 Effective Methods
If you lost your valuable photos on your iPhone, the following ways could help you recover them.
2.1 How to Get Recently Deleted Photos on iPhone via Photos App
Apple devices have "recently deleted" photo folders in their Photos apps, similar to your computer's recycle bins. The folder keeps all the photo files deleted for approximately 30 days, after which they are deleted permanently.
You can easily undo deleted photos on an iPhone via the built-in Photos app:
Step 1: Open your Photos application on your iPhone.
Step 2: Next, scroll through until you find the Recently Deleted photo album under Other Albums.
Step 3: Tap on Recently Deleted, and click Select from your top right. Tap on all the pictures you wish to restore to highlight them.
Step 4: Tap on Recover on your bottom right. Tap on Recover Photo.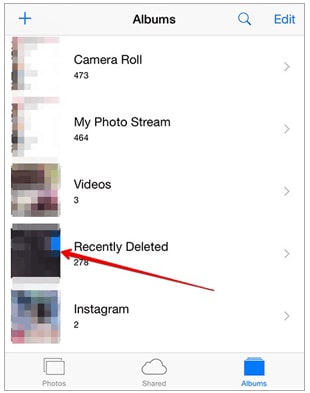 That is all you need to do! All your selected images will immediately be moved back to the Photos library.
Read more: When your iPhone is dead, how can you recover your photos from it? Let's take a look at this guide.
2.2 How to Retrieve Deleted Photos from iPhone via iTunes
If you've backed up your images on iTunes, there are two methods you can use to recover them on your iPhone. One is by restoring the device through the iTunes app, and the second is by selectively restoring photos from the backup using some data recovery tools.
When you restore your iPhone via iTunes, all your settings and data are replaced by your backup content, leading to data loss. On the other hand, if you employ data recovery tools, you can decide to restore images only and leave the other files.
Below is how to retrieve deleted photos on an iPhone via iTunes backup:
Step 1: Connect your iOS device to a computer using your USB cable. Tap on Trust when asked whether you trust this computer.
Step 2: Open the iTunes app, select the device, and choose Summary. Then select Restore Backup. Next, select your backup file.
Step 3: Select "Restore" to begin the data recovery process.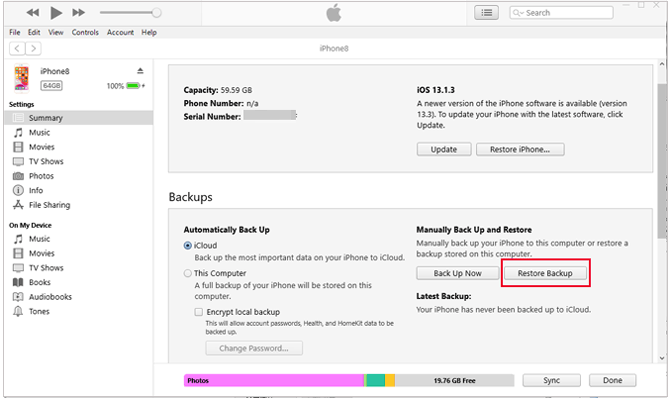 2.3 How to See Deleted Photos on iPhone Using iCloud
If your photo is not in the "Recently Deleted" album, you can still recover it through the iCloud app. However, you can't complete the iPhone deleted photo recovery from iCloud if you haven't enabled the iCloud Photos feature.
Here's how to restore deleted pictures on an iPhone using iCloud:
Step 1: Go to the iCloud website to access Apple's cloud service, given for free.
Step 2: Sign in using your password and username. After logging in, click "Photos". Next, click the "Recently Deleted" album. You will see some photos awaiting deletion in the next 30 days or less.
Step 3: Select the photos you wish to recover and tap "Recover". The picture will be moved back to your photo album immediately.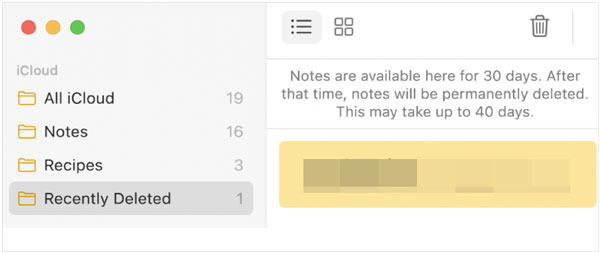 Learn more: How to Transfer Photos from iPhone to Lenovo Laptop?
2.4 How to Find Deleted Pictures on iPhone via Local Backup
Creating an iPhone backup is the easiest way to prevent data loss in case you delete it accidentally or even lose your device. It is also a good way to restore your deleted files from your iPhone should you accidentally lose them. If your Mac computer runs the Catalina macOS or a newer version, you can create an iPhone backup using Finder. You can also use Finder to recover your data from previous backups.
Below is the procedure to restore deleted photos on an iPhone via a local backup file:
Step 1: Connect your iOS device to your Mac using your USB cord. Open Finder and then choose your device.
Step 2: Ensure you are in the General tab and click on the Restore Backups option under Backups.
Step 3: Select the latest backup containing your images, and click on Restore to start the process of recovery. Enter your passcode if asked to do so.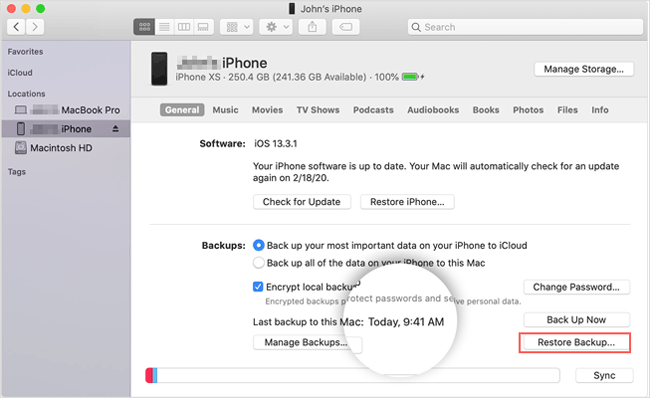 2.5 How to Recover Deleted Photos from iPhone via iOS Data Recovery (Without Backup)
If you don't recover your files the right way, you risk permanently losing them. To prevent that, it is better to use a reliable data recovery tool like this iPhone Data Recovery software. This is a specialized application for iPhones that is safe, reliable, and powerful when it comes to data recovery.
As a specialized data recovery software, it can recover your deleted pictures from your iPhone internal memory without backup. Of course, it can recover your deleted contacts, iMessages, call history, etc., from your iPhone or iPad. Unlike the traditional data recovery methods (iCloud and iTunes) that conduct a full restoration to iPhone, this great tool allows you to restore only the photos you want to your device.
Key features of this iOS data recovery:
* Effectively recover deleted pictures from your iPhone without backup.
* View your iTunes backup data and restore the files you like to your iOS device.
* Support multiple file types, including pictures, camera rolls, notes, text messages, contacts, and more.
* Recover your deleted contacts, call history, text messages, pictures, and compatible with both Windows and Mac computers.
* Support iOS 16.
Download this iPhone photo recovery software.
Guide on how to recover deleted iPhone photos using this recovery software:
01Install the iOS data recovery program on computer, and Choose the Recover from iOS Device tab. Open it and connect your iPhone to the computer using your USB cable.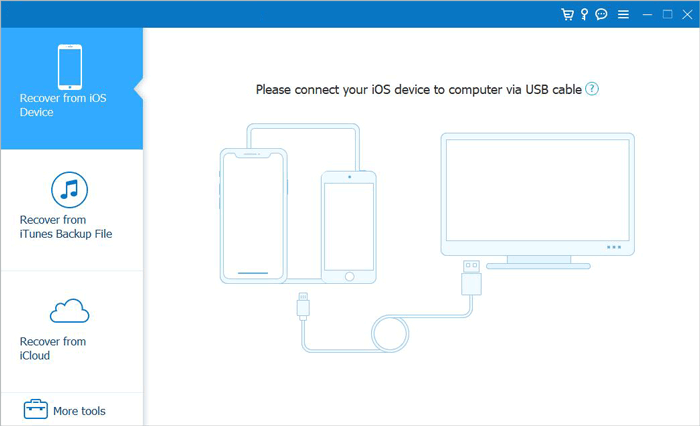 02Unlock the device and click Trust if you use iOS 11 or later versions to confirm that you trust the computer.
03Click the Start Scan icon to start scanning for the lost files. Then the software will list your files in categories.
04Once the software completes scanning, it will list your files on the major interface. Select Photos to find all your recoverable photos. Choose the pictures to be recovered and click the Recover button.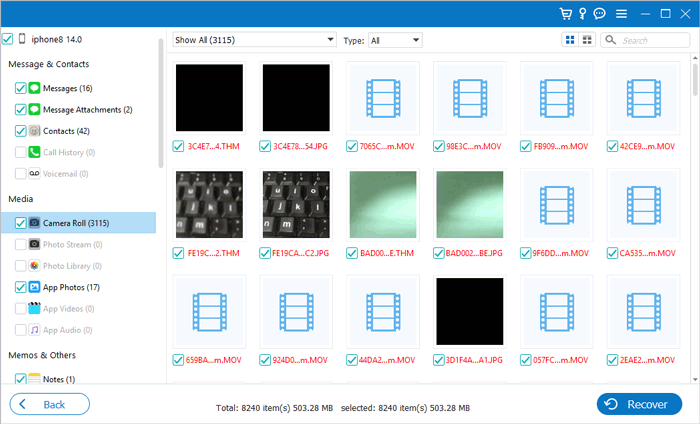 You might need:
Quickly Recover Deleted TikTok Videos on iPhone/Android/PC
5 Easy Ways to Recover Deleted Text Messages on iPhone without Computer
Bonus Tip: What to do to Avoid Picture Loss in the Future
If you've ever lost a photo you treasured so much, you may wonder how to prevent the same from happening again. Luckily, there are different methods to help you avoid permanently losing your photos. Since even the best data backup strategies can fail, creating different backups for your photos is highly recommended. Backing up your backup will save you if you lose your data, and you will be happy that you did it.
1. Create a backup for your data.
2. Use another Backup Service like Google Photos or Mega.
3. Add a Face ID or Touch ID to the device.
4. Take extra care. Be careful when using your device to avoid unintentionally deleting important pictures.
Concluding Words
Photos are very important because they capture beautiful moments in our everyday life. It can be very saddening to lose them. Back up your iPhone data regularly to avoid data loss. However, if you happen not to have a backup and you really want to restore them without data loss, use iPhone Data Recovery. It can help you find your deleted photos without backup, and directly restore your data from iTunes and iCloud.
Related Articles:
How to Recover Deleted Photos from OnePlus 10 Pro/9 Pro/8 and More
Complete Guide on How to Transfer PDF to iPhone
How to Transfer Messages from iPhone to Samsung Quickly?
How to Transfer Photos from Flash Drive/USB/Thumb Drive to iPhone 14/13/12
How to Transfer Data from iPhone to OPPO Seamlessly? (4 Tested Methods)
How to Transfer from HTC to iPhone Effortlessly (7 Effective Ways)