Quite a few people possibly can't wait to buy a new iPhone to replace their old ones. However, before deciding to buy a new iPhone, have you ever considered how to deal with your old iPhone? Well, you can sell your old iPhone! In this way, you can save much money! But one thing worth your attention is that before selling your old iPhone to recycling stores, you must make sure that you have wiped out all personal information from your iPhone. Or otherwise, it is likely that you will receive calls and messages from strangers on condition that your iPhone has been sold to someone with bad ideas.
Well, you might say it's easy! Just delete all files directly on the iPhone! However, that's not enough! For example, with Coolmuster iPhone Data Recovery, you can easily recover the deleted files from your iPhone. Therefore, it is highly suggested to rely on an iPhone security app to erase all files containing personal information before selling your old iPhone. In terms of the best security app for iPhone, my strongest recommendation is Coolmuster iOS Eraser (for Windows 11/10/8/7).
More Features of iPhone Data Eraser:
* This software is able to delete all files from iPhone without the zero possibility of being recovered. So your personal information will not be leaked once and for all.
* This software can suit multiple types of files ranging from messages, contacts, videos, photos, account info, password and etc, no matter they are stored in the internal memory or in the SD card.
* Apart from the best security app for iPhone, this software can also be the best security app for iPad, iPod and all iOS devices. Therefore, one app can be used to protect privacy of various devices.
* This software offers you three progressive levels of erasing data from iOS devices for your choice.
* As to the safety of this poweful software, it is 100% clean&safe, without bringing any virus infection and missing any files which are supposed to be deleted.
......
To sum up, this software can be your best choice to safeguard your iPhone privacy. Now, you can click the below button to get the free trial version of this software. You will marvel at this marvelous software. In the following part, you just need to follow the detailed instructions to erase all personal information from iPhone.
Recommended Security Apps for iPhone
Find My iPhone App is available for free to iPhone users, which is released by Apple company. This App is able to locate your iPhone on a Google map in case your mobile phone gets lost or misplaced. But before enabling this application to locate your iPhone, you haveto make sure that the utility of this software is opened on your iPhone. More importantly, this application is characterized by its Lost Mode, which allows you to remotely wipe out all files from your iPhone if unfortunately your iPhone is stolen or lost. The Find My iPhone utility can be activated in Settings > General on your iPhone.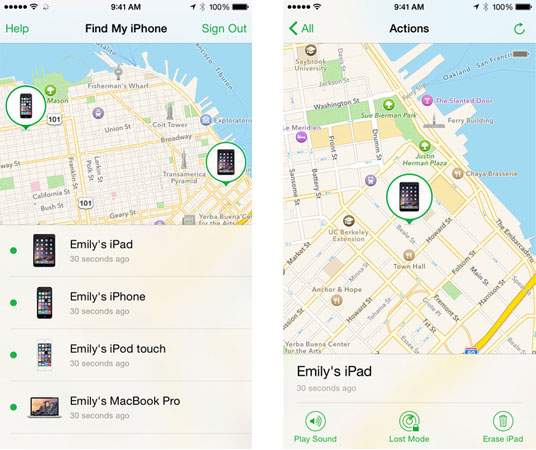 2. Spam Arrest
Spam Arrest is specially designed to protect your e-mail. With this application, the e-mail will automatically reject the unverified messages. This application is free to download, which requests for confirmation of identity from everyone who sends you e-mails. Spam Arrest allows you to set up an Approved List of Senders which automatically detects all e-mails and precisely receive or reject the junk e-mails in accordance with your needs. With this application, you are totally free from troubles caused by strange emails.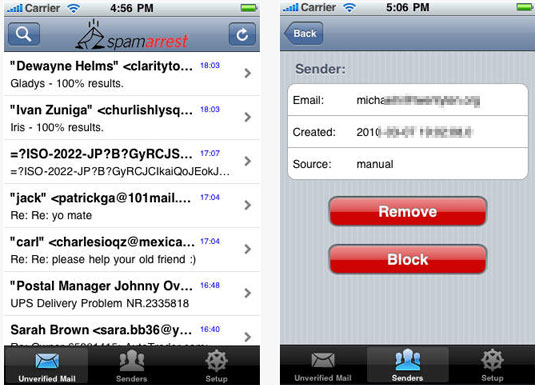 3. MacAfee Security by McAfree
McAfee is a very popular application in terms of providing anti-malware and anti-virus software programs on computer. With this software, you are able to remotely wipe, lock and track your iPhone in cese it gets lost or stolen. With this application, you can eaisly locate your iPhone even if the GPS on your iPhone is turned off.
Words in The End:
All the three security apps are good choices to protect your iPhone. But together with the help of Coolmuster iOS Eraser, it is just as easy as pie to wipe out all files containing personal information from your iPhone. And by no means will any recovery tool be able to restore the deleted information! But in case of delete important files without warning, you are suggested to make a proper backup of your files stored in your iPhone. Now, just download the free trial version of the iPhone Data Eraser to have a try:
Related Articles:
Tutorial on How to Recover Lost Photos from iPhone