Q: I have faced some problems like I was unable to activate iPhone using iTunes and also sometimes it was unable to synchronize content on iPhone or iPod!! So please tell me some appropriate solutions that can help me. Any other information related to this topic would be grateful.
People like to use iTunes to backup their iPad/iPhone/iPod contents, download files, sync data between iDevices and computer. It is no doubt that iTunes have helped iOS users lots in the daily data management, but at the same time, more and more iDevice users have complained that there are too much problem of iTunes have occured in the daily using, such as your iDevice can't be recognized by iTunes, or they can't be backed up, restored, updated or activated, or you can't connect to iTunes store successfully to download or buy files you need, or an error message popped up and remind you that an iTunes error like 4, 6, 1630–1641, 3000–3999, or 9000–9999 have happened, or your iTunes can't be opened normally.
Actually, if the iTunes problem you have met just like the above mentioned, then the security software on your computer might be the cause. We know that people like to download different 3rd-party security software on their PC or Mac to protect their computer or network from virus attacking or other dangerous factors on the Internet. But you may don't know that security software created by companies other than Apple can prevent iTunes from connecting to Apple servers or to devices. Sometimes, you might see a numeric error message when you sync, update, back up, or restore your device. So in order to ensure your iTunes can work well on your PC/Mac, you need to fix the problem between iTunes and security software.
Resolve Issues between iTunes and 3rd-party Security Software
Generally speaking, this is an incompatible issue between iTunes and your security software. So to fix it, you may need to change the setup of your security software or iTunes at the same time. Here, before changing the security software's setup, there is something you need to check:
- Ensure the data, time and time zone on your computer have been set correctly;
- Download or update your iTunes to the latest version.
- Log in your own computer with the administrative user account to instead of a guest account.
- Update your Windows or Mac OS X system, and the security software.
When the above preparatory works have been done, now it is time to test your connectivity. First of all, you should be to make sure the host files is not blocking iTunes from communicating with Apple's servers. Then, if you have the problem by using AirPlay, Home Sharing, iTunes or Remote function, then you can test the connectivity between the computers and devices in your house. Please be assured these devices and computers have been connected to the same network or subnet.
If your iTunes still can't work when you have done the above settings, then it is best for you to temporarily remove the security software because the tool may be interfering with the computer's connection with iTunes. So uninstall the security app and make sure it has been removed from your computer completely.
In most situations, your iTunes could be works well now, but it is inevitable that it may still can't work due to some unknown reasons, so here, we strongly recommend you to find an alternative tool to iTunes to help you backup iPad, iPhone or iPod contents well.
Can't Miss:
iTunes Backup Corrupted? How to Fix iTunes Backup Corrupted or Incompatible Issue?
Backup iPad/iPhone/iPod Contents with iTunes Alternative Software
If the above method can't help you fix the problem between iTunes and security softwae, you'd better to give away it and try to find another way to achieve your needs. To backup iDevices contents, the easiest yet direct way to do it without iTunes is to find an alternative tool to iTunes. Sounds great, right? Finding a similar functional tool to instead of iTunes, means you still have the ability to backup the iPad, iPhone or iPod contents on your desktop computer easily, or even more easier than iTunes. Thus, Coolmuster iOS Assistant comes here to meet your demands. With it, you can easily and quickly export/backup up to 14 types of files from all generations of iPad, iPhone or iPod to PC or Mac without quality losing, including music, photos, movies, text messages, contacts, safari bookmarks, notes, playlists, books, etc. And the program provide users with preview function, that means you can view the detailed files in the program before exporting according to your own needs. What's more, the exported backup file can be edited, viewed, or shared on your PC/Mac directly.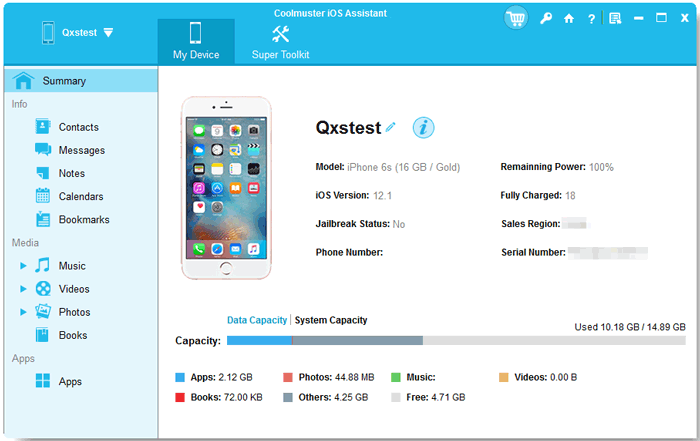 Now, get the powerful program and have a free trial!
Related Articles:
Tutorial on How to Recover Lost Photos from iPhone