As is known to all, iPod device is one of Apple products which has received warm reception all over the world for its superior performance and compact structure. With iPod, you can freely take photos or shoot videos when you want to memorize a special event or beautiful scenery. And no doubt, the biggest shining point of this iPod device lies in its portability, which allows you to take it with you whenever you go, since you can simply put it into your pocket. Very convenient, right? But as time passing by, inconvenience will begin to crop up.
It is joyful to save any files such as photos, videos on your iPod without any restrictions, but it would be painful when your iPod is filled with so much files that you are unable to save any other new files anymore. And when your iPod library is totally in a mess, how will you feel? Don't you want to manage your iPod library in good order? All you need to do is:
> Connect your iPod to the computer via the USB cord and then click on the iPod button. Then you enter the Summary tab and you will see the Sync options displayed on the main interface.
> Then select the Manually Manage Music and Videos option when your iPod is synced with iTunes. Then you will see a message that the iTunes displays the modes of different iPod devices. Choose the right one and you will receive a message saying that you need to eject the iPod manually.
> Then just click on the OK and then Apply option to begin.
Now, you can manually manage your iPod library. For example, if you want to transfer some music songs from computer to your iPod so as to avoid paying again for downloading music songs to your device. Actually, it's quite simple. Just follow the tutorial mentioned in the below.
Guide on How to Import Files to iPod
Step 1. Connect your iPod to the computer via the USB cord. Then open the iTunes on the same computer. After the iTunes successfully connect your device, you can click on your iPod on the main interface.
Step 2. Then all your files saved in the iPod will be displayed on the screen. Now, click on Add to option on the top right corner of the window and then your iTunes library will shift over to the left to make way for the iPod column displaying the content types and playlists on the iPod.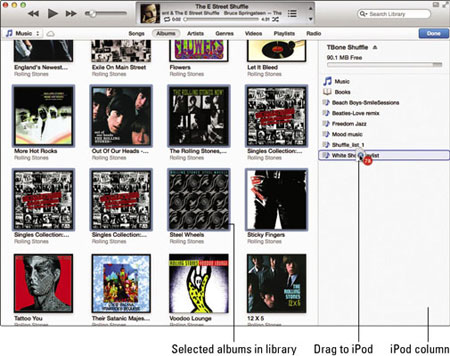 Step 3. Now, you can drag the files as you wanted to transfer from the library to the iPod column. By the way, if you drag a playlist's name, all the associated songs will be added. Finally, just wait for the process to complete and disconnect your iPod to the computer.
After that, you are free to enjoy the beautiful lyrical songs on your iPod device!
Extra Bonus: How to Autofill the iPod?
Actually, iTunes also allows you to sync files automatically, i.e. autofill your iPod. With the autofill function, every time you connect your iPod to the computer, the files will be This is especially useful when you want to copy random music to the iPod device after you connect the device to the computer.
- Connect your iPod device to the computer and then click on your iPod. And then choose the Autofill option from the drag-down menu.
- Now you can choose any playlist and purchased music as wanted. By the way, you can choose Music option to cover the entire music library.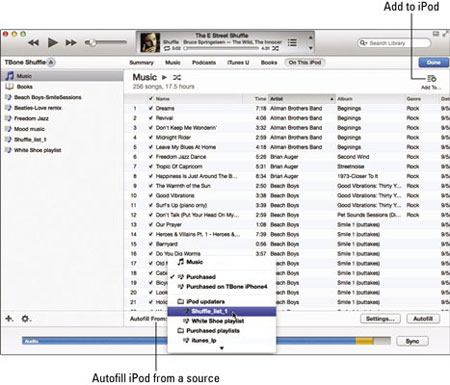 - Then click on the Settings and then OK option. After that, the Autofill Settings dialog will appear where you can make the right choice as you wanted and needed such as replacing all the items on iPod. Now, just wait for the process to complete.
Words in The End:
Actually, to manage your iPod library, you can also fully rely on this iPod Data Manager - Coolmuster iOS Assistant to manage all your iPod files in good order. This software allows you to transfer any files from your iPod device to the computer and save them as a backup. Also, if you want to import some files to your iPod, you can also rely on this software. More importantly, this software is fully compatible with all generations of iOS devices including iPhone, iPad and iPod, as well as various types of files such as messages, contacts, photos, videos, reminders and etc. Actually, below is the free trial version of this software! You can download the right version and just give it a try by yourself!
Related Articles:
How to Easily Share iPod Music
How to Transfer Music from iPod to iPod? (Must Read)
iPod Music Recovery: How to Recover Deleted Music from iPod Touch and Other Series in 4 Ways?
How to Transfer Music from iPad to iPod? (Simple & Reliable)
How to Back Up iPhone without iTunes? Top 3 Ways for iPhone Backup to Computer or Cloud