How to Transfer Music Files from iPad to iPod?
A lot of people use Apple products in their everyday lives. Schools, parents, students, they all use it. And at least 60% of all people listen to music on their devices. The most common apple products being used currently are the iPads and iPods. But most people have different music on each device. They will download music for their iPad, but then not put the same music on their iPod. Why? No one really knows. Then consumers usually regret it when they go to listen to their songs on the other device, to find it not there. Unsurprisingly, this has been increasing the need for ways to transfer music back and forth between iDevices. Some popular ways for data transfer between iPad and iPod are using iCloud and iTunes. But iCloud is time consuming and iTunes will perform a data erase after the music transfer, which would brings big inconvenience if you have no other types of backup.
Despite of the shortcomings of iCloud and iTunes, the iPad to iPod Transfer is becoming more and more popular due to its high performance in transferring data between different two devices. This process is quick, simple, and easy, as you only have to hook the two devices up to the computer, choose what you want transferred, and click start (There's a step-by-step guide at the end of the article!). It only takes a few minutes, and is not only for Apple devices. You can use this product for Android and Symbian phones and tablets too. They offer a free trial allowing you to try out the software before you decide to purchase it. That also includes 24-hour chat and email response within 24 hours, just in case you have questions or any concern. Friends have used it only gave me positive reviews on it. It is excellent for sharing music with your and other friends' devices.
Below is a step-by-step tutorial to teach you how to use iPad to iPod Transfer to copy music files from iPad to iPod. Don't worry about your iDevice version because the software is compatible with all iPad and iPod versions, such as iPad Air, iPad mini, iPad 4, the New iPad, iPad 2, iPod touch, iPod touch 4/5, iPod Shuffle, iPod Nano 3/4/5/6, and iPod Classic, as well as iPhone and other Android or Symbian devices.
Best Solution to Move Music/Songs from iPad Air/mini/4 to iPod touch/Shuffle
Step 1: Launch the iPad to iPod music transfer software
After you download and install the iPad to iPod data transfer on your computer, you can launch it directly and then you can see the primary window of the transfer tool will display on the computer like the picture below. Click "Phone to Phone Transfer" to enter the phone transfer window.
Note: Install and launch iTunes on your computer to make sure the program can work properly.
Step 2: Connect both devices to the computer
Use two USB cables to connect both your iPad and iPod devices to the computer after you entering the phone transfer window. Then, you can see the two iDevices are detected and located at the places of "Source" and "Destination". Data will be transferred from Source to Destination. If they are wrong placed, you can click "Flip" button to switch them.
Step 3: Start to transfer music from iPad to iPod
Since the transfer tool can transfer almost all files from iPad to iPod, including Photo, Video, Music, Contacts, SMS, Call history, etc., you need to check what you want to transfer, such as "Music", and then press on the "Start Transfer" button to copy all music files to the target iPod from your iPad.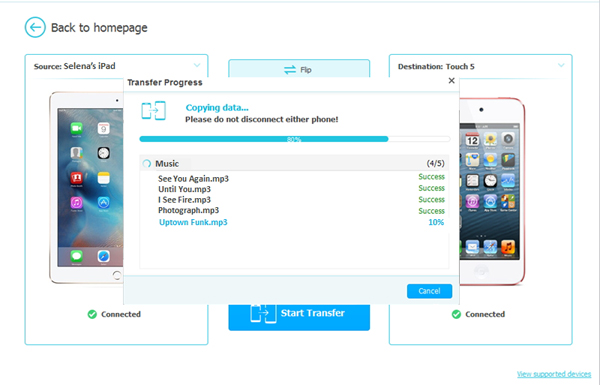 Personally, and other consumers will agree with this, iPad to iPod Transfer is the way to go. Transferring music and other files is easy with this product, as it only takes 3 simple steps and saves time. iTunes and iCloud may be Apple certified, but that does not mean that they are the best option for consumers to use. They may be free, but they take time and effort to make sure you get what you want onto your other devices. iPad to iPod Transfer will enable you to get what you want done in half the time. Now is the time to decide: will you do things the Apple way or the easiest way?
Related Articles:
Copy Contacts between Samsung and iPhone