When the iOS 9 is released to the public, quite a few iPhone users asked whether there is any changes in terms of the battery. Among iPhone users, there are always some users with iOS 9, iOS 8 and etc. complaining that the battery just drains too fast. For those iPhone users who have made such complaints, you are in the right place, this passage will tell you how to improve the battery life for iPhone devices. Before that, you might be interested in the following articles:
Will the Battery Life be Extended in iOS 9?
How to Monitor Battery Percentage in iOS?
To truly expand the battery life of your iPhone device, you can rely on some professional battery apps to optimize your iPhone battery. But what counts more is to form the good habit in using your iPhone. Now, let's see these useful tips one by one!
Can't-Miss Tips to Improve iPhone Battery Life
Tip 1 - Decrease Screen Brightness
It is apparent that the brighter your screen is, the shorter your iPhone battery life will be. Therefore, you can decrease the brightness if not needed. You can do it by clicking on Settings > Wallpaper & Brightness. Also, you are free to choose Auto-Brightness option so as to adjust screen brightness automatically. In this way, much more battery will be saved!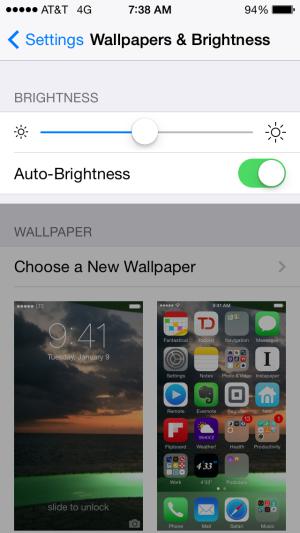 Tip 2 - Don't Automatically Update Apps
If you are using iPhone with iOS 7 or higher, there's now a new feature that automatically updates your apps to the newest version whenever they are available. Well, although convenient as it is, this may drain your battery quickly. You can choose to update to the latest version when needed. Tab the Settings from home interface, then go to iTunes & App Store. In the Automatic Downloads section, move the slider of Updates to Off.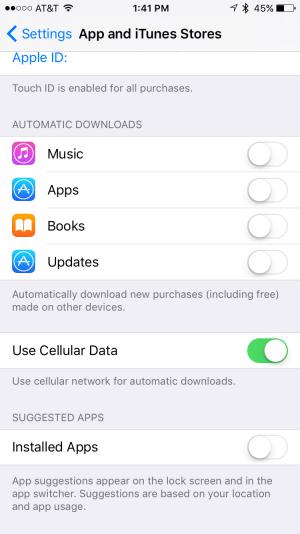 Tip 3 - Don't Keep Wi-Fi Always On
Nowadays, Wi-Fi seems to be an essential part for every iPhone users, who are used to keeping their Wi-Fi always on, so as to easily and quickly access to Wi-Fi whenever possible. However, this actually can kill your battery bit by bit till your battery life has drained. Therefore, unless you are in need for a Wi-Fi environment, don't keep your Wi-Fi always on. Click on Wi-Fi from Setting tab to make sure that the slider is Off.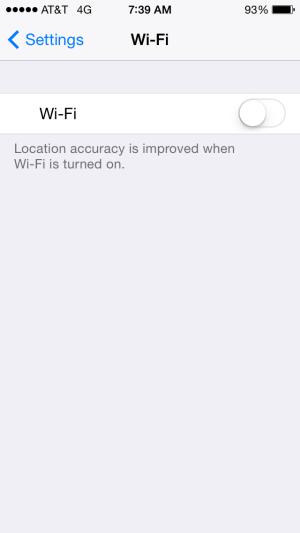 Tip 4 - Turn off Background Refresh for Apps
If you turned on this feature, it will run in the background day and night, recording the apps you use most often, the time of day that you use them. No doubt, such ceaseless movement will absolutely kill off your battery life. You can go to Settings > General > Background App Refresh, and turn Off the feature to save more battery of your iPhone device.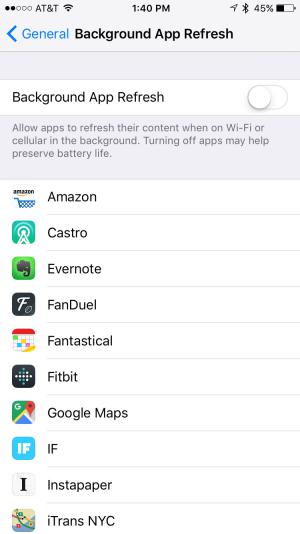 Tip 5 - Deactivate Location Services
The in-built GPS feature enables you to know where you are and gives you the exact driving directions. With this feature, you can easily head to your destination. This is quite useful especially when you are in a foreign place. But, like any service that sends data over a network, it needs battery power to work. So you are suggested to deactive location services when you don't need to. You can go Settings > Privacy > Location Services and then move the slider to Off.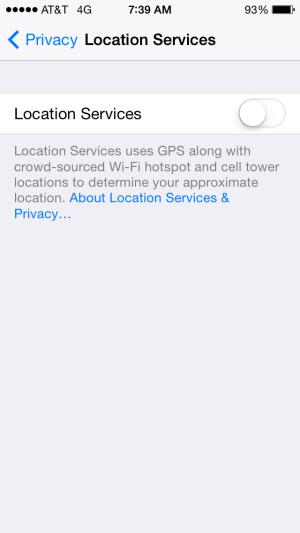 Tip 6 - Turn Off LTE or Cellular Data
If you are not in urgent need for speedy 3G or 4G LTE cellular phone networks, you can turn off LTE and just use the older, slower networks. Since using 3G and especially 4G LTE, requires more energy to get the quicker data speeds and higher-quality calls. In this way, your battery life will be extended greatly. Here, you can choose Cellular from Settings and then slide Enable LTE to Off.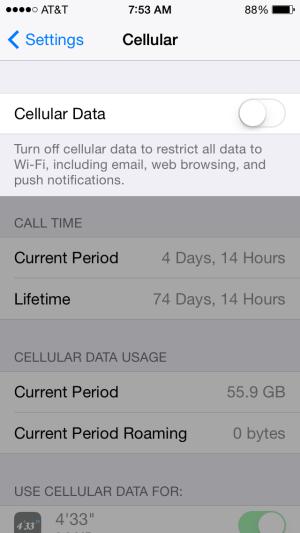 Tip 7 - Fetch Email Less Often
If you want to save as much battery as possible, you can choose to fetch emails manually, instead of automatically and frequently. After all, the less often your phone accesses a network, the less battery it uses. You can change your Fetch settings by tapping Settings > Mail, Contacts, Calendar > Fetch > Manually.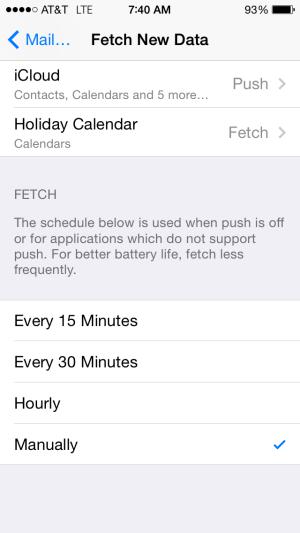 Tip 8 - Disable as Many Notifications as Possible
For those that are not used quite often, you don't need set the phone to display notifications all the time. Head to Settings > Notification Center, scroll down to Include and Do Not Include, tap a given category (Phone, Messages, Reminders) or app (Facebook, Twitter, etc.), and choose as few notifications as possible. The fewer apps you enable, the more battery you will save. Also, you don't need to bother by the unceasing alerts sounds.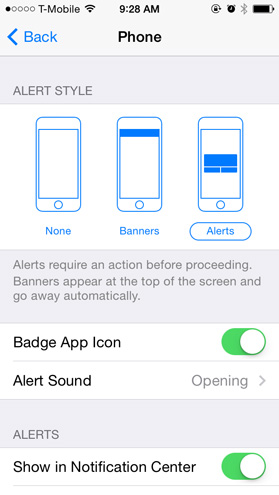 The tips mentioned in the above are just some small actions you can do, which may forge a huge leap in extending the battery life of your iPhone device. Apart from those actions, you can still do many other things to save more battery, such as keep an external battery at your hand, so as to make sure that your iPhone won't power off due to battery drainage. Also, you should charge your iPhone device until your it is down to 20% (or even less!) since the battery remembers the point in its drain at which you recharge it and starts to treat that as its limit. Generally speaking, make sure to manually control your iPhone device rather than automatically in using your iPhone. As long as you bear these small tips in your mind, I'm sure your iPhone's battery life will be improved to a large extent!
Words in The End:
The tips mentioned in the above can contribute to better battery usage, and the software introduce in the below can allow you to have a thoroughly nice experience of your iPhone. With this Coolmuster iOS Assistant, you can easily back up files from your iPhone to computer in case of sudden data losses! Also, this software enables you to freely edit, export, modify, delete and manage any files directly on the computer! More importantly, it is fully compatible with all generations of iOS devices!
Related Articles:
How to Block iPhone Calls & Messages