Synchronization has always been an issue for iPhone. Users existing on a completely different platform, and non-conventional UI, iPhone devices have always made its users stand apart from the crowd. Notes in iPhones is an app which is primarily used for keeping records maintaining a memo, and writing up things to be used in future. Now synchronizing your notes is other devices are a useful thing to do because it gives access to your notes from a wide range of devices.
Part 1. How to Sync iPhone Notes with Outlook?
Here is what you need to do to Sync your iPhone with Outlook.
> Connect your iPhone using the provided USB cable and launch iTunes.
> Click the iPhone button and then select "Info" tab.
> Click the check board beside "Sync notes" and "outlook" from the drop down menu.
> Click the "Sync" button to synchronize notes between Outlook and your iPhone.
Related: How to Sync Outlook Contacts with iPhone
Part 2. How to Sync iPhone Notes with Gmail?
Again, you need to follow the process. If you are looking to sync your iPhone with your Gmail account, set it up with IMAP. To do this, you will need to Configure IMAP/Push on the iPhone to enable Gmail. After setting up the IMAP account, it's easy.
> Go to account setting on iPhone and turn on notes.
> After doing so, a new icon will be created in Gmail, saving "notes".
Related: How to Sync iPhone Contacts with Gmail
Part 3. How to Sync iPhone Notes with Exchange Server?
Here is the simple process that you need to follow to Sync exchange.
> Open "Settings".
> Open "mail", contacts, calendars.
> Select you exchange email account from "Accounts" and your exchange email preferences will load on the screen.
> Turn on the notes option.
Extra Bonus: People have observed over time that while the process of syncing takes place, it gives rise to duplicate notes. This problem can be solved by the following steps.
1. Connect your device and select iTunes.
2. From the info "panel", turn off "sync notes".
3. Select delete notes and you are done.
Part 4. How to Sync iPhone Notes with Computer
What if you could sync your iPhone notes in a single click? What if you want to sync iPhone notes with computer so as to make a phone backup of the important files. Or transfer all the data, apps, contacts, and even messages from your iPhone to your PC so that you never lose out on your memories?
That's when this Coolmuster iOS Assistant software can do for you. This software helps you to export anything and everything from your iPhone to computer with utter ease. The best thing about this software is that it is compatible with all the generations of iOS devices. This prevents users from losing their precious data in the case of device failure hence proving a backup option.
How to sync iPhone notes with computer:
1. Open the installed software on the computer and then connect your iPhone to the computer with the provided USB cable. This software will detect the iPhone as soon as you connect it to your PC through the USB cable.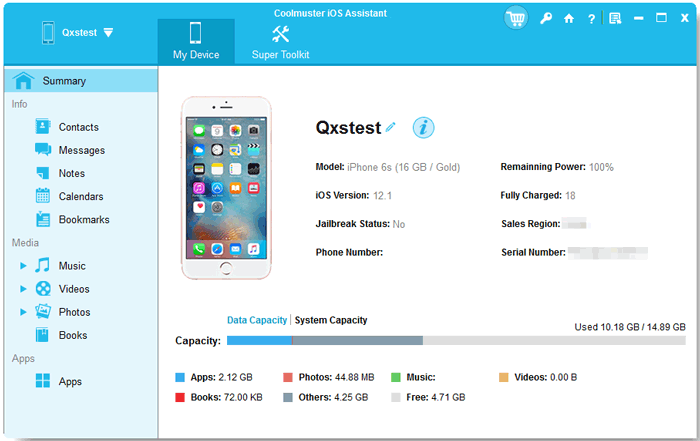 2. After detecting your device, you will see the interface with the file folders. You would see this on the left panel. You may now enter the different tabs to preview more detailed file info. When previewing, tick the wanted files and click on the Export option to transfer the files from iPhone to new computer.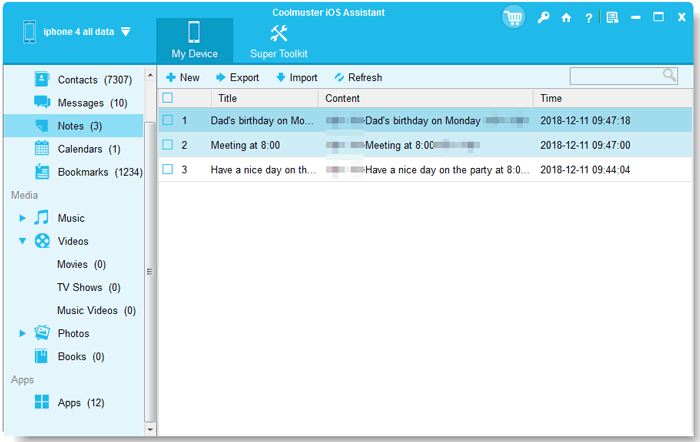 The Bottom Line
Did you see it? Whether you want to sync iPhone notes with Gmail, Exchange Server, Outlook or computer, you can find the answer in this article. If you have other needs, you can leave a message in the comment area below.
Related Articles:
Guide to Sync Hotmail with iPhone