When you went out together with your friend, the weather is pretty fine. But on your way back, it just rains cats and dogs in several seconds. I bet such situation is not unfamiliar to you, especially in summer! But how would you feel if you get all wet all of a sudden? That's not a good experience, actually! So this passage recommends to you several useful weather apps for all iPhone users. With this weather application, you are able to be informed of the weather conditions of the day. Then you can decide whether to bring the umbrella or not. Now, let's have a look at these fantastic applications:
Top Weather Apps for iPhone:
1. Yahoo Weather
This application is compatible with both iOS devices and Android devices. This is a beautiful application, which informing the weather conditions by taking on a striking interface. Once you have connect your device to the internet, this application will automatically detect your location and display images of your location with matching time of day and weather conditions. Moreover, this application will offer you with detailed five-day forecasts, including temperature, humidity, visibility and a simple radar map. Most importantly, this application keeps updating in accordance with the changes of iOS and Android systems.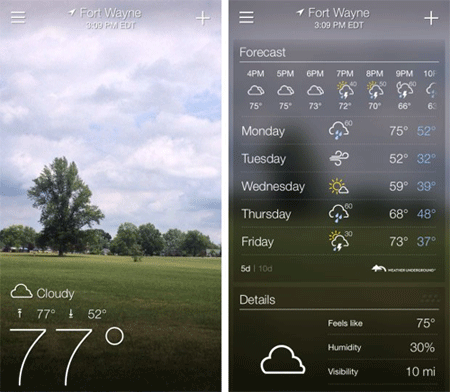 2. AccuWeather
Like the weather application mentioned in the above, this application is also compatible with iOS and Android devices. With this application, you can easily get informed of hourly, daily and 15-day weather forecasts. The biggest shining point of this application is that it is combined with your calendar, so you can get a clear picture of the weather conditions in two weeks. Therefore, it is less likely that your well-planned schedule will be disrupted by the weather. AccuWeather's reach is comprehensive, with forecast data for more than 3 million locations. Moreover, this applications can also give out alerts over the extreme weather, such as hurricane, thunderstorms and etc. You can rely on this ad-free application!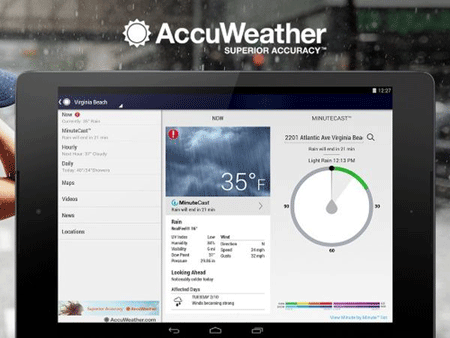 3. The Weather Channel
This weather application is much more powerful, since it can be fully compatible with iOS, Android and Windows devices. This application inform mobile users the weather conditions such as temperature, wind and visibility and etc. on an hourly or daily basis. Moreover, you are offered with an interactive map, where rainfall, weather events and severe weather alerts will be shown through the latest Doppler radar data. However, the weak point of this application lie in that you may need to endure the unceasing advertisements.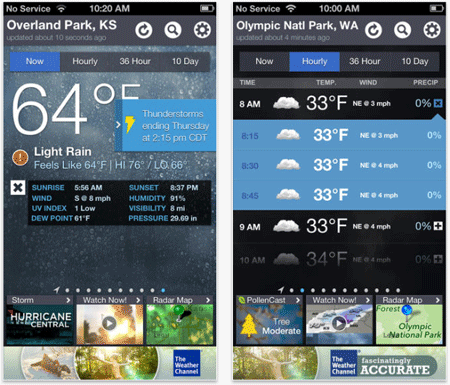 4. Dark Sky
This is a weather forecast application especially designed for iOS device users as long as their device is running iOS 7.0 or later. Dark Sky can tell you at a glance exactly when it will rain (or snow) up to an hour in advance, so you're free to walk the dog or run out to lunch and know you'll stay dry. That's it: this application is able to provide you weather forecast down to minute.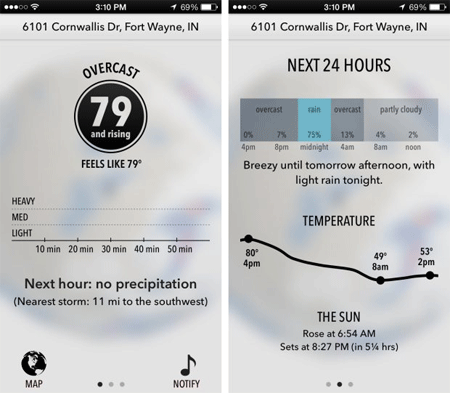 5. Weather Bug
As a free application for all iOS, Windows and Android devices, it provides users with accurate yet comprehensive weather forecasts including weather information, boasting fast, targeted alerts of dangerous weather, accurate forecast data, and lifestyle forecasts and etc. The features of interactive maps, visual forecasts, live cameras across all locations within this application allow mobile users to share weather alerts on the social media such as Facebook.
For iOS device users, Weather Underground is a must-have application for your iPhone, iPad and Apple Watch. Just as is claimed, "Powered by our network of 135,000+ personal weather stations, this app provides hyper-local forecasts and current conditions, interactive radar, customizable alerts, and much more to ensure you're always prepared for whatever the weather brings." Moreover, you can get the clear of the weather conditions by looking at the data itself as well as the real-time photos.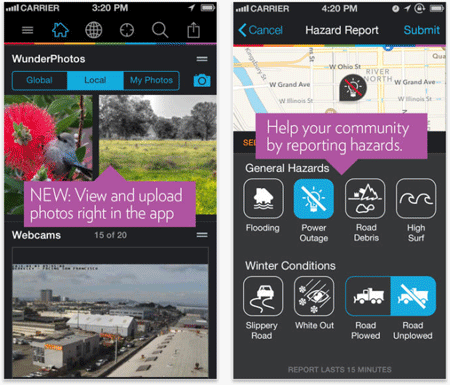 7. Radar Scope
This application is for iOS device users. It displays information that your local meteorologists are looking at when it comes to giving you thunderstorm and tornado alerts, and allows users to view NEXRAD Level 3 and super resolution radar data. Generally speaking, this application is scientific and reliable for your reference. However, this application os not free of charge. You need to pay $9.99 for this application.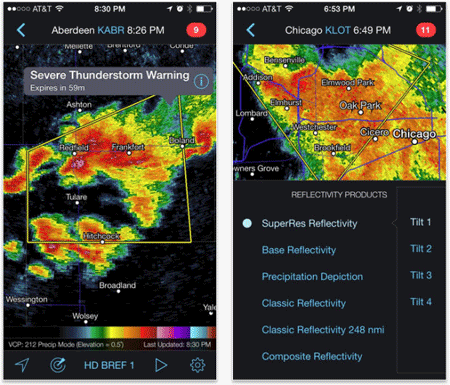 8. Fresh Air
This application is also specially designed for iOS device users. With it, you will receive minute-by-minute visualizations of a variety of predicted weather information ranging from temperature, precipitation to wind speed and more. This application allows you to combine your calendar events with the weather forecast. Therefore, it is much convenient for you to manage your daily life. With this application, you can truly enjoy your life without being disrupted by unpredictable weather!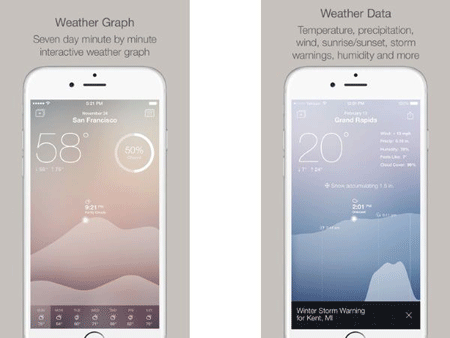 The Final Part
Now, you can choose the weather application as you needed and install it on your mobile device. But, if you want to wholly control your own mobile device, you are suggested to rely on Coolmuster iOS Assistant to freely manage your files directly on the computer as you needed. For example, you can rely on this software to transfer files from iPhone to computer as backup in case of data loss.
Related Articles:
Best Security App to Protect Your iOS Device