When someone owns a device such as a cell phone or a tablet, it's common knowledge that they may not want to consider storing any data on them that may be considered private. This kind of data could be photos, videos, and even information involving things such as bank accounts and other kinds of personal information. If something happens to where the device gets either stolen or hacked by an outside party, this kind of private data can and will likely get shared with the world, which can lead to the one thing that can damage an individual's reputation both personally and financially - identity theft. On the other hand, it is also necessary to clear any and all personal data from a mobile device if someone is looking to resell his old iPhone and purchase a new or updated one.
If this is a position that you are finding yourself in, then rest assured that there is a quick and easy solution that you can take advantage of. This special software is called Coolmuster iOS Eraser. In addition to not only successfully clearing all of your private data from your iOS device, the Coolmuster iOS Cleaner can also determine exactly how much extra space you can free up on your iOS device, but it can also help you reclaim that specific amount simply by cleaning up things that haven't been used for a certain amount of time, such as apps, photos, videos, etc., especially since this kind of clutter can run the risk of slowing down the overall operation of your device. All of this can be achieved with one simple scan of your iOS device by the Coolmuster iOS Cleaner software.
The software can fully clear the following types of private data from your iOS device:
*Messages (SMS, iMessage, etc.)
*Call history (phone, FaceTime, etc.)
*Browsing history (Safari internet browsing history)
*Safari history (websites you have visited via Safari)
*Safari cookies (registered logins, preferences, etc.)
*Safari caches (removed webpage preview images)
*Webmail caches (email messages)
*iOS tuneup (optimizes overall iOS device performance)
*iOS notifications (alerts and any other related information)
*Active apps (apps running in the background despite not being open)
Coolmuster iOS Cleaner is available in both Windows and Mac versions and supports iPhone 14/13/12/11/X/8/7/6, as well as iPad and iPod. Many individuals who have downloaded and used the software have given it rave reviews. Now, click the downloading button below to have it downloaded and installed on your PC or Mac.
Easy Way to Clean All Private/Personal Data from Your iPhone
Step 1: Launch iOS Cleaner to get ready
Download the free trial version of the iPhone data erasing software and be sure to select the one that is compatible with your operating system. Install and launch it and you will see its primary window like below: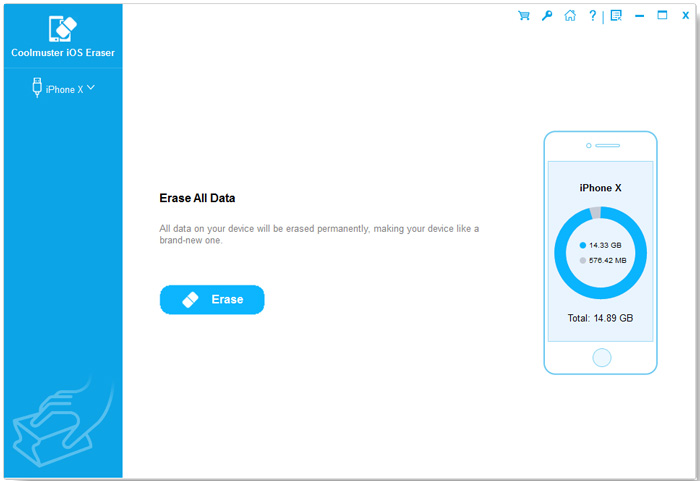 Step 2. Connect your iPhone with computer
Connect your Apple iPhone to your computer. The Coolmuster iOS Cleaner software will automatically recognize the device right away. You will then be able to select one of three levels of data erasing. The first level will quickly erase and private data that you want, the second level will use random data to overwrite any existing data on your iPhone, and the third level will write over the data approximately three times. You will be able to use the second level as the default one.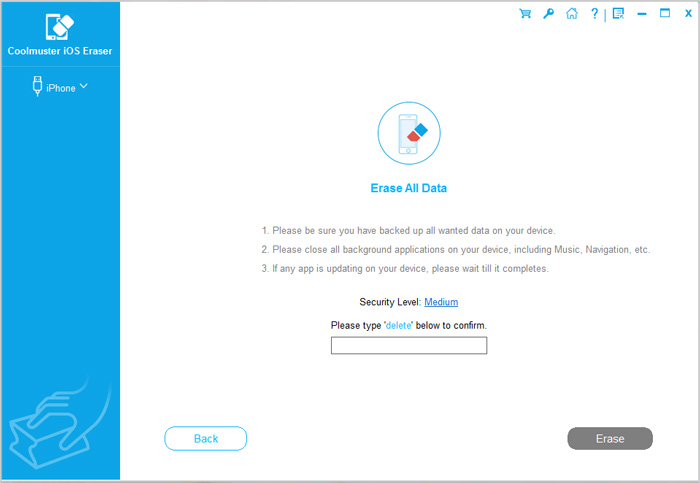 Step 3. Start to clear private data from iPhone
Choose the private data you want to erase from your iPhone and then click the "Erase" button to begin the data cleaning progress. Once this has been completed, there will be virtually no way for anyone to recover it.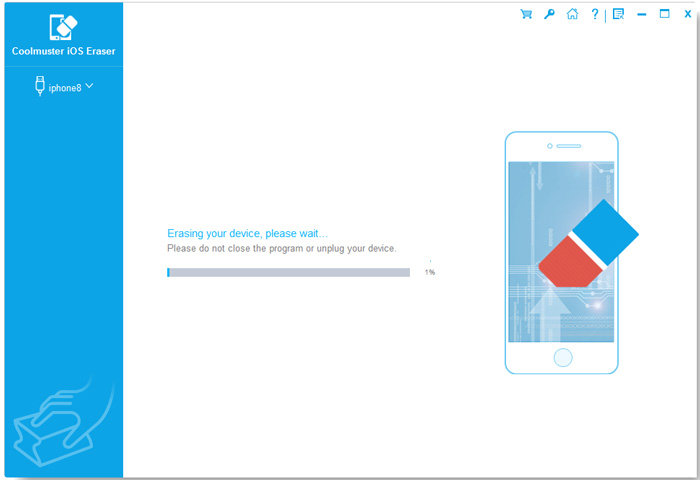 Conclusion
Take control of your privacy and protect your personal information by using Coolmuster iOS Eraser to securely and efficiently clear all private data from your iPhone. Download the software now and experience the peace of mind that comes with knowing your private data is completely removed from your device.
Related Articles:
Recover Contacts and Text Messages from iPhone SIM Card
How to Recover Deleted WhatsApp Chat History on iPhone
3 Easy Methods to Transfer from iPhone to Android