Best Android Phone Cleaner App [Latest and Thorough List]
Everyone likes a good Android phone that is fast. But, after using the phone for some time, it tends to function slowly. The issue is most likely to be insufficient space. Many low-end Android phones only have 1GB of RAM, which is quite small.
To keep your phone working properly and as quickly as possible, you should get a good piece of software capable of clearing cache, cookies, RAM, and unnecessary files. These simple tasks can significantly speed up your Android. Here are the 16 best Android phone cleaner apps you shouldn't miss.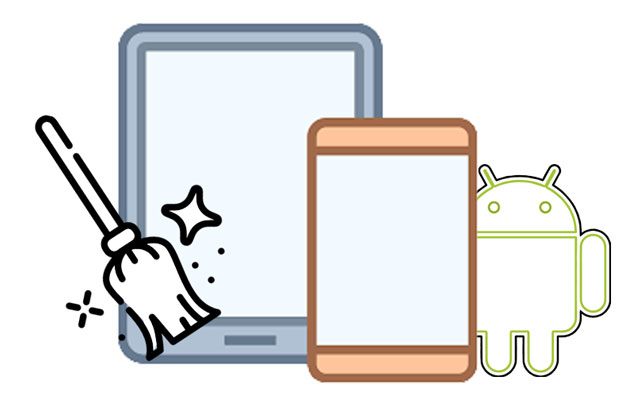 1. Coolmuster Android Assistant (Android Version)
2. Clean Master
3. Smart Booster
4. Assistant for Android
5. MobileGo
6. Booster for Android
7. AVG Cleaner
8. Memory Booster
9. APUS Booster+
10. 1-Tap Cleaner
11. DU Speed Booster
12. CCleaner
13. Clean Master - Speedy Booster
14. RAM Booster and Cleaner
15. KeepClean
16. File Manager by Xiaomi
1. Coolmuster Android Assistant (Android Version)
This professional Android managing tool that provides you with a one-stop solution for managing your Android data more easily. Do you have an Android phone that is operating slowly? There might be junk files that the phone stores in internal memory as you continue to use it.
Luckily, the Coolmuster Android Assistant (Android Version) is known as the best Android phone cleaner, and it can assist you in getting rid of all junk files quickly. Besides, it can also manage data on your Android device.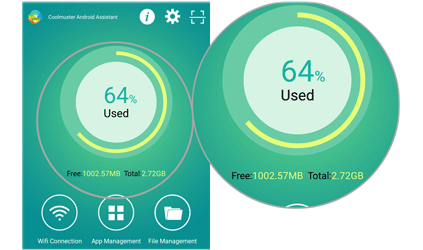 Key features:
* Fast scan out and clean caches, crash files, privacy records, and more.
* Optimize your Android phone or tablet by removing the junk data on your device.
* Enable you to access your Android internal folders to manage your files.
* Allow you to manage the files on your SD card installed on your Android device.
* Manage your apps by stopping or uninstalling them in 1 click.
Pros:
* Scan all the unnecessary data in an Android.
* Show the available memory, cleanable & total memory, and used memory on an Android device.
* It is safe, and no data can be leaked.
Cons:
* Its version for Windows and Mac is not free.
Download this best Android cleaner app on your Android phone or tablet.

Further reading:
Android 11 Update: New Features & Update Android Version
Android Backup to SD Card: How to Back Up Android Phone/Tablet to SD Card
2. Clean Master
The application shows you which programs are open and which ones consume the most memory on your phone. To access this feature, all you have to do is tap on the "Optimize" icon. The program is free.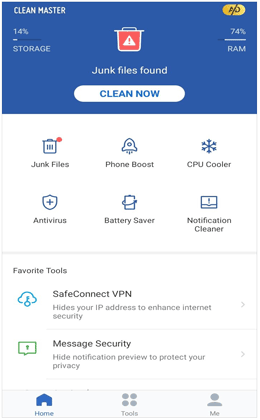 Pros:
* Speed up, clean, and protect your phone with a built-in anti-virus.
* Have unique features like AppLock, Duplicate Removal, and Junk Cleanup.
* Cool down the CPU by closing unnecessary background apps.
* Accelerate your game's performance by up to 30%.
Cons:
* Constantly sends problem notifications.
* Notify users about lots of useless stuff.
See more: Want a powerful Samsung PC Suite? You can get practical recommendations from this post.
3. Smart Booster
This application is available for Android smartphones from version 2.3 onwards and cleans the phone's RAM. The app shows how much RAM can be saved on its home screen. And allows the selection of which programs the user wants to clean to optimize the device's performance. Smart Booster also has a function that manages internal storage, apps, and even your privacy of use.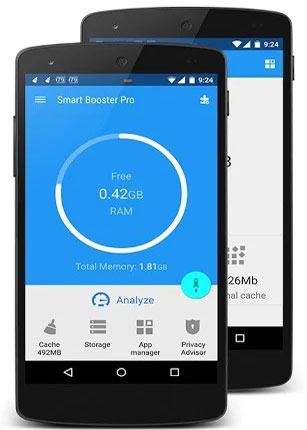 Pros:
* Provide 4 levels to boost your Android device.
* Allows selecting the apps to transfer.
* Fast clean cache.
Cons:
* Cannot detect the running apps in the background on Android at times.
* Contains ads.
* The pro version is not free.
Maybe you need: Sometimes, you will need to install APK on Android from a PC. In this case, you can follow this guide to make it fast.
4. Assistant for Android
This assistant is one of the most powerful software currently on the market. It has excellent management tools to improve your phone's performance.
Pros:
* Have about 18 features.
* Monitor the status of SPU, RAM, ROM, SD card, and battery.
* Allow greater control through its functions of power plans, file manager, and serial uninstallation, among others.
Cons:
* It runs in the background affecting your cell phone battery.
* Annoying ads can disrupt your web browsing.
Guess you like: These are the best photo recovery apps for Android. If needed, you can check it out.
5. MobileGo
This useful app is ideal for users who want to improve their music experience. As the name implies, this app improves the base quality of your songs. It's one of the most popular apps right now, and it also works on iPads and iPhones.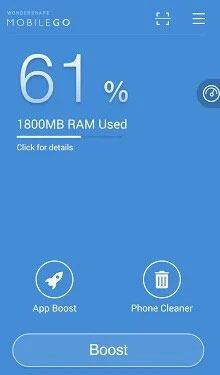 Pros:
* Clear cache, cookies, logs, unnecessary files, and unused apps in just a few taps.
* Feature to improve device in one click.
* Make transferring files between computers easier.
Cons:
* It's more suitable for improving performance, so it doesn't have many features.
* No real-time monitoring.
6. Booster for Android
This free application is ideal for those who need to speed up their smartphone's RAM. It displays a graph that shows all the RAM and internal storage usage information. In addition, it can select which apps you want to clean to get more memory.
This app is great for improving performance and saving battery. The software is compact and completely ad-free and has unique features such as automatic application shutdown and much more.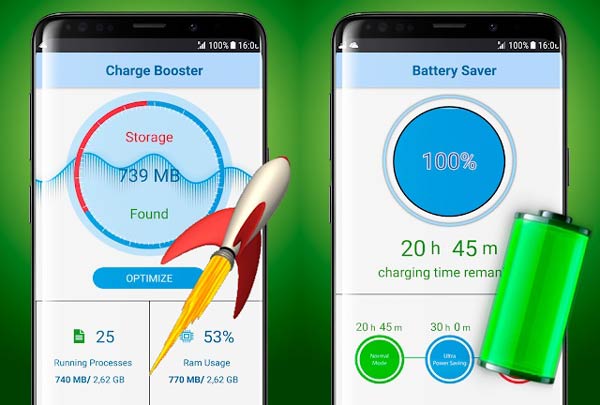 Pros:
* Easy navigation.
* Free up memory quickly and improves cell phone performance.
* Detect real-time battery status and usage time, allowing you to optimize your phone's battery life.
Cons:
* No plugins to block ads.
* It constantly notifies the user to perform optimizations.
7. AVG Cleaner
AVG is a reputable brand in software development. This app frees up more space, saves battery, reduces data usage, and starts automatically. To add to all this, it displays the status of your mobile in real-time.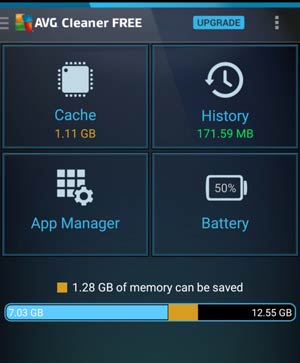 Pros:
* Can perform all tasks related to performance improvement.
* Clean your phone automatically.
* It satisfies all needs related to software management.
* It's easy to use and allows you greater control over the data you want to clean.
Cons:
* Not allow to exclude certain applications.
* It consumes too much battery.
8. Memory Booster
Memory Booster is very practical for cleaning your phone's memory. It allows the user to see exactly what percentage of memory is being used on their smartphone and display graphs that show exactly which apps are consuming the most memory throughout the day.
It also allows the user to select which apps can be closed to further optimize their performance when turning on the phone.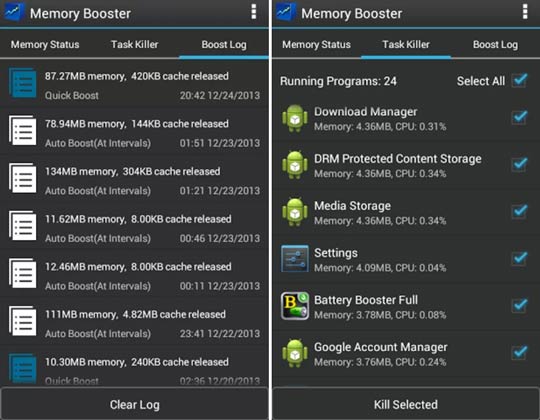 Pros:
* Real-time RAM usage.
* Its main features are cache clearing, task terminator, auto-enhancement, and system information.
* One-touch fast upgrade.
* You can configure automatic improvement intervals.
Cons:
* Have a primitive look.
* Lack of features to manage apps.
9. APUS Booster+
APUS Booster+ helps you to achieve optimal functioning of their Android smartphone. Opening it shows which applications are consuming more RAM and slowing down the device and gives the user the option to close them.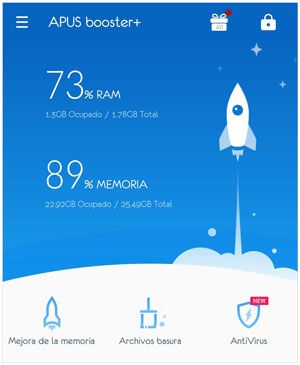 Pros:
* Clean junk files and manage apps on Android without hassle.
* Cool down CPU and save battery easily.
Cons:
* Not many features in its free version.
* The recent updates activated ads.
10. 1-Tap Cleaner
This app clears all cache and searches for histories and various records. With 1-Tap Cleaner software, you can also free up more space on your device.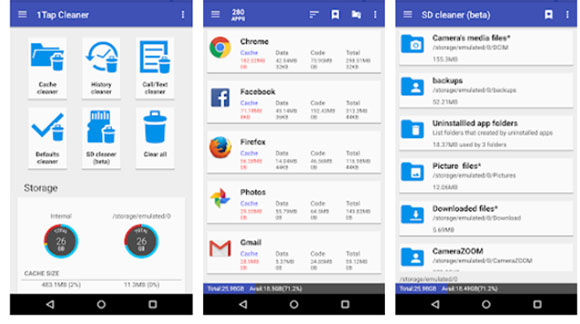 Pros:
* Four cleaners are included: a cache cleaner, a history cleaner, a call/message cleaner, and a default cleaner.
* Clear cache files and data files and search for historical records.
* You can make the most of your resources.
Cons:
* It's not free.
* It has a primitive look.
11. DU Speed Booster
This application has the function of optimizing and cleaning your cell phone. It also has a built-in anti-virus, cleans cache and other junk files, ends tasks, and increases RAM capacity.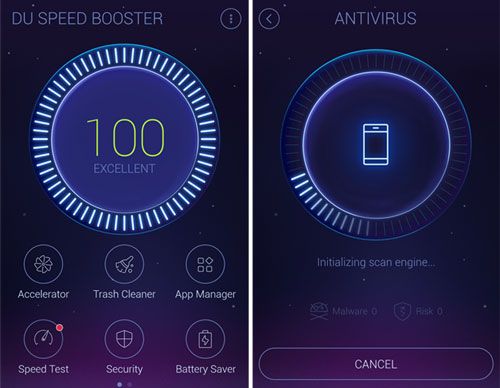 Pros:
* Include a cleaner, an enhancer, and an anti-virus.
* Possibility to schedule automatic cleaning of junk files.
* Can increase speed up to 60%.
* Detect viruses and trojans effectively.
Cons:
* Consume your battery up to 20% faster.
* No auto-enhancement.
12. CCleaner
The functions of this application include cleaning up junk, increasing speed, monitoring the system, and ensuring that the user browses safely.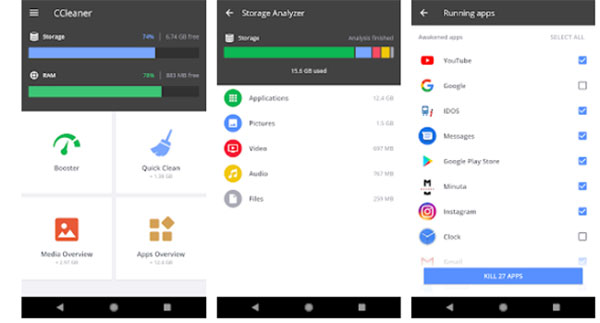 Pros:
* Clear cache, browser history, downloads folders, clipboard, and more.
* Delete call logs and SMS serially or individually.
* Uninstall multiple unwanted apps.
Cons:
* Have no virus cleaning feature.
* There is no cleaning schedule.
13. Clean Master - Speedy Booster
This app is fantastic if you want to save your battery and speed up your device. It can also clean memory and garbage, improve game performance, and much more.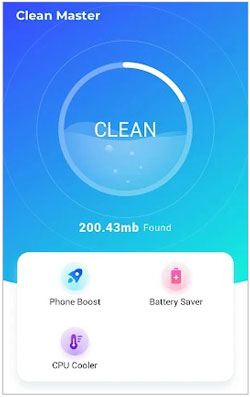 Pros:
* Faster cleaning speed.
* Easier to use.
Cons:
* No feature for cleaning virus.
14. RAM Booster and Cleaner
As the name suggests, this app helps to optimize and clean your phone's RAM. To do this, just open it and select the "Boost" option. In a few moments, you will be able to access the amount of space that was freed by the application.
RAM Booster & Cleaner also lets you access information about your Android's storage capacity and check which apps are open. It is worth mentioning that it can only be downloaded by smartphones with Android 2.3 or higher.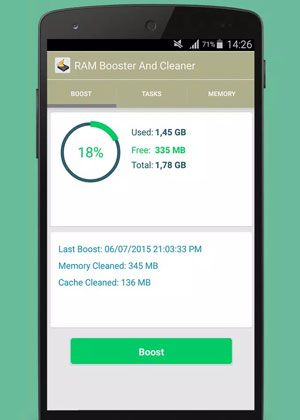 Pros:
* Clean the RAM effectively.
* Preview before cleaning.
* Compatible with Android 2.3 or higher.
Cons:
* You cannot skip those ads as you open the app.
15. KeepClean
This is a complete and versatile option to clean your Android. The application has different features to free up space, optimize RAM, save battery and even improve your device's performance while playing.
KeepClean provides quick cleaning shortcuts to scan your device. Each process displays suggestions of heavy or little-used files, which can be removed to free up space. In addition, it provides a toolbar on the notifications screen, with quick access to functions to optimize RAM and remove files. But, it has a frequent display of ads.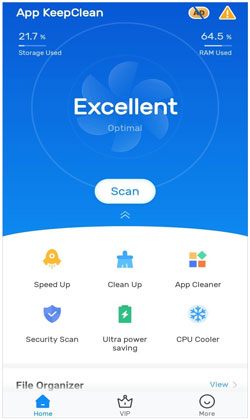 Pros:
* Faster cleaning shortcuts.
* Quickly access the functions to optimize RAM in your phone.
Cons:
* Contain annoying ads.
16. File Manager by Xiaomi
A wonderful Android phone cleaner app that organizes all the files on your device into categories and informs you of the most recent photos and videos in your folders.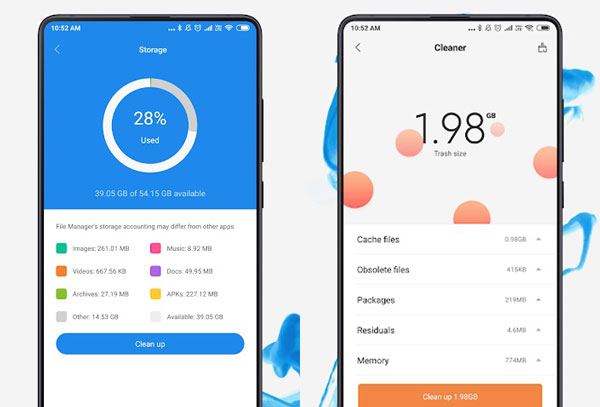 Pros:
* Clean junk data and other useless files.
* Your files will be organized in categories on your phone.
Cons:
* Come with unwanted ads.
Conclusion
That's it! You now have the best Android phone cleaner apps that can help you boost the functioning of your Android phone. With a good running phone, you'll increase your productivity and enjoy the experience of having an Android phone. If you want a free and excellent Android cleaner app, Coolmuster Android Assistant (Android Version) is a nice choice. Let's have a try.
Related Articles:
Connect Samsung Phone to PC Wirelessly or with USB Cable? (5 Practical Options)
How to Move Apps to SD Card on Huawei in One Click? 3 Easy Ways
Top 11 Phone Memory Recovery for Android Software You Should Know
Troubleshooting for 'My Text Messages Disappeared on My Android Phone' (Reliable & Easy)
Android Recycle Bin - Where and How to Find Deleted Items on Android Phone?
[Solved] How to Restore Photos from Mi Cloud to a Phone or Computer?
Add a comment