"
Hello, I have a Samsung Straighttalk phone, and I am selling it. I need to know how to erase the SIM card and the phone memory. Thanks.
"
Many important contacts and text messages are stored on the SIM card. As a result, you may tend to erase the SIM card to keep your privacy safe when you decide to donate, sell, or recycle your old Android phone. But, do you know how to wipe a SIM card with Android completely and safely? Well, you will find the effective solutions in the post.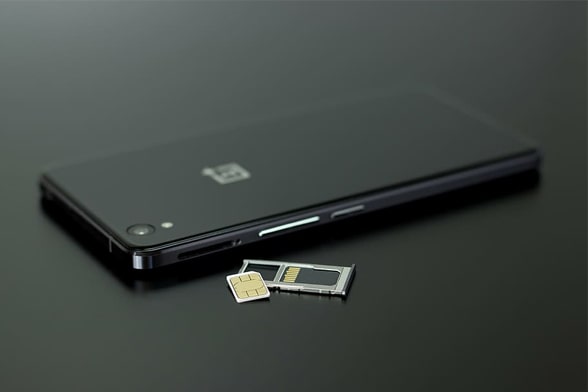 Part 1. How to Erase SIM Card Memory on Android Manually? (Recoverable)
Part 2. How to Wipe a SIM Card with Android Permanently? (One-click)
Part 1. How to Erase SIM Card Memory on Android Manually? (Recoverable)
A few tricks can basically help you format a SIM card on Android. Before you take up the steps below, you'd better back up the Android contacts and text messages if you want to keep the SIM card files to other devices. Then, follow our guidance.
How to reset a SIM card manually?
Option 1. Reset the Android phone from Settings.
Keep the SIM card inserted in the Android phone's SIM card tray, put the back cover onto your phone, and turn your phone on.
Go to Android's Settings > Phone Settings > Reset > Delete Memory Device > click OK.
Option 2. Erase all SIM card data from the Contacts or Messages app.
Insert the SIM card into the Android's SIM tray > open the Phone app > choose Contacts.
Delete contacts from SIM card. Tap Settings (the three dots) > Manage contacts > choose Delete All.
Erase text messages from SIM card. Go to the Messages app > press and hold the texts you want to delete > hit Delete.
Reset call logs. Click the Phone app at the bottom of the home screen > tap Call Log > Call Manager or Settings > select Call Duration > click Options > press Reset All.
If necessary, you can refer to these steps to reset received calls, missed calls, outgoing calls, and recent contacts.
See also:
How to Wipe Android Phone Completely before Selling?
Fast Unlock Samsung Galaxy S2 in 6 Ways [Unlocked]
Part 2. How to Wipe a SIM Card with Android Permanently? (One-click)
Although manual way erases SIM card on Android, they are still recoverable with some professional data recovery software. So, if you want to delete the SIM card on Android without recovery possibility permanently, you can try Coolmuster Android Eraser. This SIM card eraser can completely wipe out the SIM card data and other Android files from your device, like the deleted files, system settings, private data, etc. It offers 3 modes for you, and the removal data under each mode is impossible to be recovered.
The key features of Coolmuster Android Eraser:
* Permanently wipe all Android data, including SIM card contacts, text messages, photos, videos, music, apps, call logs, eBooks, etc.
* Offer 3 erasing levels: Low, Medium, and High Level. Apart from erasure, the Medium and High Level also overwrite with junk files once and twice.
* Completely and permanently erase the SIM card data and prevent them from recovery.
* Easy to use, fast, and reliable SIM card eraser.
* With on-screen prompts in each step, even tech novice can handle it easily.
* Work with all Android devices running Android 4.0 and up, such as Samsung Galaxy S20/S20+/S20 Ultra, Sony Xperia 10 Plus/10/10 Ultra/Xperia Pro/5/5 Plus/4, LG W31+/LG Wing 5G/LG G8/G7/G6/G5, etc.
How to clear SIM card memory smartly?
1. Install Coolmuster Android Eraser on your computer.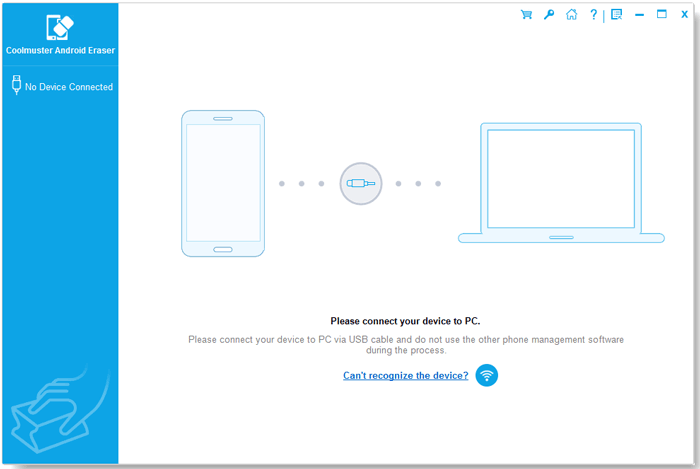 2. Connect your Android phone, which contains a SIM card, to the computer with a USB cable, enable the USB debugging, authorize the necessary permissions, and click OK to continue.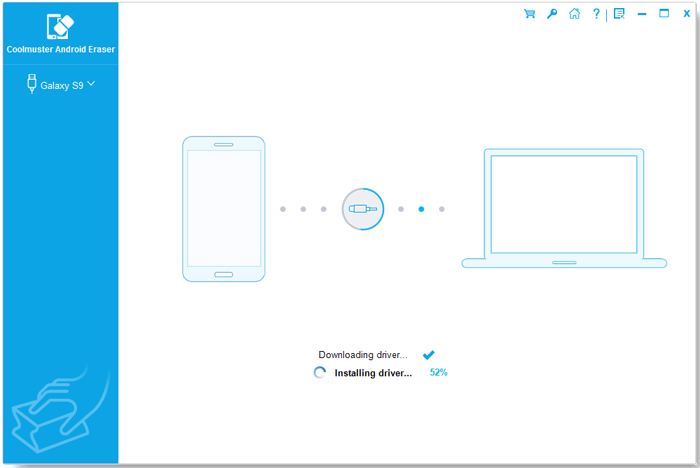 3. Erase SIM card permanently. Click Erase from the interface > choose a security level in the relevant column > hit OK > enter delete into the blank > tap Erase > choose OK to confirm this operation. It will start erasing your Android phone and the SIM card information.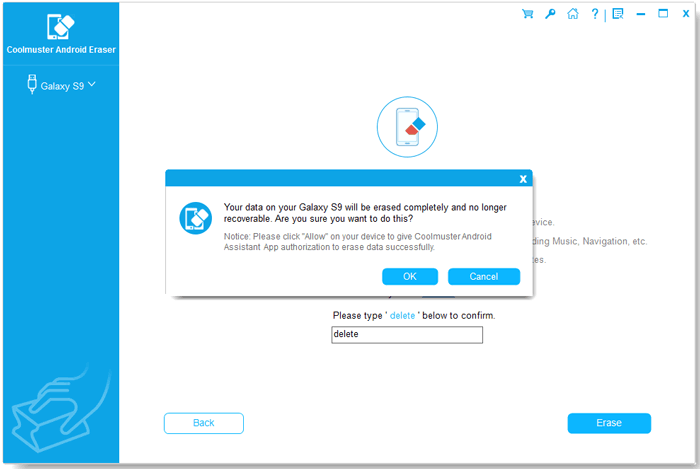 If you choose the Medium and High level, it will continue to overwrite the phone data immediately after erasure.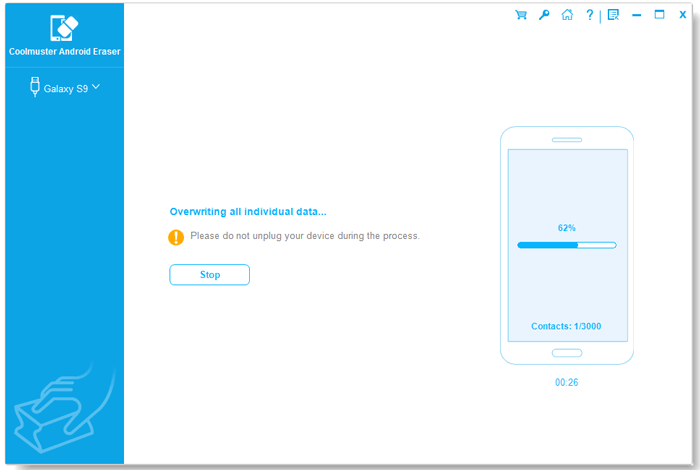 4. Factory reset your Android from Settings and set up your Android device as a new one.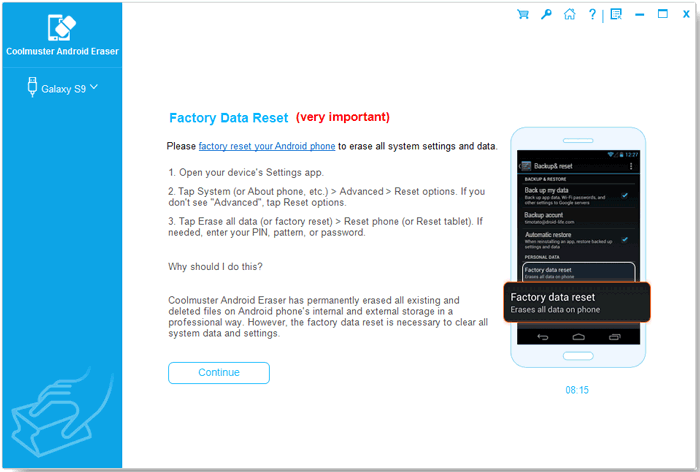 You may like:
How to Recover Contacts from Android Phone after Factory Reset? [Fixed]
How to Recover Deleted Files from Android [Marvelous]
Wrapping Up
People today concern more about their privacy. When they no longer need the old Android device, they will manage to erase all the private information, leaving no possibility to recover. However, the manual way only makes the SIM card data invisible. For people who want to know how to wipe a SIM card with Android permanently, you can give Coolmuster Android Eraser a try. More than the SIM card, it will also erase all the device settings, passwords, apps, media files, documents, and factory reset your Android device to the factory status.
By following our instructions, you can handily clear SIM card memory by yourself without tech knowledge required. So, what do you think about this?
If you encounter any difficulty when wiping the SIM card, please leave a comment below. Our online support teams will reply to you soon.
Related Articles:
How to Delete Photos from Android Phone Permanently
One-click to Say Goodbye to Unwanted Data from Android Phones
How to Permanently Delete Text Messages on Android?
How Can I Delete Photos from iPhone But Not iCloud? [Solved]
How to Free Up Space on Samsung Tablet or Phone in 7 Ways
How to Delete Photos from Samsung Galaxy Permanently - 3 Ways!