Several iPhone users are perhaps aware of the terrifying sinking feeling that you get when you take a look at the screen to realize that their iPhones have been locked. They are asked to wait for a few minutes before they try again. However, unfortunately, when the incorrect password has been entered ten times, then you are asked to connect the phone to iTunes, otherwise the phone enters into a self-destruct mode in which all data is automatically wiped out.
Related: What if iPhone is Stuck in Recovery Mode?
Possible ways to Restore A Locked iPhone
1. The first and the most simple method is to wait for a few minutes (as specified on the screen of the locked iPhone) and then enter the correct passcode that you had set in the first place. The phone gets automatically unlocked and you are free to use it like always.
2. In case, you are witnessing the worst case scenario and you have to connect the iPhone to the computer to recover it, we hope you made a recent backup of your data and know the passcode to your iPhone. In case you haven't done either, you will lose all your data and start afresh. This is again, one of the several reasons why it is important to carry out regular backups of your iPhone.
Let's see how you can get your locked iPhone back on track in such a case. If you have conducted a recent backup and know your passcode, you will have to do a restore.
- Connect the phone to the computer and open iTunes.
- Click on "Sync" and enter the passcode when prompted to open your phone.
- Click on "Restore" and you now have access to your iPhone with all the previous data, safe and secure.
Recover data from locked iPhone
The Coolmuster team is always working hard at being innovative and more tech friendly and has now come up with an updated version of the Coolmuster iPhone Data Recovery software that can not only recover data of the lost or locked devices from the iTunes, but also recover the data without the iTunes backup.
This software is an extremely cool one because:
- It is compatible with all iPhone models up to 6S, and can be used on iPads and iPods as well.
- It will recover data from your iOS device whether you accidentally deleted it, broke your device or even locked it for good.
- Recover several typed of data like contacts, messages, photos, call history and many others.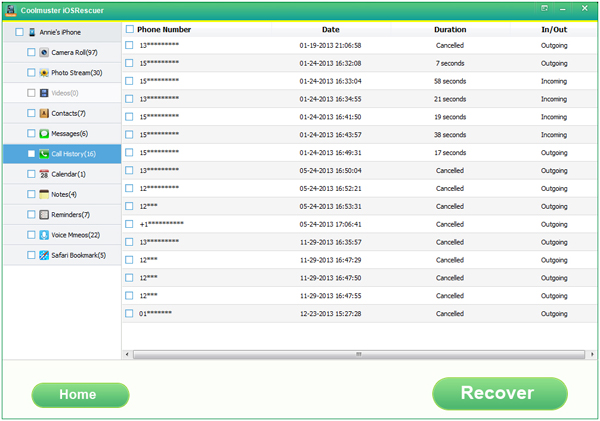 It's rather easy to recover data when you have a backup done, but the main problem arises when you don't have a back-up and that is when you can thank Coolmuster, because they can help you out in this case within a few minutes with the help of a few clicks.
Recovering data when you don't have a backup
If you haven't had a recent back up done, you can still recover your data from your locked iPhone. Just follow the steps given below:
1. Download, install and open the software on your computer and connect your iPhone to it through the USB cable.
2. The software will identify your phone and give you two options. Select "Recover from iOS Device" option.
3. Once you do that, you will see all the folders and files of your phone on the left hand side of the pop-up window. Select the files you want to recover by ticking the boxes next to them and then click on "Recover".
The next time you land up losing sensitive data from your iPhone or even if you lock it, there is no need to panic. The Coolmuster iPhone Data Recovery is the software that you need to get out of this tricky situation. However, regular backups are strongly recommended.
Words in The End: Potential causes for a locked iPhone
1. Keeping the phone in your pocket:
People have the habit of keeping their phones in their pockets - jeans pocket, jacket pocket and so on. Because the iPhone screen needs a soft slide to enter the "enter passcode" mode, it can easily get triggered when kept in the pockets. This problem generally occurs when the phone is placed in tight pockets like the denim ones. However, it is quite a frequent scenario.
2. Someone wrongfully tried to enter the passcode:
The world is filled with curious souls who find nothing more interesting than to have a peek into your iPhone and look at your personal photos and other sensitive data. Sometimes, friends and family members met be the reason behind you getting this unnecessary heart attack. They just keep trying to guess your passcode and make several incorrect attempts, and you are the one who has to bear the brunt of a locked phone.
3. Children playing around with your iPhone:
We have all left our iPhones with children to keep them engaged but that only kept use keeping engaged for a longer time waiting for the specified time to pass so that e can enter the correct passcode or trying to figure out how to unlock our phone that has entered the self-destruct mode (thanks to these kids who never stop trying - unsuccessfully)! Children, unintentionally, keep entering the wrong passcode that causes your iPhone to lock and makes you wait for some time, depending on the number incorrect entries made. The greater the number of attempts made, the longer is the waiting period.
So in case that your iPhone gets locked, pay close attention to these potential causes and circumvent them as much as possible!
Related Articles:
How to Recover Data from Jailbroken iOS 9