Easily Recover Voice Memos from iCloud Backup
Voice Memo is a useful application on Apple device for recording your video lectures, important meeting discussions or your favorite song. You cannot take the risk of losing these important recordings. But, unfortunately, you are helpless when you lose these recordings due to iOS up gradation, cleaning up your device storage, forgotten password; when you either damage or lose your device.
It may create havoc in your professional life or it may disturb your studies if you are a student. But, you don't need to worry. You can restore your voice memos if you have created a backup on iCloud, a cloud-storage service from Apple.
How Do You Recover Voice Memos from iCloud Backup?
It's easy to restore your voice memos from iCloud in simple steps if you have backed it up before. Here, we have listed the steps to restore your lost voice memos from iCloud.
- First of all, you have to reset your device. Go to Settings > General > Reset. Follow some on screen instructions which will lead you to the Apps & Data option.
- Here, tap on the link - Restore from iCloud Backup.
- After this, you have to Sign in with your Apple ID and password.
- After successful login, you will be asked to select the backup you created at a particular date and time in the past. Choose the back up and wait while the files are being transferred.
- After successful completion, you'd be able to see your restored voice memos in your device.
More Similar Articles:
Extra Bonus: What if you have no iCloud Backup?
The above method can work only when you had backed up the voice memo on iCloud. What if you didn't? Most of us do not bother to backup our data over the iCloud, and this can mean that we cannot retrieve it if the data has been lost.
But, sometimes, it may happen that you forget to create a back up on iCloud. At the same time, you lost all the data on your device. Coolmuster iOS Data Rescuer comes to your rescue, software which can extract the deleted or lost data on your Apple device even when you don't have the backup! You can be selective while recovering data. You can select the desired files you want and discard the others or select all the files. The restored files can be saved on your device and can be stored in iCloud or iTunes as well.
The step-by-step procedure for the recovery with the software as discussed here:
- Install the software on your computer.
- Connect your device with the computer via USB cable.
- Then, click on the "Start Scan" link. The software will scan your device for the available and the lost files.
- Select the "voice memos" category and then select the memos which you want to recover. Then, click on the "Recover" link to restore selected files.
- If you want to restore the files from the iTunes store, click on the "Restore from iTunes Backup File" link. It will show all the devices which has been synced with the particular iTunes account on your computer. Select the device from which you want to restore the files and start the scan.
- Again, click on the "voice memos" category and select the memos you that you want to restore. Click on the "Recover" link to save them on your computer.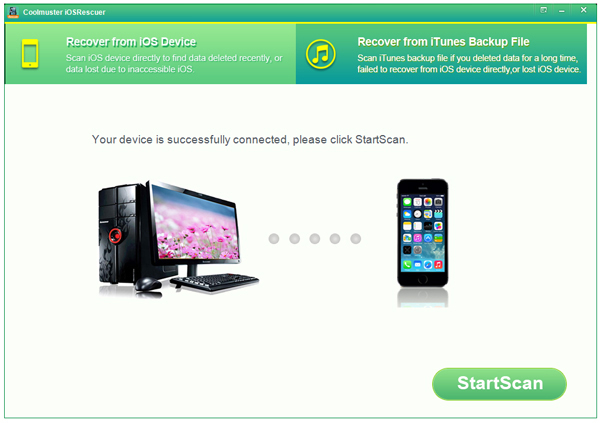 It's simple to backup all your data and even retrieve it in just a few clicks. Trust this professional tool to do all the work for you, every time. It surely won't let you down!
Related Articles:
How to Restore iPad/iPod from iTunes Backup