OMG! I lost my iPhone 6 by accident. All my important files are stored in my iPhone. Is it possible to get the location of my iPhone? So I can possibly know where did I lose my iPhone. Any advice? Thanks!
For all Apple products, the Find My iPhone app at iCloud.com allows you to easily track your iOS devices. With this application, you are able to see your lost iPhone, iPad, iPod touch, or Mac on a map. And with the Lost Mode feature, you can track where it's been. That way you can decide on your best course of action. You can immediately lock your device and send it a message with a contact number. Then whoever finds it can call you from the Lock screen without accessing the rest of the information on your device. Now, let's see how to use this app to track your missing device.
Instructions on Tracking iPhone with Find My iPhone:
Step 1. Sign in iCloud.com and use the Find My iPhone app.
Step 2. Lock your iPhone by entering a passcode.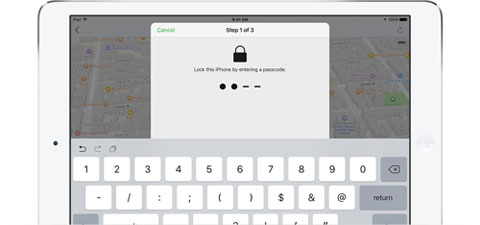 Step 3. Send your iPhone a message with a contact number. Whoever finds your iPhone will call you from the lock screen.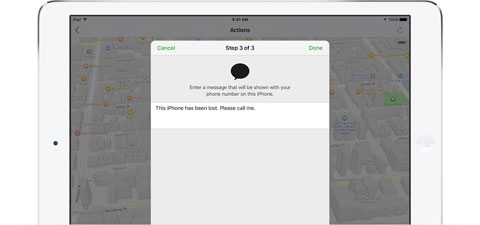 Step 4. Lost Mode will be enabled on your iPhone.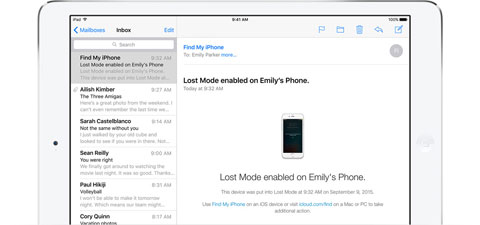 Step 5. You can track your iPhone easily on a map.
With this application, you can be fully informed of the status of your missing device. Moreover, this application will send you messages confirming your actions. More importantly, the features of Activation Lock and Remote Erase within this application can better secure your iDevices. By using Activation Lock, you are required to set up your Apple ID and password before anyone can turn off Find My iPhone, erase your device, or reactivate it. By using Remote Erase, you can remotely wipe out all personal data from your iOS devices in case your device falls into the wrong hands.
Other Alternatives to Locate iPhone:
Choice 1. iHound. This security program is available to all iOS users free of charge. With this security program, you will be alerted when you iPhone is connected to another foreign computer. After launching this software, your iPhone will be located and tracked easily. Below are the steps on how to use this security program:
Step 1. Sign up for a free account at ihound.
Step 2. Log into ihound and add your iPhone to track.
Step 3. Download the ihound software to recognize your iphone
Step 4. Open ihound software to install a tracking program on to your iphone.
With this security program, you can get a detailed report on where your iPhone is being used by logging in to ihound's website. Then you can locate your iPhone and permanently erase personal information from your iPhone. This is especially useful when your missing iPhone is switched off.
Choice 2. iLocalis. With iLocalis, you can decide how often you want your iPhoneto send its current location to the iLocalis server and your iPhone will be tracked. Before using this software, you need to sign for an iLocalis account beforehand. This security program is very powerful. With this software, you are able to send text messages or make calls on your iPhone even if you don't even have it with you. In addition, this software allows you to get the phone numbers of the person who steals your iPhone and changes the SIM card.
As to the steps, firstly you have to jailbreak your iPhone, then go to Cydia, install iLocalis and register your iPhone. Later, this security will automatically track the location of your missing iPhone.
Bonus: If unfortunately you can regain your lost iPhone but you have backed up all files to the iTunes, you can rely on Data Recovery for iPhone/iPad/iPod to recover the lost files from iTunes to your device. You can click the below button to get the free trial version of this software to restore your lost files!
Related Articles:
How to Restore Contacts/Messages from iPhone SIM Card