Often, we find ourselves in situations where we need to send a large PDF file via email or upload it to a website, only to realize that the file size exceeds the permitted limit. This is where the importance of knowing how to compress a PDF on iPhone comes into play. In this guide, we will explore the straightforward and practical methods that allow you to reduce the size of your PDF files directly from your iPhone, ensuring your documents remain easily shareable and storage-friendly.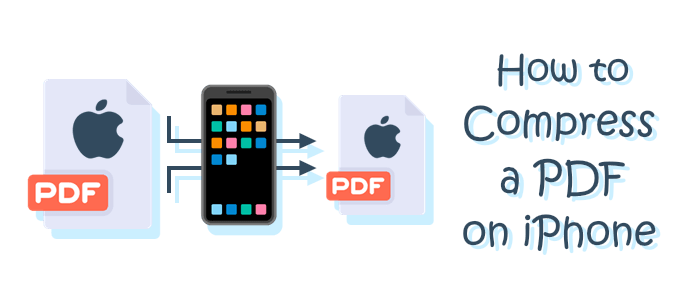 Method 1. How to Reduce PDF File Size on iPhone via Quick Actions Feature [iOS 17]
If you are using an iPhone with iOS 17, you can easily utilize the built-in functionality of the Files app to compress your PDF files. However, it's important to note that iPhones running iOS versions below 17 do not have this feature. For users with older iOS versions, you should use the alternative methods introduced in the later parts. Additionally, please be aware that this feature only allows for compressing one single file each time and cannot process PDFs in bulk.
To learn how to reduce the size of a PDF on iPhone, please follow these steps:
Step 1. Open the Files app on your iPhone and locate the PDF you want to compress.
Step 2. Long-press the file's icon until a menu appears. Tap "Quick Actions" > "Optimize File Size". You can then save the compressed file to your preferred directory.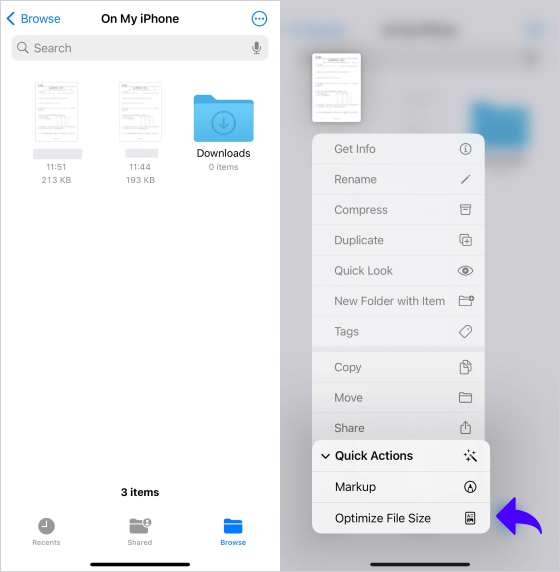 Method 2. How to Reduce PDF on iPhone via Adobe Acrobat Reader
Adobe Acrobat Reader is a popular office tool that allows users to view, create, and edit PDF files on various devices, including iPhones. However, dealing with large PDF files on a mobile device can sometimes be a challenge, especially when storage space is limited. In this method, we will introduce how to shrink a PDF file size on iPhone using Adobe Acrobat Reader.
Here are the steps:
Step 1. If you haven't already, download and install Adobe Acrobat Reader from the App Store on your iPhone.
Step 2. Launch the Adobe Acrobat Reader app and locate the PDF file you wish to reduce in size.
Step 3. Tap on the menu icon to view a list of available tools and choose the "Compress PDF" option.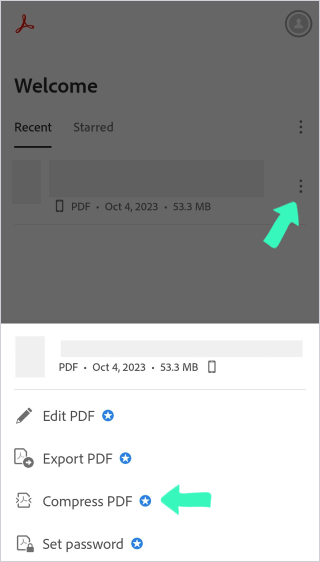 Step 4. Customize the compression level and tap the "Compress" button.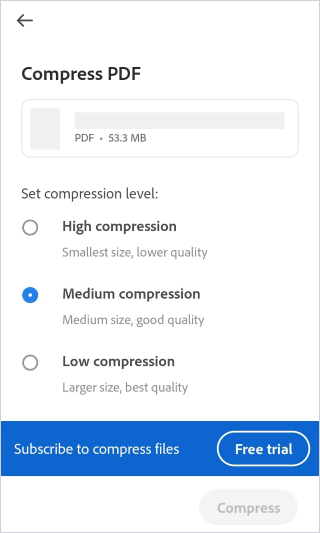 You may also need:
How to Enlarge PDF for Printing: 6 Methods for Better Results
[Solved] How to Merge PDF Files in Google Drive & Using Alternatives
Method 3. How to Reduce a PDF File on iPhone via WPS Office
WPS Office is a versatile and powerful productivity application available for iPhones that offers a wide range of features, including the highly useful feature to reduce the size of PDF files directly on your iPhone. Next, let's walk you through the steps to reduce a PDF file on your iPhone using the handy tool.
Here are the steps:
Step 1. Download and install the WPS Office app from the App Store on your iPhone.
Step 2. Open the WPS Office app. Locate the PDF file that you want to reduce and tap on the "Tools" icon > "File Slimmer" options.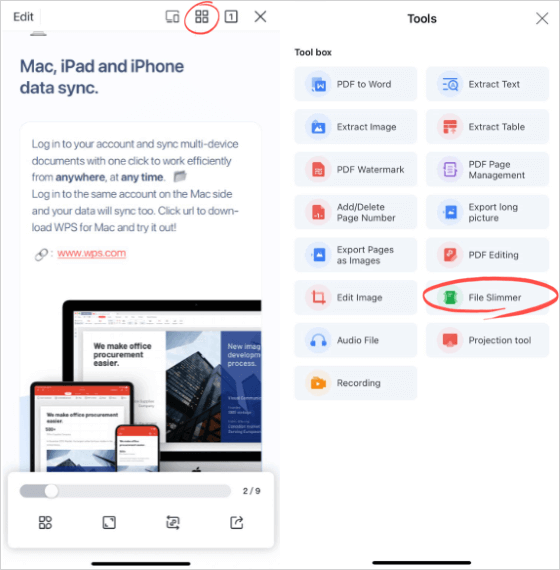 Step 3. After the tool completes the checking process, tap the "Start Reducing" button to start the process to reduce size of PDF on iPhone.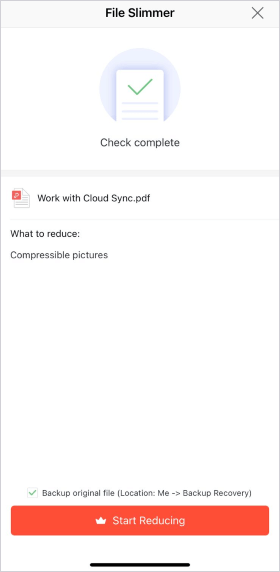 Method 4. How to Reduce PDF File on iPhone via Online PDF Compressors
If you prefer not to download dedicated software for temporary needs, you can also utilize some free online tools to compress your PDF files. We have introduced 10 popular online PDF compressor tools (such as www.ilovepdf.com, tools.pdf24.org, smallpdf.com) in this easy guide:
How to Compress PDF Online [Online PDF Size Reducer Review]
Here are the steps of how to compress a PDF in iPhone using www.ilovepdf.com as an example:
Step 1. Launch the web browser on your iPhone and navigate to the www.ilovepdf.com website. Click the "Select PDF files" button upload your PDF files.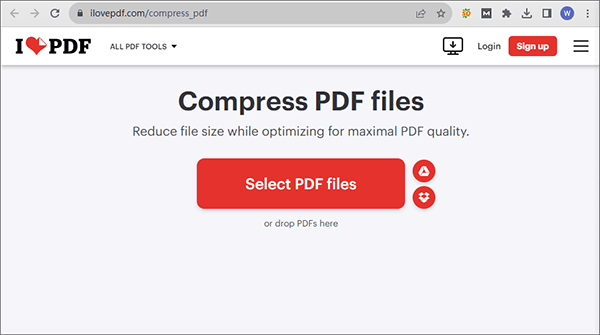 Step 2. Select your preferred compression level and tap the "Compress PDF" option to start the compression. The website will automatically start downloading your compressed files.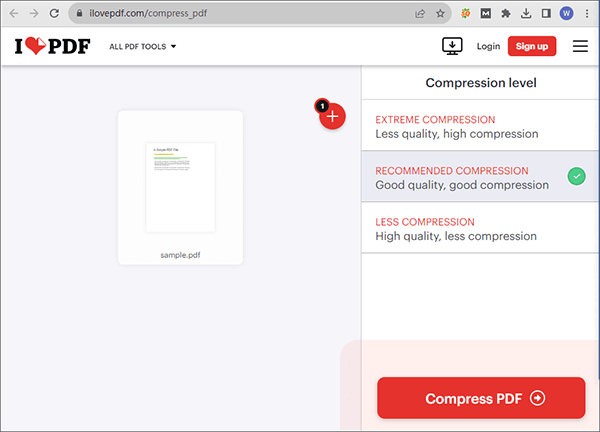 Also read:
Quick and Easy: Compress PDF to 1MB Free with These 8 Techniques
Mastering PDF Size Reduction: How to Make PDF File Size Smaller
Bonus: How to Reduce PDF File Size on Windows via PDF Compressor
PDF Compressor (Windows) is a lightweight Windows tool specifically designed for compressing PDF files. It boasts a remarkably fast compression speed and allows you to control the compression quality with a simple slider. Moreover, this tool enables you to compress several hundred PDF files simultaneously.
To use PDF Compressor for compressing your PDF files, you only need to:
01Download, install, and launch PDF Compressor on your Windows computer, then drag & drop your PDF files directly into the window.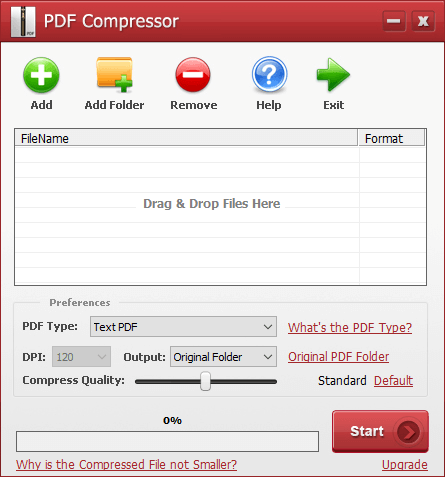 02Set the compression details and click the "Start" button to start compressing the PDFs. When the compression is completed, the output folder will directly pop up.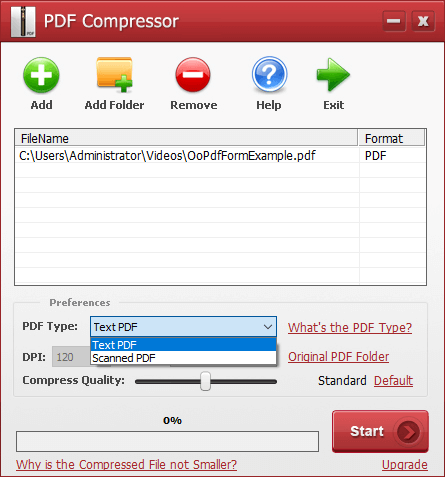 Conclusion
The ability to compress PDF files on your iPhone is a valuable skill that can enhance your productivity and simplify your digital document management. Whether you're a student, a professional, or simply someone looking to streamline their mobile workflow, the techniques discussed in this guide can provide you with the tools to efficiently handle large PDFs, making them more accessible for sharing and storage.
Related Articles:
PDF Size Reducer iLovePDF - Empowering You to Control Your File Sizes
Adobe Compress PDF - Your Key to Compact, High-Quality PDFs
Effortless PDF Size Reduction: Reviewing Free PDF Compressor Software
File Size Slim-Down: How to Compress PDFs Like a Pro Easily
Unlocking the Secrets: How to Reduce PDF Size with 8 Strategies
Extract Signature from PDF Effortlessly: Quick and Effective Methods