Are you looking for an OCR converter to convert your image-based PDF files to editable text file? OCR, short for Optical Character Recognition, is a system used for converting scanned or printed image files into readable text format. If you need to extract texts, images and even graphics from PDF files, the best way is select an OCR tool to digitize text on these image-based PDFs. There are top 5 free OCR software for Mac and Windows that cater to OCR PDF on Mac. Just take a look at them and pick up one for your assistant.
1. Adobe Acrobat X Pro (for Mac/Windows)
Adobe Acrobat is the most comprehensive PDF manager. But not all users know that it also allows OCR scanning of documents. OCR PDF with Adobe Acrobat, you just go to the taskbar, click Create and choose PDF from Scanner. There are 3 presets available to this tool, including Black; White Documents, Grayscale Document and Color Document. You can choose any from the three which have the OCR option enabled by default so that you can get the searchable PDF files immediately.
2. PDF OCR X (for Mac only)
PDF OCR X is a simple and small application which can convert your scanned PDF and images into editable text documents and searchable PDF files. Equipped with advanced OCR technology, users can extract the text of the PDF, including the text contained in an image. This is quite useful to handle with image-based PDF which comes from a scanner or photo copier.
3. OCRTerminal (for Mac and Windows)
OCRTerminal is part of ABBYY'S FinReader, which is used by millions of users worldwide. OCRTerminal provides a full range of OCR technology and file conversion services. You can enjoy superior accuracy, great formatting retention and high quality of document with the OCR conversion performed by OCRTerminal. To use this OCR tool, you need to register and log in. 20 pages of PDF can be converted for free per month.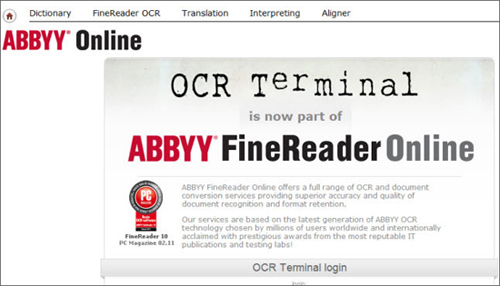 4. Google Docs (for Windows and Mac)
Google Docs is able to perform OCR feature to digitize your scanned file, no matter they are PDF or image. The steps is uploading your scanned PDF or image, Google Docs will open them immediately and if you like, you can tick the option to let Google Docs extract text from the scanned file and save it in Google doc format which is editable and searchable. But you should notice that the original formatting and layout of the scanned files will be lost after the OCR process.
5. OnlineOCR Service (for Mac and Windows)
OnlineOCRis an online OCR service which can recognize text and characters from scanned documents, camera captured images and more, without downloading or installing any software on your computer. All you need is importing the files (less than 4MB), select languages and target output format and then click the "Recognize" button. It features with powerful conversion ability that not only you can extract text from image, but also choose to convert it to editable Word, Text, Excel, PDF, HTML, etc.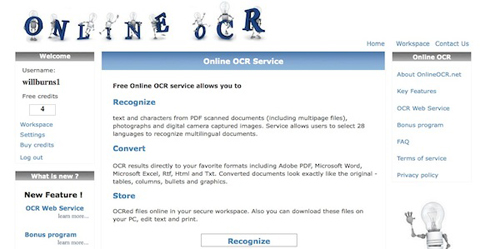 OCR software is essential for converting image-based PDFs to editable text. Top choices include Adobe Acrobat X Pro, PDF OCR X, OCRTerminal, Google Docs, and OnlineOCR Service. Pick the one that suits your needs and convert PDFs effortlessly.
Related Articles:
PDF Splitter - How to Split PDF into Multiple Files