In today's digital age, the convenience and portability of smartphones have revolutionized the way we consume information. Gone are the days of carrying around bulky documents or stacks of papers. Now, with just a few taps on your iPhone, you can transform your device into a powerful tool for reading PDFs on the go. In this article, we will dive into the world of mobile reading and explore the tips, tricks, and features that will help you read PDFs like a pro on your iPhone. So, get ready to unlock the full potential of your pocket-sized library and take your reading experience to new heights.
Part 1. How to Read PDF on iPhone with iBooks?
- Sync PDF files to your iPhone with iTunes and iBooks will save these PDF files directly.
- Launch iBooks on your iPhone and choose the button of "Collections" on the top left of the main interface. You will see the PDF files are now displaying on the bookshelf.
- Open the PDF that you want to read on iPhone to begin your reading experience.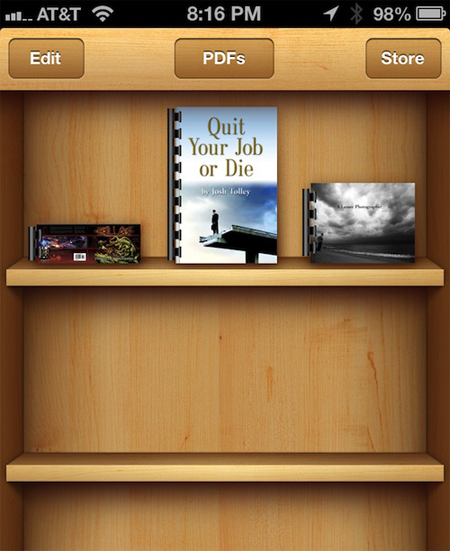 There is also another case that you got the PDF file from an email. Then, you can open the PDF with iBooks by choosing the option "Open in iBook" on the top right corner of the screen. Once you open a PDF with iBooks, iBooks will save a copy of this PDF immediately on the bookshelf.
However, there is an annoying problem would occur to obstruct your PDF reading on iPhone. Some PDF files might be protected by password. You have to crack the password protection before you can open them on your iPhone. In that case, Coolmuster PDF Password Remover can help you.
Part 2: Tips and Tricks to Enhance PDF Reading Experience on iPhone
Reading PDF files on iPhone is not as comfortable as on iPad because of the small screen of iPhone. You need to convert PDF to iPhone friendly eBook format, ePub, if you wanna enjoy better PDF reading experience on iPhone. ePub is the standard format for iPhone and you can freely adjust the font size, color and even add bookmark to ease your reading.
To convert PDF to iPhone ePub, you can try Coolmuster PDF Converter Pro which is a professional PDF tool enables you to convert PDF to ePub for iPhone on Mac OS X or Windows 8/7/XP. In the following, we tell you how to convert PDF to ePub on Mac OS X.
Step 1. Add PDF Files
Download and install this PDF to ePub Converter on your computer, launch it and click the Add Files button to upload the PDF files. You are allowed to drag and drop multiple PDF files at one time and convert them in a batch.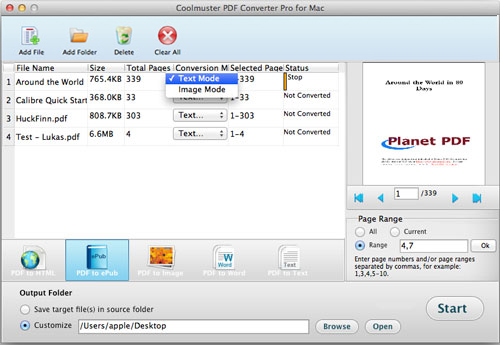 Step 2. Convert PDF to ePub on Mac
Select the PDF to ePub conversion type, choose an output folder to save the ePub files and then you can simply click the Convert button to start the conversion on your Mac. After the conversion, you can check out output ePub eBooks in the output folder.
In conclusion, smartphones, particularly iPhones, have transformed the way we consume information by providing convenience and portability. The ability to read PDF files on iPhones has become an essential feature, eliminating the need for carrying physical documents. With the iBooks app, users can easily sync and read PDFs on their iPhones. By opening PDFs in iBooks, users can create a digital library and access their files anytime, anywhere. However, some PDF files may be password-protected, requiring a PDF password remover tool like Coolmuster PDF Password Remover.
To enhance the PDF reading experience on iPhones, it is recommended to convert PDFs to the iPhone-friendly eBook format, ePub. By converting PDFs to ePub, users can adjust the font size, color, and add bookmarks for easier reading. Coolmuster PDF Converter Pro is a reliable tool for converting PDFs to ePub on Mac OS X or Windows. With a simple two-step process, users can add PDF files and convert them to ePub format.
In summary, smartphones, such as the iPhone, have revolutionized the way we read and access information, making PDF reading more convenient and accessible. With the right tools and techniques, users can optimize their PDF reading experience on iPhones and enjoy a portable library at their fingertips.
Related Articles:
Preview Alternative to Convert PDF to TIFF/GIF/BMP on Mac OS X