How to Delete iCloud Account without Password (2 Ways)
Summary: Here in this article, you will be clear why you need to delete iCloud account without a password, and learn 2 ways to delete iCloud account without password and things to take care before deleting iCloud account.
iCloud account is widely used among iPhone, iPod and iPad users. This has been one of the main ways of data storage for iOS and Mac users. For those who are using more than one iDevice, there are chances that they have created several iCloud accounts. Some create and forget the passwords, which is a challenge when they want to delete this accounts.
Part 1. Read before Deleting iCloud Account without Password
Part 2. One Click to Completely Delete iCloud Account without Password
Part 3. How to Delete iCloud Account without Password Manually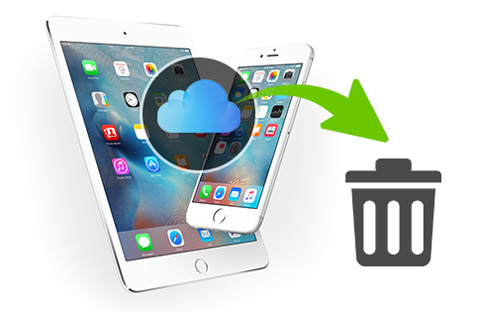 Part 1. Read before Deleting iCloud Account without Password
1. Top Things You Should Take Care before Deleting iCloud Account
Before deleting your iCloud account without a password, it is important to know the following tips.
* Please make sure you have transferred your iCloud data to computer since you might lose the data saved in the account after deleting your iCloud account.
* Be sure you know the passcode of the other iDevice as it may be required after the deletion.
* Always ensure that you have backed up your device before deleting the account. This is because you may need to create another account after you delete the iCloud account, which may lead to the lost of your phone data due to synchronization.
See Also:
One Click to Download Contacts from iCloud
Easy Way to Download Music from iCloud
2. When Would You Need to Delete iCloud Account without Password?
You might not always need to delete your iCloud account with or without a password while you must have some reason that pushes you to delete the account. The followings are some instances when you may need to delete your iCloud account.
* When you have a couple of iCloud accounts across many iDevice and Mac device. This happens when you buy an iPhone and stop using it after some time and later you forget the password. However, only one iCloud account is needed to back up your data for all iDevice you use.
* When you have created an iCloud account and you want to sell out your iPhone, iPod or iPad. You will have to delete the iCloud account without a password especially if you have forgotten your password.
* Sometimes it is because of some personal reasons. Maybe you have already transferred data to another account and you do not need to have the trouble of managing many accounts at a go.
Related: Quick Fixes to Common iCloud Issues
Part 2. One Click to Completely Delete iCloud Account without Password
One of the most simplest and safest way to delete your iCloud account is to use the iCloud Account Eraser - Coolmuster iOS Eraser (Windows/Mac), which enables you to permanently erase all data on your iPhone, iPad and iPod touch without any chance of restoration, including the iCloud account, even though you don't have the password.
With it, you won't need to worry anything about privacy leakage since your iCloud account and password will be wiped out completely and permanently with its advanced and mature overwriting technology. Not only the iCloud account will be erased from your iOS device, all other iOS data will be removed completely from your iDevice, such as text messages, contacts, call logs, videos, photos, music, apps & app data, reminders, calendars, account info (iCloud & iTunes), passwords, voice memos, bookmarks, notes, browsing history and more. Besides, almost all iOS devices are supported by the program, including iPhone 11/11 Pro/11 Pro Max/XR/XS/XS Max/ X/8 Plus/8/7 Plus/7/6s Plus/6s/6 Plus/6/5S/5/SE, iPad Pro, the new iPad, iPad Air, iPad 2/1, iPad mini, iPad with Retina display, iPod touch/Shuffle/Nano/Classic and etc.
Below are the free trials of the program in Windows and Mac version, why not have a try on it to securely delete your iCloud account without passwords with ease?
Note: Since the Coolmuster iOS Eraser will erase iCloud account along with all the other files from your iDevice, please be aware again to back up data on your iDevice in case of unexpected data lost.
[Tutorial] Steps to Erase iCloud account without Password with iCloud Account Eraser
This tutorial takes Windows version of the program for example, please follow the instructions as below.
Step 1. Make your iDevice recognized by the program.
Please launch the iCloud Account Eraser program on your PC after downloading and installing, then connect your iDevice to computer with a USB cable. Make sure the latest iTunes has installed on your computer, unlock your iDevice and trust this computer as prompted. Then the program will automatically detect your iDevice and show the main interface as below. See what to do if your iDevice fails to connect >>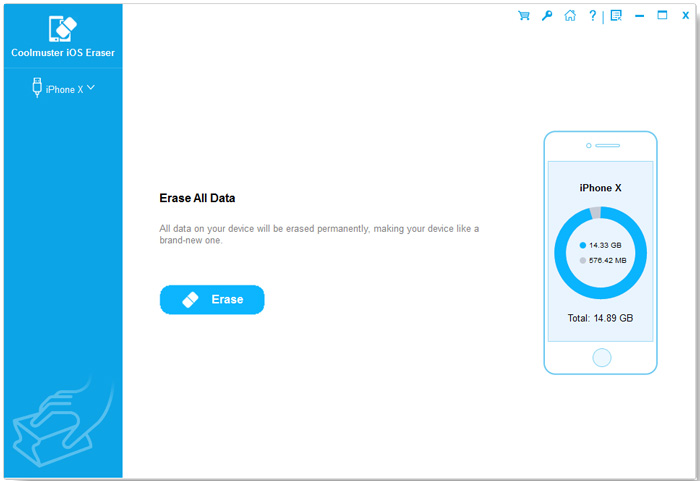 Step 2. Choose data erasing level as wanted.
Click "Erase" button, close iTunes and disable "Find My iPhone" feature if prompted to continue. Click the option besides Security Level to choose High Level, Medium Level or Low Level as wanted. Click "OK" and type "delete" into the blank to confirm your action.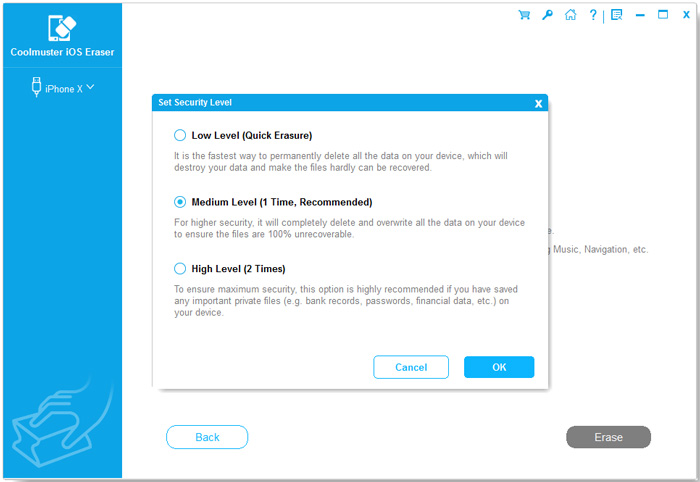 Step 3. Start to erase iCloud account without password.
After quick scanning, the program will start to erase all data on your iDevice immediately, including your iCloud account and passwords. When the erasing process is complete, your iDevice will automatically reboot. After rebooting, please unlock your device and click "Try Again" button from the popup. Failed to restart your iDevice?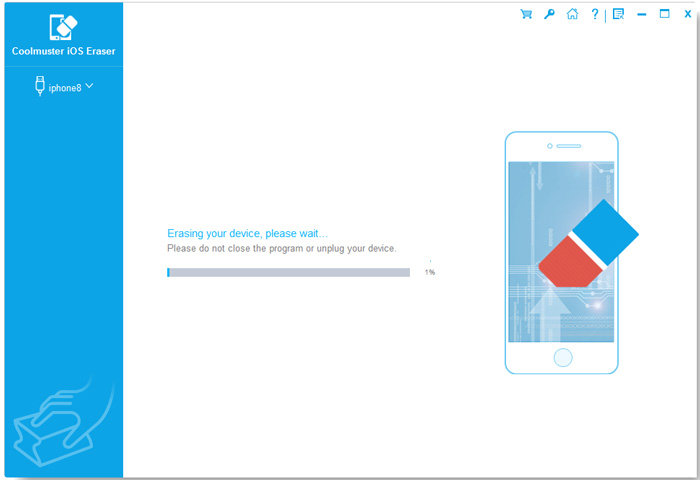 (1) For Low level, at this time, the program will prompt you that all the steps are finished and your phone data has been erased successfully.
(2) For Medium Level and High Level, the program will continue to overwrite your phone data. The program will overwrite your phone data 2 times in High Level to ensure maximum security, which might take a little longer time while it overwrites your phone data for 1 time in Medium Level, which is faster than High Level but a little slower than Low Level.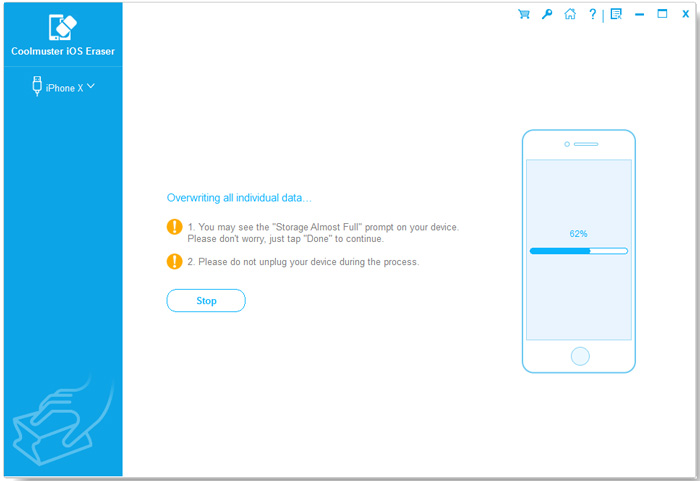 When all steps are complete, all of your phone data will be completely and permanently deleted along with the iCloud account, leaving no chance of restoration. Of course, you don't need a password of iCloud account as well.
You May Also Like:
Safest Way to Wipe iPhone Data for Selling
[Simple Guide] How to Delete Apple ID without Password on iPhone?
Part 3. How to Delete iCloud Account without Password Manually
When you need to delete your account, the following steps will give you an easy instrustion to delete your iCloud account without a password. These steps are applicable to all the iOS and Mac devices.
1. Go to the Settings, then tap on General and About. Here you can know the version of your device.
2. Then go to the Settings, tap on iCloud and then tap on "Find My iPhone". Now, delete the existing password and enter any password (any random number). Hit the "Done" option to continue.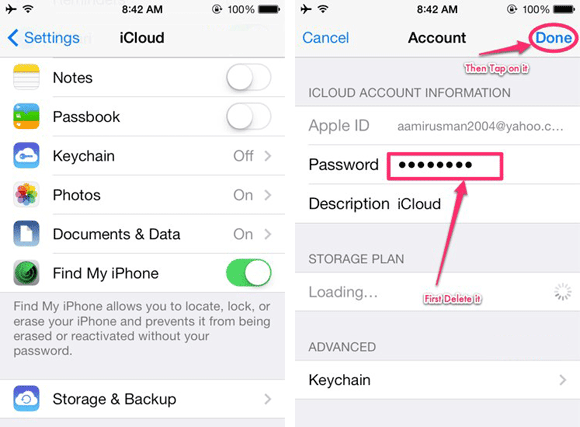 3. You will then see a pop-up window, saying that password is incorrect. Tap OK option. And then go to Account and remove the description. Tap on "Done".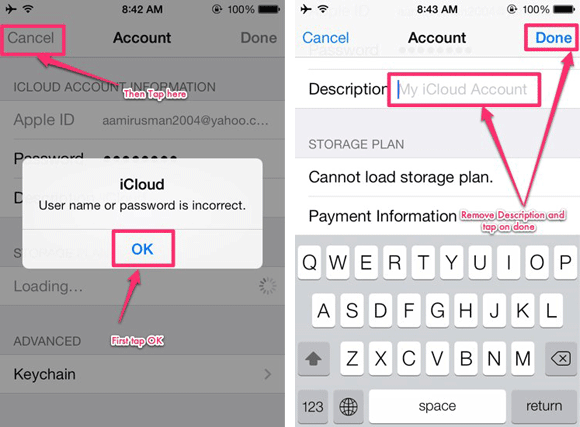 4. Now, go back to the "Find My iPhone" interface, you will now see that the feature has been automatically turned off.
5. You can then scroll down to the bottom of the interface and hit the "Delete" option. On the promo dialogue, remember to hit the "Delete" option to go on.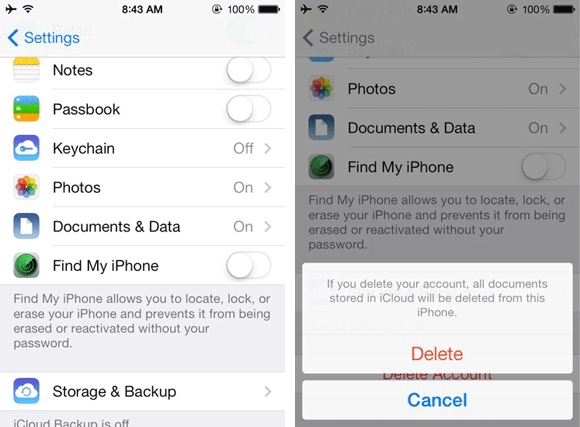 Now, all you need to do is to wait patiently for the process to get completed within a little while.
Related Articles:
How to Restore iPhone Files from iCloud Backup
How to Reset iPhone without iCloud Password? [Can't Miss]
Full Guide to Restore from iCloud Backup without Reset
Easy Way: How to Delete iCloud Backup
How to Free up iCloud Storage Space