iCloud is Apple's cloud storage service that helps iOS users keep their files safe. But your iCloud account can be locked for various security reasons, preventing you from doing many things. You won't be able to access your files or do anything on your iOS device that requires signing into your iCloud account. This can be frustrating. But don't worry. We will guide you on how to unlock iCloud account easily.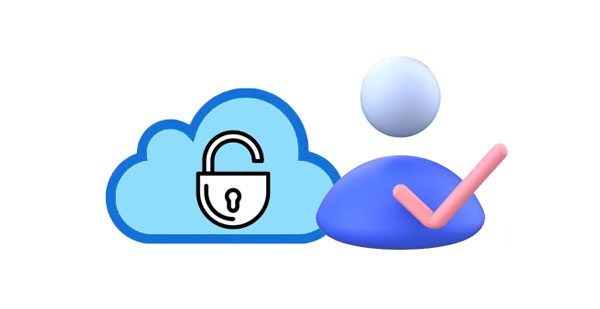 Part 1: Why Is My iCloud Account Locked?
To safeguard iCloud account and Apple ID from unauthorized access, Apple has created a system that automatically locks accounts if it detects any suspicious activity. This way, you can ensure your sensitive information is always kept safe.
Various factors can lead to your iCloud account getting locked. They are as follows:
1. If someone tries to access an iCloud account with multiple devices within a short time, it can often result in this problem.
2. Using third-party tools based on open-source iCloud code will lead to an iCloud account getting locked.
3. Also, using a secondhand iPhone without Apple password information often leads to an iCloud lock.
These factors sum up in one security reason. In short, Apple locks your iCloud account due to security. This guide offers tips to help you unlock your iCloud account with ease.
Part 2: Is It Possible to Unlock an iCloud-Locked iPhone?
You can unlock your iCloud, but it depends on whether you remember the Apple ID. If you still remember the Apple ID, you may easily remove the iCloud lock on your device or from the web with the Apple ID and passcode. If you forgot your Apple ID, you can reset the Apple ID and then use the new passcode to unlock your phone.
If you got the device from someone else, you could contact the previous owner to remove the lock remotely. In case all other solutions prove unfruitful, use third-party software to remove the iCloud account.
Part 3: How to Unlock iPhone iCloud without Password?
Are you looking for the ultimate iCloud account unlock tool? This iOS Unlock program is the right tool. This tried-and-tested software stands out as it can unlock multiple types of locks for iOS devices. You can easily unlock your iCloud account without a phone number. Also, you can bypass the screen lock from your iOS device without jailbreaking your iOS device. There is no trouble in operation because it will guide you step by step.
Key features of this iOS unlocking tool:
* Fast unlock iPhone iCloud without password.
* Remove Apple ID, Touch ID, Face ID from your iOS device in minutes.
* Help you bypass iTunes backup passcode to get your backup data.
* Support many iOS devices, including iPhone, iPad, and iPod touch.
* Simple steps without tech skills needed.
Download this iCloud account unlock tool.
Here's how to unlock my iCloud account with this software:
01First, please download, install and then launch the iOS unlock program on your computer. Once done, connect your iOS device to the computer with a working USB cable. Tap "Trust" if prompted, and select the "Screen Unlock" option.
02On the next screen, choose the "Bypass Activate Lock" option from the interface. Then click "Start". Please note that there will be some restrictions on your device after unlocking if your phone is a CDMA device, such as failing to use phone call, cellular and the iCloud of your new Apple ID.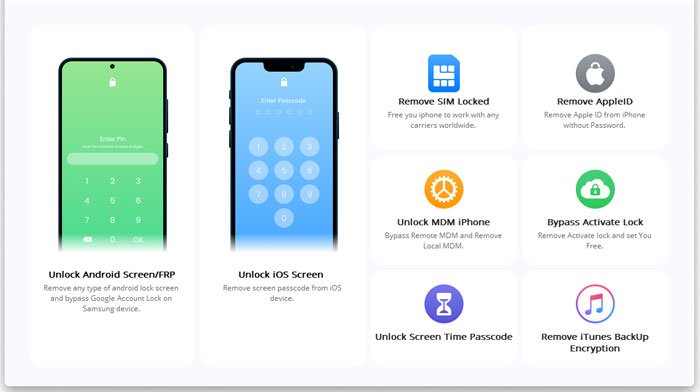 03Please jailbreak your iPhone if it doesn't. After that, the software will start to unlock the iCloud activation lock immediately. Once done, your iCloud account is unlocked.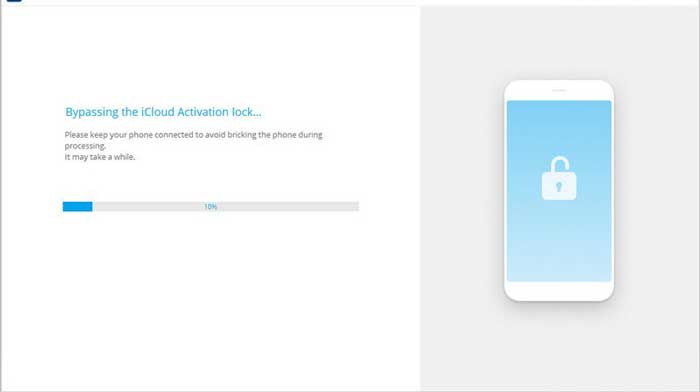 Read also: What if you want to unlock an Android phone? Then you can try these methods.
Part 4: How to Unlock iCloud Account via Settings on iOS Device?
When your Mac device shows "The supplied iCloud account was unable to unlock this volume", how can you unlock your iCloud account? Actually, if you are lucky and have access to another iPhone, iPad, or Mac device that is logged in with the same Apple ID as yours, then it's incredibly easy for you to reset your Apple ID password. You won't even need two-factor authentication or a phone number; all you require is the password of your trusted devices.
Here is how to unblock iCloud account via Settings:
On iPhone:
Step 1: Head to the Settings menu on an iPhone and click "[your name]" at the top of the screen. Then click "Password & Security".
Step 2: Choose "Change Password". Now enter the screen passcode of the iOS device. Input the new passcode for your Apple ID, then conform. Click "Change" or "Change Password" and reset it.
Step 3: You can now unlock your iCloud account with the new password.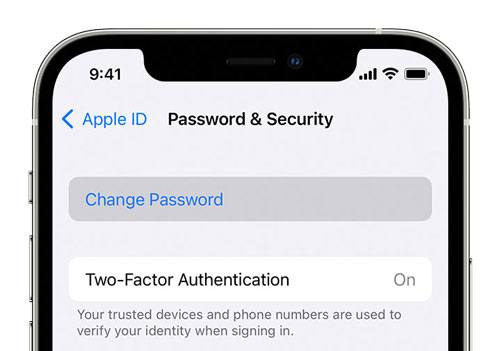 On Mac computer:
Step 1: Tap on the Apple menu and choose "System Preferences". Afterward, click "Apple ID".
Step 2. Press on "Password & Security" in the window's left panel. Select the "Security" tab, choose "Change Password", and enter the Mac passcode.
Step 4. After that, enter the new Apple ID passcode, re-enter to verify, and click "Change" to complete the setting. Once done, you will unlock your account.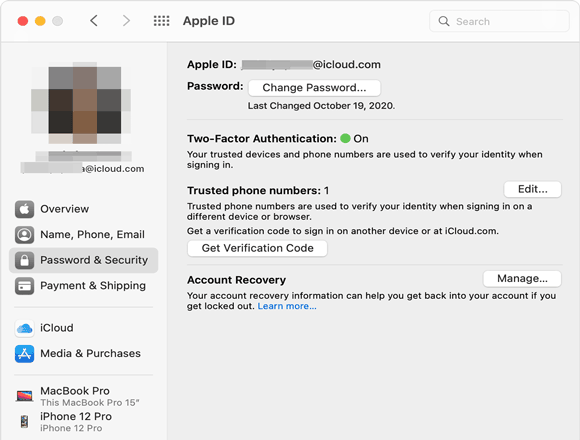 You might like: How Much Does It Cost to Unlock an iPhone 13/12/11? [Ultimate Guide]
Part 5: How to Unlock iCloud Account with a Recovery Key?
You can also exploit the power of your recovery key if you have one at hand. It's what you need to unlock your iCloud account. You need the key and a trusted device to get the lock off your account.
Follow the steps to unblock iCloud:
Step 1: Go to the Apple ID website and tap "Forgotten your Apple ID or password". Next, enter the iCloud ID, choose the way you will reset the passcode, and continue.
Step 2: Enter your recovery key on the webpage, then press "Continue".
Step 3: Enter the verification code you received on the trusted device into the webpage. You can create a new password now.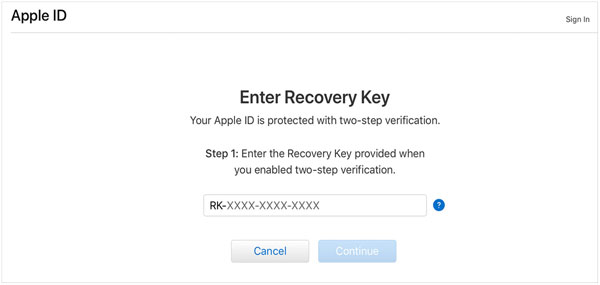 See more: How to Unlock iCloud Locked iPhone? [Updated Guide]
Part 6: How to Unlock iCloud Account with GadgetWide?
GadgetWide is one of the popular tools for removing iCloud locks. Here are steps to use it to unblock iCloud:
Step 1: Go to the website. Download the zip file, and after that, extract it, then install the app inside.
Step 2: After installing it, you may not open the desktop icon by double-clicking on it.
Step 3: Enter your details on the next page and "Register Now". Head to the GadgetWide icon on the desktop and tap "Continue".
Step 4: Tap "Start Now". After you complete these steps, your iTunes will open, and all that's left is to connect your iPhone to bypass the iCloud lock.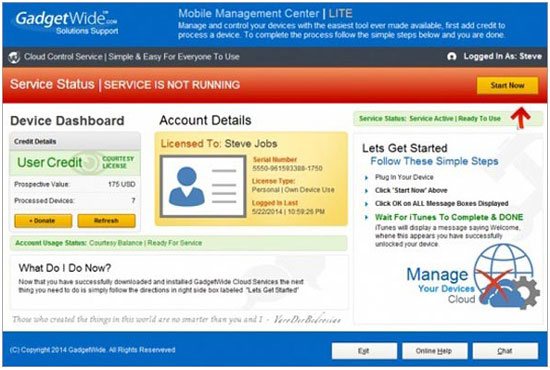 Learn more: This post will tell you 3 effective ways to recover your iMessage from iCloud. Open it if needed.
Part 7: How to Unblock iCloud Account by Contacting Apple Support?
If the above methods are unsuccessful, you can contact Apple support. On their website, there is an interactive wizard that connects customers directly to one of their helpful support members who will assist in solving any issue.
Here is how to ask for help:
Step 1: Go to the Apple Support website and select "Forgot Apple ID or password" from the list of available options.
Step 2: Choose "Disabled Apple ID". Tap on the option for "Apple ID has been disabled for security reasons".
Step 3: Apple offers you the convenience of multiple contact options; schedule a call, get Apple to call you, or chat with an Apple team. Choose your preferred method to get started. Submitting the right information to Apple on their website will likely result in your iCloud account being unlocked.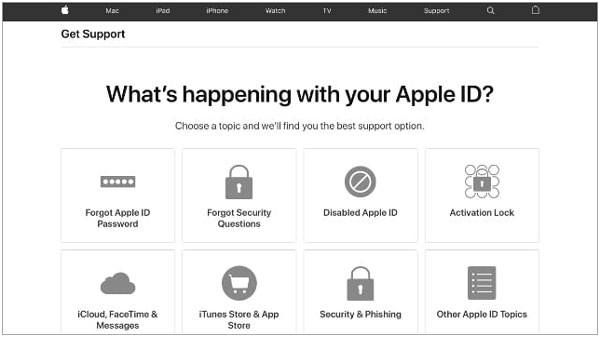 To Sum Up
Locked out of your iCloud account? It's frightening, particularly when important documents are stored in the cloud. But this article has offered you useful methods to unlock it. Furthermore, iOS Unlock can help quickly unlock your iCloud activation lock and Apple ID without a password, allowing you to regain access to all those precious files.
Related Articles:
How to Recover Voice Memos from iCloud Smoothly | 2 Advanced Solutions
How to Restore from iCloud Backup without Reset? (5 Effective Methods)
Restore from iCloud Paused? Fix It with 9 Solutions Here!
Fast Restore iPhone from iCloud Without Data Loss [Easy Ways]
How to Transfer Contacts from iCloud to Android - Incredibly Easy
How to Transfer iCloud into a New iPhone in 3 Ways? [Updated]