If you have decided to make the big switch from iOS to Android, or you are simply trying to work out how to transfer important apps and features between the two operating systems, you are in luck. There is a handy third party app available when can help you transfer data from an iOS device to Android in a matter of minutes. Now it is important to note that apps cannot be directly transferred between these operating systems, because Android apps will not work properly on iOS and vice versa. However, almost all other types of data can be directly transferred and getting your hands on device compatible versions of all your favorite apps is easier than you might think.
With the help of iOS to Android Transfer - Coolmuster Mobile Transfer, you can have new or beloved apps and features downloaded and installed in no time, and you can enjoy a much faster and simpler way to move apps around your Android phone. This nifty third party app is the key to a quick and successful switch between the two operating systems – we promise that you will not lose any data either. The iOS to Android Transfer tool is a piece of software which can be easily downloaded on your computer and deals with the secure transfer and movement of contact lists, memos, calendars, photos, videos, music, and more between device and device, no matter they come from Android, iOS, Symbian or BlackBerry.
If you suspect about this tool, you can download the free trial version of it to have a try. This three step guide will show you how to transfer apps from an iOS device like iPad, iPhone or iPod to Android like Samsung, HTC, LG, Motorola, Sony, etc.
Get Started to Copy Apps from Apple Devices to Android
Preparation: you need to install iTunes on your computer in advance to make sure the Apple to Android apps transferring tool can work properly.
Step 1. Step One: Connect both devices to a personal computer
To start, you need to download and install the iOS to Android Transfer tool on your computer. Now, you should see the option to launch appear and a transfer window open up once you have approved it. Connect the Android and the iOS device to the computer via USB cables.
Step Two: Select the data files to be transferred
The computer should recognize both devices almost instantly and open up windows which allow you to browse the content on either one. Within the transfer window for the iOS device, you should now see all of the transferable data displayed in a middle column. This column is made up of the data that you can transfer from the iPhone to the Android.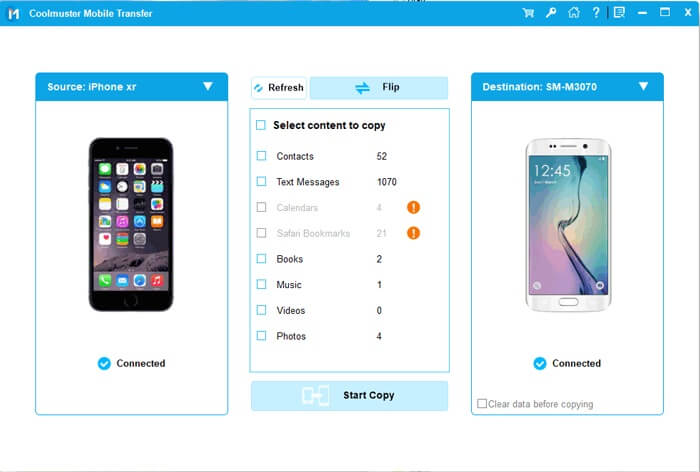 Step Three: Launch the transfer and wait for it to finish
It is a good idea to have another look at the data files that you have checked for transfer before you hit the TRANSFER button, to make sure that you are not duplicating or moving files which you do not need to. The files that you want to move to the Android device should be checked with a tick, and then you can hit the START TRANSFER function. This should start the transfer of data from the iOS device to the Android.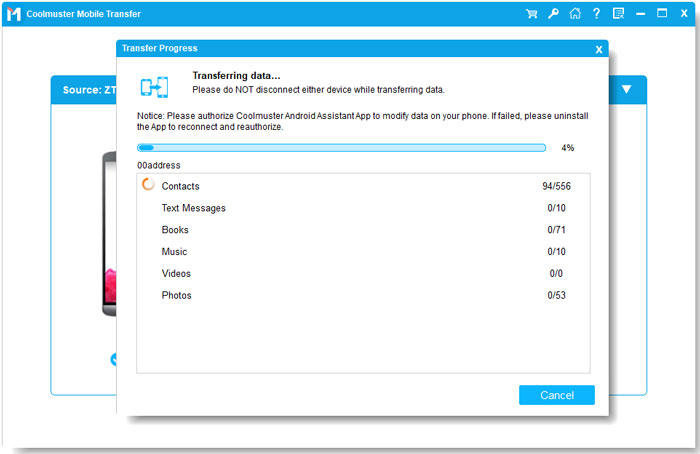 Conclusion
Coolmuster Mobile Transfer can be used to move photos, videos, calendars, SMS messages, contact lists (it will transfer apps directly, if they are moving from one Android to another), and much more. It is 100% safe, guarantees to keep your data secure, and will always make sure that your files arrive intact and in the same condition that you originally sent them.
Related Articles:
Copy Contacts between Nokia and Android
Transfer Text Messages between BlackBerry and Samsung
How to Transfer Contacts from iPhone to Android [Full Guide]