Transfer Contacts (Phone Numbers) between Nokia and Android Phones
With more and more mobile phones are sold in recent years, did you notice that many of your friends are carrying more than one phones? It is a common scenarios that people need two mobile phones, such as Nokia phone and Android phone in same country at different times, or same time in different countries. Then, you are getting used to the situation of one person with two cell phones all the time. But most egregiously, no one has expected that someone owns more than a dozen cell phones and use them simultaneously. Being immersing among a few of cell phones with enjoying various phone calls becomes common situation. It even found an increasing office staff carrying more than one mobile phone. Same as other users, you are curious how they can share data among different mobile phones.
However, here is a question to ask people who are using two mobile phones: how to transfer your Nokia contacts to Android? Or how to copy Android contacts to Nokia? We know that media files like movies, music and pictures can be transferred between the two phones via computer, but for phone contacts, it seems no way available? No need to worry about the contacts transferring problem any more because we have Nokia to Android Transfer, which can help you effortlessly transfer data like contacts, text messages, videos, music, photos, call logs and more between Nokia and Android just in a few clicks. Various Android devices are supported, including Samsung, HTC, LG, Motorola, Sony Ericsson, Google, Huawei, ZTE and so on.
Download the free trial version of this powerful software on your computer and read on to see how easy it is to transfer your contacts between Nokia and Android mobile phones.
How to Copy Contacts between Symbian Nokia and Android Mobiles?
Step 1. Launch the app and connect phones to PC
In the very beginning, you need to install and launch this Nokia and Android contacts transfer software on your computer. After the primary window of the software shows, you can see different modes are listed on the window. Just choose Phone to Phone Transfer mode and enter the phone transferring window. Then, connect your Nokia and Android phones to the computer at the same time and wait until they are detected by the app automatically.
Note: The two phones will be displayed as "Source" and "Destination". If you need, you can click "Flip" to change the places.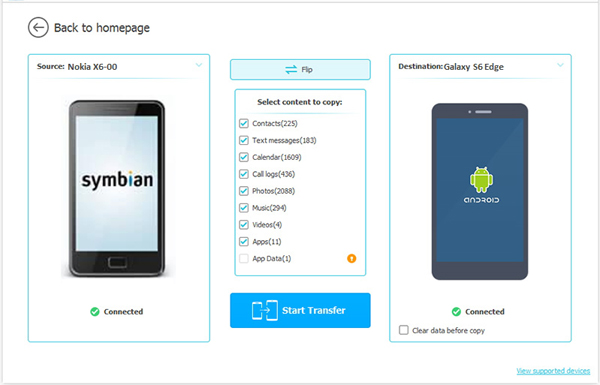 Step 2: Start to transfer contacts between Android and Nokia
In the window, you can see all the transferable files are listed. If you only need to copy contacts, you can uncheck other file types except "Contacts", then, click "Start Transfer" button to copy all the contacts one phone to the other. please make sure both the devices are connected to the PC well during the transferring process.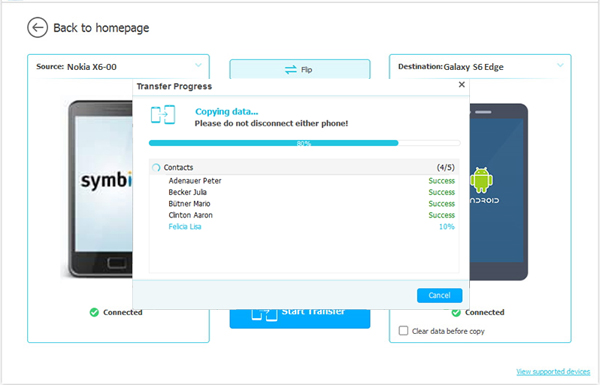 More information of Coolmuster Phone Transfer:
Finished! Now, all your needed contacts are transferred successfully between Nokia and Android mobile phones. In addition, you can also use it to move data like contacts, text messages, photos, videos, music, call logs, calendars and many more between Nokia, Android, iPhone, iPad, iPod and even BlackBerry with ease.
Related Articles:
Copy Contacts between Samsung and iPhone