There are literally thousands of app based games available on Apple and Android devices these days. Whilst Angry Birds may still be the one that people remember, time on the internet moves at a very rapid pace, and there are scores more games now on the cusp of becoming the next big thing. The question is, what happens if you buy a game, invest hours of your life in completing it (or building up an empire in strategy games), and then buy a new phone? For example, you might be a big fan of the strategy combat game Boom Town, which allows players to construct vast cities, bring together troops to claim opponent territories, and experience life as a virtual king or overlord. Yet, what if you used to play on an iPhone, but now want to play iPhone games on Android? In another word, is it possible to transfer games from iPhone to Android?
How do I transfer my iPhone game data to an Android device?
The problem is that you have to use third party transfer software, and it can be a time consuming process with many of the tools available online. However, with iPhone to Android Transfer, swapping your game data from your iPhone to an Android device is as simple as one-two-three. This tool is easy to use, simple to install, and transfers selected data between devices at the click of a button. You might be upgrading your phone, or switching to a new carrier – whatever the reason for needing a data transfer, iPhone to Android Transfer can help you achieve it in the most efficient way possible.
iPhone to Android Transfer is able to share apps, videos, photos, music, contacts, text messages, calendar and more between iOS, Android and Symbian phones and tablets. Download the free trial version of this iPhone to Android transfer tool on your computer and with the following three steps, you can transfer game data from iPhone to Android quickly and easily. .
How Do I Use Phone Transfer to Sync iPhone Games with Android Device?
Step 1. Open Phone Transfer and begin the games transfer
To begin, you need to launch iPhone to Android Transfer, choose "Phone to Phone Transfer" mode from the primary interface to bring up the device to device transfer window.
Note: All iPhone models are supported by this tool, such as iPhone 6, iPhone 6 Plus, iPhone 5S, iPhone 5C, iPhone 4S, iPhone 4, iPhone 3GS, etc. iTunes is required to be downloaded on your computer beforehand.
Step 2. Connect both phones to your computer
Once you have connected both the iPhone and Android device to the computer using USB cables, they will be picked up by the software and another window should open like the following picture. The two phones will be displayed as "Source" and "Destination" devices. You can click "Flip" to switch their places.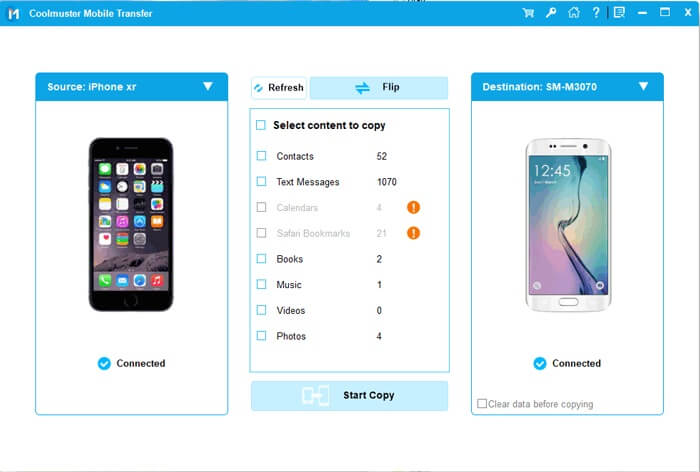 Step 3: Begin the transfer of game data from iPhone to Android
The next step is to select all of the data which you want to transfer – a list of the things which can be transferred should be presented in the middle of the window, and include things like contacts, text messages, photos, and more. Once you have indicated which ones should be moved (the game related data, in this case), click the Start Transfer button. The selected data will now be transferred from the iPhone to the Android device.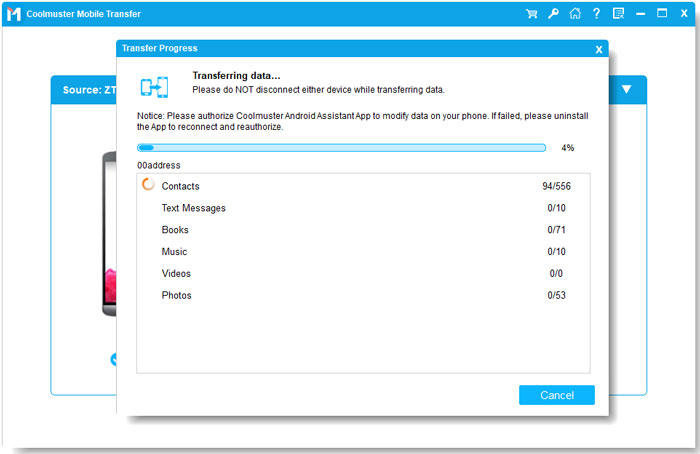 Words in the end:
There is simply no use having a sophisticated and modern phone if users cannot do these things with it, and they cannot do them quickly. If you have invested a lot of money in an Android device, you have a right to expect to be able to transfer your game data from one device to another, and to not have the logistics eat into your gaming time. iPhone to Android Transfer will help you make full use of your phone device!
Related Articles:
Copy Text Messages between BlackBerry and Android
Recover Photos After Reset iPhone without Backup