BlackBerry is the founder of smartphone and it was used to be a legend in the United States, from the country's president to the ordinary people all hold a BlackBerry phone. If you have a continuous attention to the smartphone market, you must have felt sorry for the history of BlackBerry from glory to lonely, and might be no longer visible. With the rapid development of Android smartphones, more and more BlackBerry users are planning to change to a new Android phone, such as Samsung, HTC, Motorola, LG, Sony and so on. As a result, there is an increasing number of people concern about the question on how to transfer BlackBerry data to the Android phone or Android tablet.
That's the reason why we provide this article to give you a few tips on transferring text messages between BlackBerry and Android phone. The tool you need to use is the Android to BlackBerry Transfer, which is a reliable and efficient phone to phone data transfer tool for users to sync everything from BlackBerry to Android, or transfer from Android to BlackBerry with a click. Under the help from this Phone Transfer, we can easily copy all text messages from BlackBerry phone to Android phone with no effort. Not only SMS messages, you can even transfer contacts, call history, photos, videos, apps and more between Android, iPhone, iPad, iPod, Symbian Nokia and BlackBerry within a few simple clicks.
Just go through the easy process of SMS transfer from BlackBerry to Android by using this transfer program. It also comes with Mac version that offers you the same function to sync data between different phones. Just press the below button to free download a trial version.
The Way to Get BlackBerry SMS Messages Moved to Android Phone
Step 1. Backup BlackBerry on computer
First of all, install BlackBerry Desktop Software and launch it on your computer. Connect your BlackBerry PlayBook to the same computer's USB ports via a USB cable and click "Backup Now" option to backup your BlackBerry device on your computer.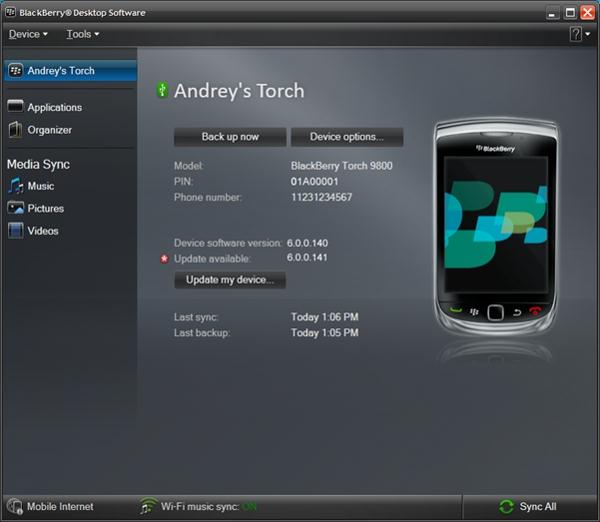 Step 2. Launch BlackBerry to Android Transfer
Get the Transfer program downloaded and installed on your computer firstly. After that, launch it and choose the option of "Restore from Backups".
Step 3. Connect your Android device to computer
Connect your Android device to the computer via a USB cable and this phone to phone data transferring tool will recognize the device and display it, as well as the backup file of BlackBerry side by side.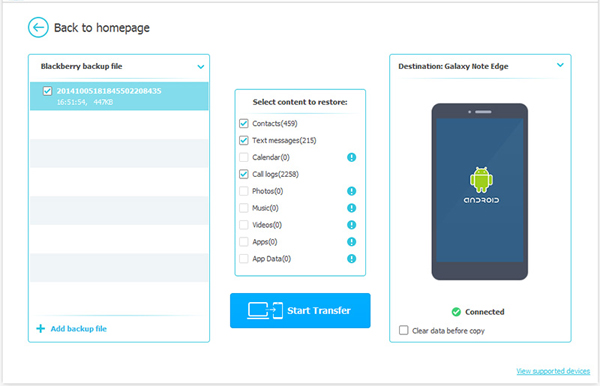 Step 4. Begin to transfer messages from BlackBerry to Android
At last, choose the option of "Text Messages" and click "Start Transfer" to export the text messages from your BlackBerry phone's backup files to the Android phone. After a few minutes, you can make it!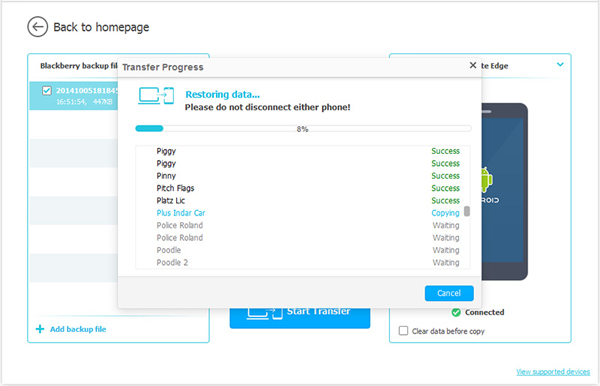 The easy-to-use yet marvelous phone data transfer software is 100% risk-free. Just let it do you a favor if you have got a new smartphone and want to migrate the data from your old phone.
Related Articles:
Transfer Contacts between Android and iPhone
How to Transfer Apps from Android to Android in 6 Ways
Retrieve Text Messages from Old Phone Number on iPhone & Android