There are various Samsung to LG transfer approaches, but which one of them is the most effective? This is the million dollar question that not many platforms share the adequate answer to, hence why taking note on the following information will come in handy. Samsung to LG phone transfer can be conducted by selecting any of the below methods. Now, approaches are not made equal, so select wisely according to your preferences.
Part 1: How to Transfer Data from Samsung to LG with Mobile Transfer (Best Solution)
Part 2: How to Transfer from Samsung to LG Phone with LG Mobile Switch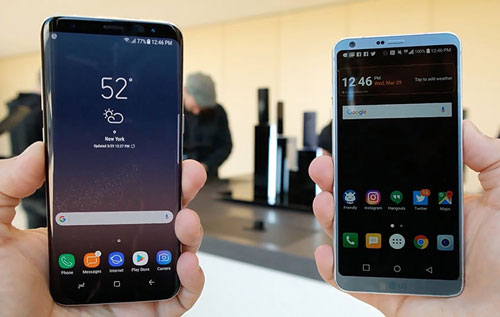 Part 1: How to Transfer Data from Samsung to LG with Mobile Transfer
If you have not heard about Coolmuster Mobile Transfer, you have more than likely been living under a rock. This is one of the most popular methods to transfer data from Samsung to LG. It has been referred by multitudes as being the best of the best. Once you put it to the test, you will comprehend as to why this is the type of positive feedback it has garnered.
Besides being superb in its function, it is a piece of cake to manage. It is the only method available on the market that can guarantee you an effective and safe transfer every time. Also, it allows you to transfer all kinds of files from Samsung to LG with a click, including contacts, text messages, call logs, photos, music, documents, videos, apps and more.
Try it now on your Windows PC or Mac!
How to Use Coolmuster Mobile Transfer?
Step 1: If you have not already done so due to paying no mind to the latest buzzworthy software news, download Coolmuster Mobile Transfer and then launch it on your computer.
Step 2: With a USB cable, connect Samsung to PC and then LG to PC. Or connect your phones via Wi-Fi instead.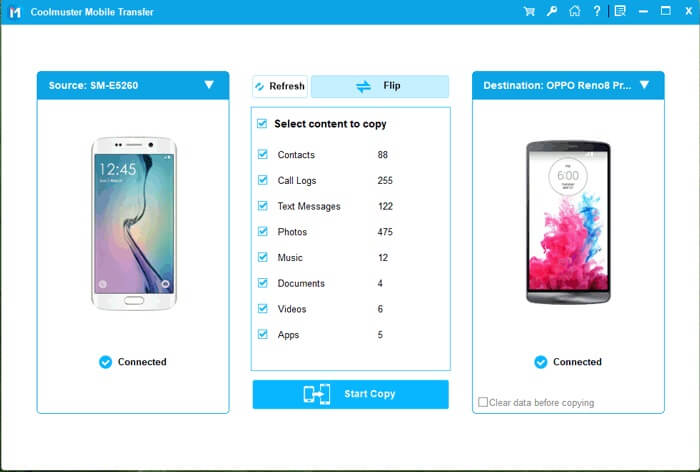 Step 3: Both your Samsung and LG devices will be present on your computer screen. Select data you want to start. Once you have finished, click on 'Start Copy'. Now, let the transfer complete before disconnecting either device from computer.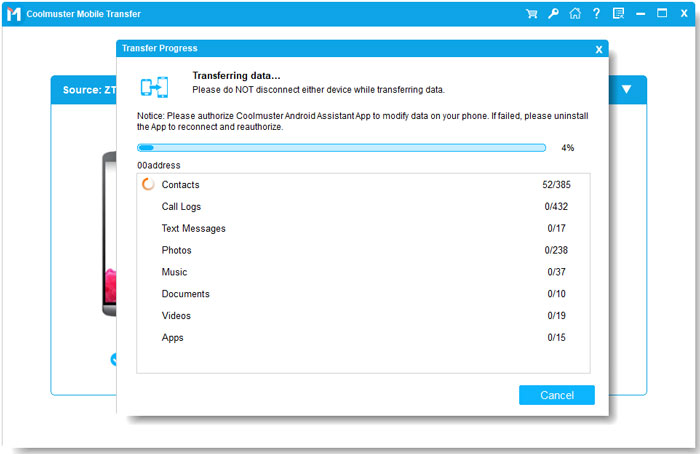 Supported Devices:
The Coolmuster Mobile Transfer is compatible with almost all Android devices and iOS devices. For LG phones and Samsung phone, the supported devices include but not limited to:
- LG phones: LG G8/G7/G6+/G6/G5/G4, LG V60/V40/V30+/V20/V10, LG Q8/Q7/Q7+/Q6, LG K92/K71/K62/K52/K50/K40, LG W41 Pro/W41/W31/W11, etc.
- Samsung phones: Samsung Galaxy S10/S10e/S10+/S9+/S9/S8+/S8/S7/S6/S5/S4, Samsung Galaxy Note 9/Note 9 Plus/Note 8/Note 7/Note 6/Note 5/Note 4, Samsung J3/J3 Pro, Samsung Galaxy A9/A8/A7/A5 and etc.
By the way, With the Coolmuster Mobile Transfer, you can also complete LG to Samsung transfer easily as well.
Part 2: How to Transfer from Samsung to LG Phone with LG Mobile Switch
How to transfer from Samsung to LG phone by utilizing this approach is a popular query. This method has been noted to be effective to a certain extent; nonetheless it is worth a try if you cannot implement software, such as Coolmuster Mobile Transfer.
Step 1: Both devices should have LG Mobile Switch (Sender). Launch program on both devices and ensure you are connected to the Internet.
Step 2: Select transfer method on your LG device: USB cable, Wireless or SD card.
Step 3: Set LG device to receive data and begin transfer. Simply click 'Start' on Samsung phone and then LG phone.
Step 4: Select data to transfer on Samsung device and tap 'Next'.
Step 5: Select destination for data and select data that should be sent to LG and then click on 'Next' for transfer to take place.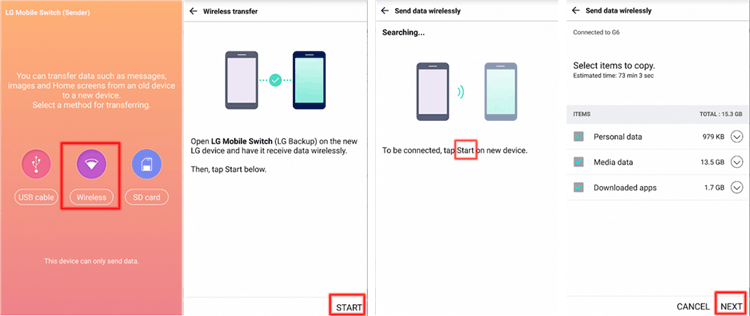 It is important to highlight that even though LG is a company that has provided first-class devices for quite a while now, they are just beginning to develop helpful application approaches; thus, one should not automatically label every application solution from LG as effective. This company will more than likely become top-notch in this area soon, but in the meantime, keep this mind.
Transfer with Confidence
To transfer with confidence, you will need the help of software, as this is the only type of approach that is guaranteed to be effective due to its well-rounded structure, one that cannot be compared to that of an application. Now, no software is made equal. There have been a lot of software developers who have tried to duplicate the function of Coolmuster Mobile Transfer, but they have not been able to do so.
Now, if for whatever reason you cannot download this program, then opt for one of the previously mentioned methods, but do not make it a habit. A transfer might be conducted free of inaccuracies the first time around with one of them, but nothing is a guarantee the second or third time around. You have been warned!
Related Articles:
3 Methods to Transfer Contacts between Samsung Galaxy and LG Phone
How to Move Apps from LG to Samsung Phone?
How to Switch Data from LG Phone to iPhone 14/13/12?
Best Phone Transfer Software for Android & iOS in 2023