For anybody interested in picking up the iPhone 14, there are bound to be some pressing questions about to switch important pictures, videos, memos, contact lists, and ringtones from an old Apple device to a brand spanking new one. The last thing that you want to end up doing is spending half a day syncing bags of data between your iPhone and your iPad, but is there an easier way to do things? Whilst there are plenty of tools out there that can help you to transfer ringtones from iPad to iPhone, the vast majority are fussy and over complex. They can take a lot of time to move just a few files of data, particularly when it comes to audio files like ringtones. The good news, however, is that there is a tool out there which can get the job done in a much quicker and easier fashion.
It is time to introduce yourself to Coolmuster Mobile Transfer, a third party app which deals with the swift and safe transfer of data files between Apple devices. It is the perfect choice for users who have lots of ringtones and audio files stored up on their iPads and are looking to move the data, including ringtones, contacts, text messages, photos, videos, music, call history, apps, etc., across to a new device. It is fast, easy to navigate, and promises to be 100% secure at all times. In most cases, transferring ringtones from an iPad to an iPod is a fairly basic process, but programs like iTunes are designed to work with only one device at a time.
So, what is the best way to hook up two Apple devices and easily browse and move the files around on each one? The answer is Coolmuster – this program will never lose data and it makes transfers in a matter of minutes. This simple two step guide will help you learn how to transfer ringtones from iPad Air/mini/9/8/7 to iPhone 14/13/12/11/X/8/8 Plus/7/7 Plus, with the minimum of fuss and effort.
How Do I Transfer Ringtones from iPad to iPhone with Mobile Transfer?
Step 1. Launch the program and connect your iDevices
To start, download and install the Coolmuster Mobile Transfer on your laptop or desktop computer. Then, launch the program and navigate to the transfer window. Once you have hooked up the iPad and the iPod to your computer, both of the devices should be recognized by the system and appear within the transfer window.
Step 2: Mark the ringtones which need to be transferred
The data on the source device (the iPad) which can be transferred or moved should now be displayed clearly in the middle box of the transfer window. This window will not only list ringtones or audio files, because the Coolmuster Mobile Transfer tool can also handle the movement of photos, contacts, videos, and other data files.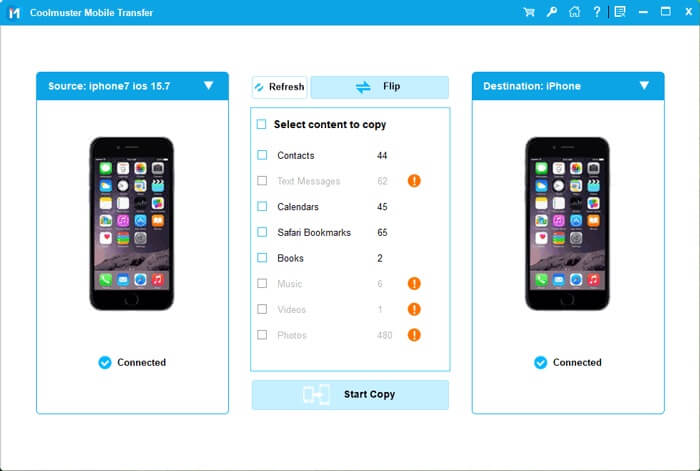 Step 3. Start to transfer ringtones from iPad to iPhone
To start the transfer, select all of the ringtones that you want to move across to the iPod. The final step is to hit the TRANSFER button, and wait for the process to finish.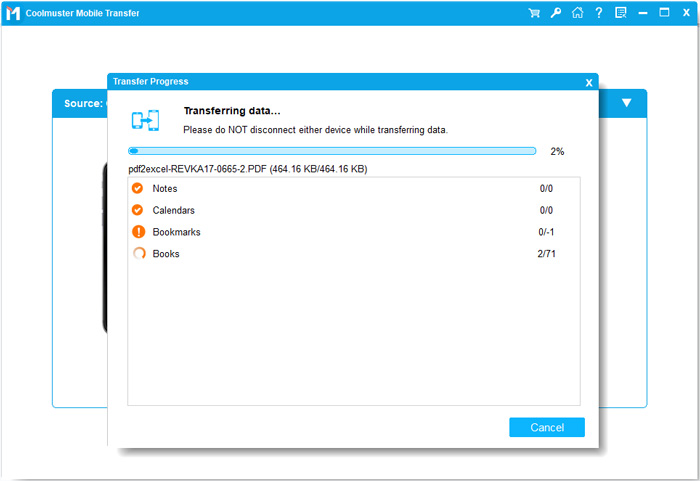 Why should I use the Coolmuster Mobile Transfer tool?
The Coolmuster Mobile Transfer tool is so handy, because it completely bypasses the need to follow a rather complicated series of rules and steps linked with the standard Apple syncing system. Just free download it to try it out.
Related Articles:
Transfer Contacts from Nokia to HTC
Transfer Text Messages between BlackBerry and Samsung
Recover Photos from Secure Folder on Samsung