You may have recently changed your iPhone's password to secure some vital information, but unfortunately, you cannot recall the new passcode. However, being unable to access your iPhone because you do not remember its Password sounds annoying. Do not fret because there are numerous ways how to unlock iPhone without passcode.
You may find yourself in such a situation after forgetting your iPhone's password, or you may want to access your child's iPhone to spy on some information. Whatever the case, you can learn how to unlock iPhone without password. Continue reading through this guide to understand the different methods.
Method 1. How to Access iPhone Without Password – The Most Reliable Method
Looking for a way how to unlock a locked iPhone? We usually find ourselves in situations where we cannot remember our phone's screen locks. In such cases, the solution is to unlock the iPhone. A professional iPhone unlocking tool is the most efficient and secure way to recover your iPhone's lock.
One of the most popular iPhone lock remover tools is iOS Unlock. iOS Unlock is a powerful application that allows you to remove your iDevice's lock without the need for a passcode, pattern, or other types of locks. iOS Unlock works on different iPhone models, including the latest iPhone models.
Key Features:
Remove different iPad, iPhone, and iPod touch screen locks.
Require only a few non-technical steps.
Bypass MDM locks and remove MDM profiles without losing data.
Below are some steps on how to unlock iPhone passcode using iOS Unlock:
01Begin by downloading iOS Unlock on your computer. Install iOS Unlock and launch it on the computer. Click on the Toolbox and hit the Screen Unlock option. Select the Unlock iOS Screen choice from the screen that appears to continue.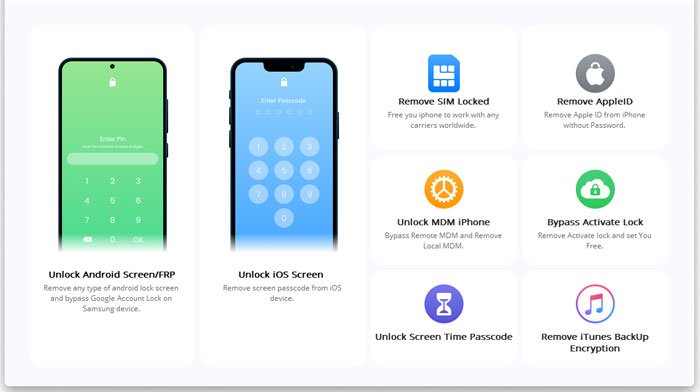 02Put the iPhone into recovery mode. If recovery mode does not work on your device, use the DFU Mode.
03The tool will detect your iDevice's information automatically. Confirm if the information displayed is accurate. If not, correct the information and hit the Start button to go on to unlock the device.Then click Download button. The iOS Unlock application will begin to download firmware on your device. You can see the firmware downloading progress on the progress bar.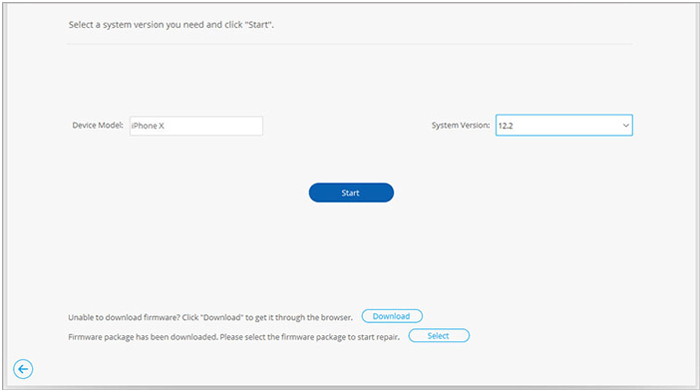 04Execute the unlocking process by clicking on the Unlock Now option.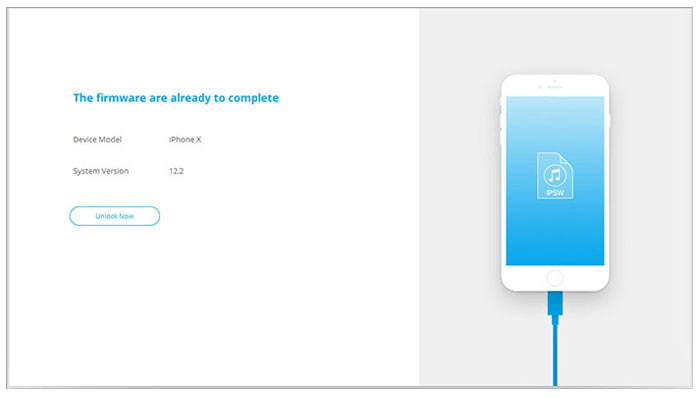 Further Reading:
[Simple Guide] How to Delete Apple ID without Password on iPhone?
How to Unlock a Stolen iPhone without Passcode in 3 Ways?
Method 2. How to Break Into iPhone Without Code Using Siri
How to unlock an iPhone without knowing the password? Unlocking an iPhone using the Voice Control feature is available on iOS 13 and later versions. The Voice Control feature allows you to navigate through your iPhone with your unique voice easily. Besides, it lets you unlock your device without entering your password. You utter the words "Hey Siri" and input a command. The feature lets you take other actions, like setting reminders and launching apps. To use this feature in unlocking your iPhone (iOS 13 and later), you need to configure it first. Follow the steps on how to unlock your iPhone without password below:
Step 1. Open your iPhone's Settings application and tap Accessibility.
Step 2. Click on Voice Control and select the Set Up Voice Control option.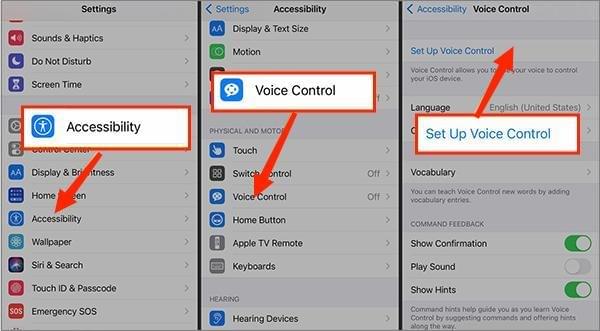 Step 3. Use the instructions on the screen to create your voice profile.
Once you are done, you can unlock your iPhone using your voice. To unlock the iPhone, follow these steps:
Step 1. Say, Hello Siri, and then, Unlock the iPhone.
Step 2. A display on the phone with the authenticate with your password, Touch ID, or Face ID options will be displayed.
Step 3. Once you have authenticated, the iPhone will be removed.
Also Read:
How to Unlock Apple ID without Phone Number or Password in 5 Proven Ways?
3 Simple Ways to Remove MDM from iPad [Steps-by-Steps Guide]
Method 3. How to Get Into Your Locked iPhone via iCloud
The Find My iPhone iCloud feature is another way of unlocking your iPhone without a passcode. This application removes your iPhone's lock within just a few minutes. It securely deletes the screen lock without requiring you to type your password. Follow the simple steps below to remove your iPhone's screen lock using the Find My iPhone iCloud feature:
Step 1. Use someone else's iPhone or computer to open icloud.com/find, and sign in using your Apple ID.
Step 2. Now, select the All Devices option. If the Find My iPhone feature is already activated in your iPhone, you will find your iPhone on the devices list.
Step 3. Select it and then select the Erase iPhone option. Then, all your data, including your password, will be deleted from your iPhone.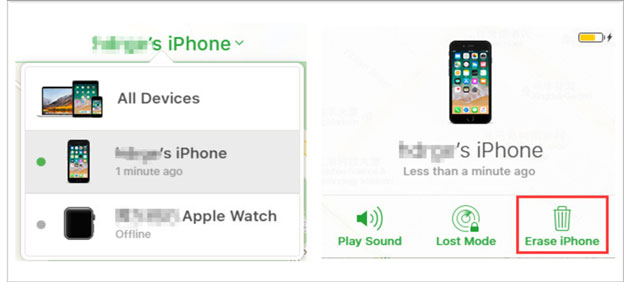 You May Like:
How to Unlock iPhone with Broken Screen
4 Methods to Remove Apple ID from iPad without password (Easy & Quick)
Method 4. How to Unlock iPhone Without Passcode Using iTunes
If your Find My iPhone feature is disabled, an alternative solution to consider is utilizing iTunes. Given that your iPhone is locked, you will need access to a computer that has been previously synced with the locked device. In most cases, iTunes should be capable of detecting your locked iPhone without requiring you to input the passcode.
Before proceeding with this approach, ensure that you have the most recent version of iTunes installed on your computer.
Here's a guide on how to unlock a locked iPhone using iTunes:
Step 1. Connect your iPhone to the computer that you previously synced it with. If you are prompted to enter the passcode, either move on to the next method or utilize the iOS Unlock tool mentioned in Part 1.
Step 2. Launch iTunes and go to the Summary tab. From there, click on Restore iPhone. Follow the instructions provided on-screen to initiate a complete erasure of your iPhone.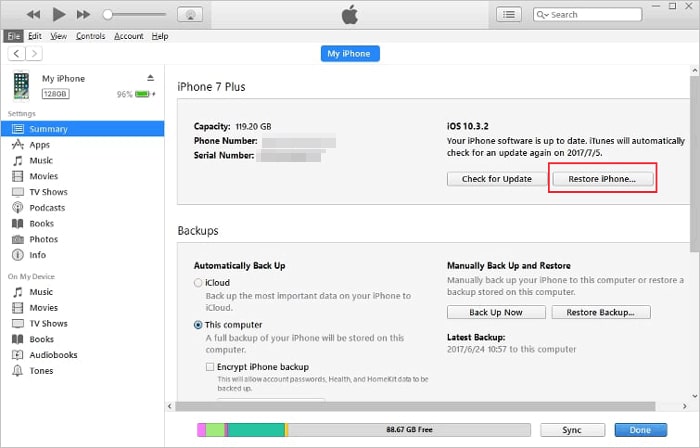 Step 3. Once the restoration process finishes, you can begin the setup procedure on your iPhone anew.
Method 5. How to Open iPhone Without Password Using Recovery Mode
If your iPhone is not recognized by iTunes, you have an alternative method to remove the passcode. This method is provided by Apple as the official solution to unlock your iPhone in case you forget your password. Additionally, if you encounter the "iPhone is disabled" message on your screen due to multiple incorrect passcode attempts, you can also utilize recovery mode to resolve the issue.
Here's a step-by-step guide:
Step 1. Connect your iPhone to your computer using the USB cable that came with your device.
Step 2. Place your iPhone into recovery mode. Follow these instructions based on your iPhone model:
For iPhone 8 and later models: Press and quickly release the Volume Up button, then do the same for the Volume Down button. Press and hold the Side button until the Apple Logo appears.
For iPhone 7/7 Plus: Simultaneously press the Volume Down and Sleep/Wake buttons. Continue holding the Volume Down button until your device enters recovery mode.
For iPhone SE/iPhone 6s and earlier: Simultaneously press the Volume Down and Sleep/Wake buttons. Keep pressing the Home button until the recovery mode screen appears.
Step 3. Launch iTunes on your computer (or Finder if you're using a Mac). iTunes will detect your iPhone and notify you that your device needs to be updated or restored. Choose the Restore option, and iTunes will proceed to download the necessary software for your device.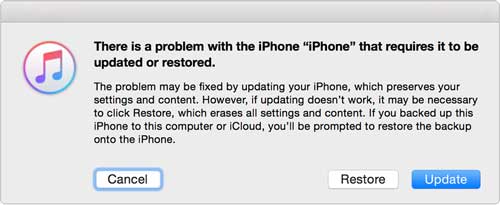 Step 4. Once the firmware is downloaded, your iPhone will automatically exit the recovery mode, and you'll be greeted by the welcoming Hello screen. This indicates that you have successfully unlocked your iPhone screen without needing a passcode. From here, you can proceed with the setup process on your iPhone.
Learn More:
How to Remove Activation Lock without Previous Owner
How to Get into A Locked Phone with or without A Password? (Full Guide)
Method 6. How to Get Into iPhone Without Passcode Using Security Lockout Feature
The Security Lockout feature is a newly introduced functionality on iOS 15.2 by Apple. This feature helps in unlocking an iPhone without iTunes or a computer. After entering a wrong password more than seven times, the device will show a Security Lockout display with an option to Erase iPhone. Check the steps below:
Step 1. Ensure the iPhone has a WiFi/cellular network. Click on Erase iPhone at the bottom and click on it again to confirm.
Step 2. Input the Apple ID passcode to sign out of Apple ID. Click Erase iPhone to delete content and settings permanently. Now set your device again.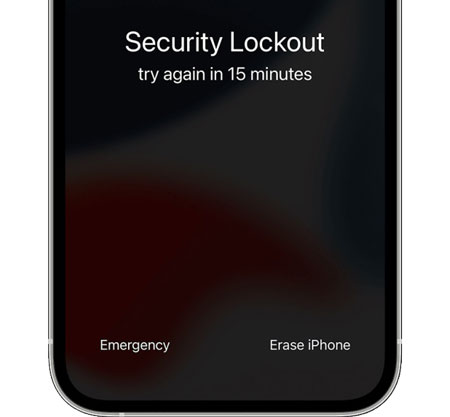 Note that the Security Lockout screen will display only if Find My feature is enabled on iPhone.
Conclusion
You now understand how to unlock iPhone without password using the various methods discussed in this article. However, although the techniques discussed in this article solve the problem, some are more efficient than others. For the best iPhone unlocking experience, we recommend you use iOS Unlock to remove the iDevice's screen locks. iOS Unlock is an easy-to-use, secure, and reliable tool with a high unlocking success rate.
Related Articles:
5 Ways to Unlock Android Phone if You Forgot the Password
How to Access a Locked Android Phone via USB? [Solved]
How to Bypass LG Lock Screen without Reset? [Solved]
Top 11 iCloud Bypass Tools: Remove Your iCloud Activation Lock
How to Bypass iPhone Passcode Step by Step? (5 Amazing Ways)
How to Bypass iPod touch Activation Lock Easily? 4 Ways You Cannot Miss