It is known to all that Google Play provide users with over one million apps for enhancing the mobile using experience in the digital life. But sometimes you may get some amazing apps that can't be found in the Google Play, then you need to find a reliable way to import and install these Apk files from PC to Android devices. Now, you may feel confused and don't know how to do it, right? Don't worry, we'll help you solve the problem step by step.
We know that an application is stored in an Apk file, such as application name.apk. And if you're trying to find an answer about how to install Apps on Android devices, you can get thousands of results at seconds. But after summarizing of these results, you can find that there are 3 different ways to install Apk files on Android by yourself.
1. Outside of Google Play, you can still download the applciation from a web site directly to your phone's SD card while you're under the WiFi network, and then click on the Apk file to install it by following its instructions. Of course, this is the easiest way to reach your goal.
2. The second way is to download the Apk file to your desktop computer, and then move and copy the file to the SD card mounted in your phone. Then you can install the App by using an Application Installer or File Manager tool. Please be noted that Application Installer or File Manager tool should be downloaded and installed on your mobile phone at first. Or you can ask help for some other 3rd-party program like Coolmuster Android Assistant, which allows you to import and install Apk files from computer to Android directly, and you can skip the step of coping Apk file from PC to the SD card.
3. In this way, you're required to install the Android Software Development Kit (SDK) on your computer, and then connect the phone to PC and use the Android Debug Bridge to install the Apk file you need.
The last method is more suitable for developers and technicla users who need to install non-market applciations. So as a personal user, we highly recommend you to take the first two methods into your consideration. So in this article, we'll take the Coolmuster Android Assistant Apk file as an example, and show you how to install it on your Android device by using the first two methods. You can compare them and decide which one is better according to your own needs.
Method 1. How to Install Apps on Android Devices Directly?
Step 1. Be sure the WiFi network have been opened and the network situation is stable on your Android phone or tablet. Here, we'll take the Samsung Galaxy S6 as an example. Open the Internet browser or other searching browser to open the page that you can download the Apk file. Here, you can open https://www.coolmuster.com/android-assistant-apk.html and hit "Free Download" button to begin the downloading process.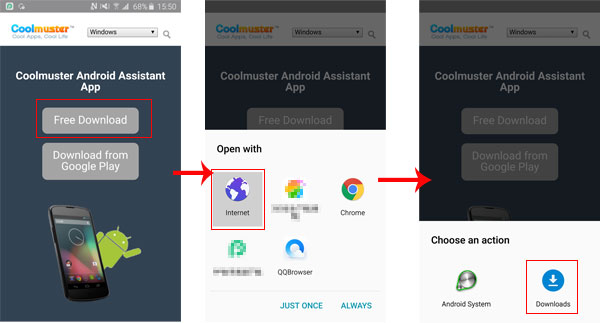 Step 2. You can check the whole downloading process in the top task bar, and when it is finished, you can directly hit the apk file to finish the installation process.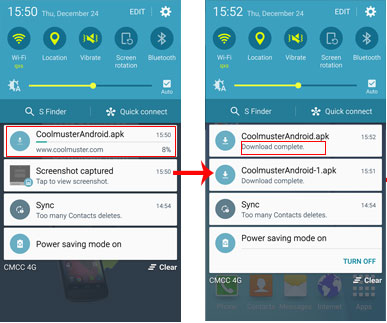 After that, you can view a desktop icon on your mobile phone, hit it and then you'll see the main interface of the program directly. Then you can use the application as you like.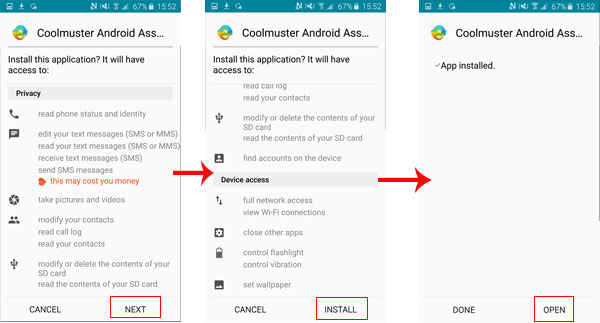 Method 2. How to Install Apk Files from Computer to Android?
If you have downloaded some Apk files on your desktop computer, then you can take this method into consideration. Here, we could like to pay more attention to show you how to use Coolmuster Android Assistant software to help you install Apk files on your Android devices.
Step 1. Download and launch the Coolmuster Android Assistant on your computer, then connect your phone to the computer via USB cable, then you can select "Connect via USB" in the below interface: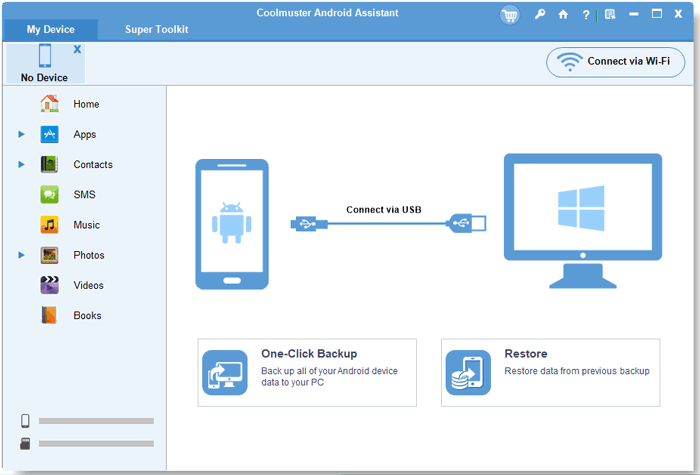 Step 2. Follow the instructions in the interface to enable USB debugging and install USB drivers on your computer, then the program will detect your device and display it as follow: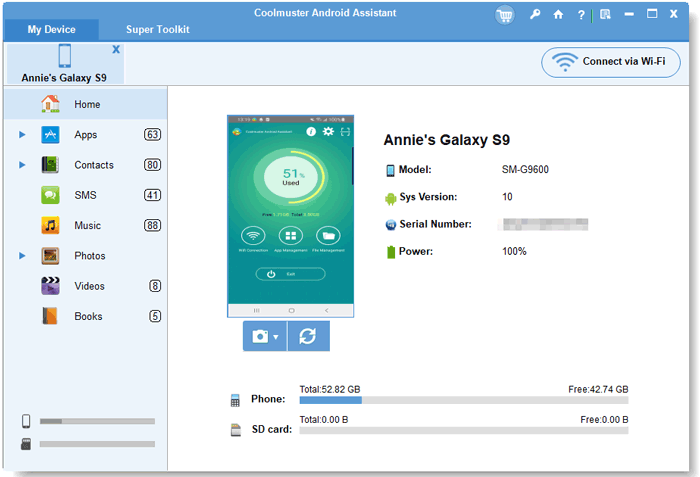 Step 3. Hit "Apps" option in the left panel and then click "Install" button here. A new pop-up window will be opened and find the Apk file that you've downloaded before, then click "OK" button to import and install it on your phone directly.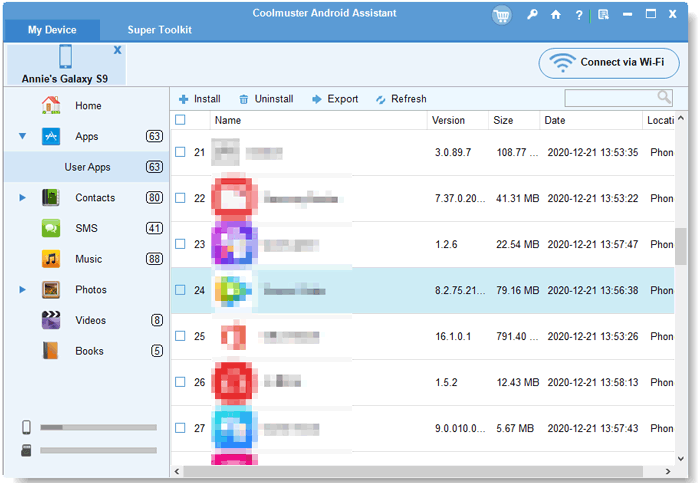 Final Words
On the one hand, installing APK files on Android devices provides a way to access applications not available on the Google Play Store. Whether you want to download apps directly on your Android device or install APK files from your computer, there are solutions available for both scenarios. On the other hand, using software like Coolmuster Android Assistant enables you to install APK files from your computer, providing an alternative approach for managing and installing apps.
Related Articles:
Best App Manager for Android Devices
How to Download Apps from Google Play
13 Best Backup Apps for Android Reviews