How to Recover Deleted Text Messages from Motorola Atrix/Charm/Global?
You may have had your text messages lost on account of your deleting them by mistake, the unstable environment of the Android system itself, errors in the database in which they're stored, unexpected conduction of message deletion by the applications operating the messages, or use of the "Restore factory settings" function. Losing important text messages will be a big headache for every phone user. As a consequence, it's essential to find a means to recover them as many as possible.
Why can the text messages be recovered?
Why can the text messages be recovered? Isn't it true that they have already been erased? In effect, it's just that you're prohibited from opening them, as the boot area gets closed systematically. Therefore, it seems as if they have been deleted or cleared. You'll be able to find them back, since there still store your text messages within your SIM card, SD card, or your phone, depending on where you have saved them in or have them backed up before. Sometimes, complete deletion of data can only be achieved with special kind of software.
Coolmuster Lab.Fone for Android or Coolmuster Lab.Fone for Android (Mac) is a tool that can help restore the deleted text messages from your Motorola phone with the advantage of having an extremely fast speed of scanning. Distinct from other recovery software, it works through the deep scanning function, which can conduct scanning into the deep layer of the data storage card to excavate the deleted text messages, ensuring that the deleted ones are in the recoverable range. Without inputting data into the storage device, it avoids damaging the data twice, making them recover incompletely, or can't be used after recovery.
Motorola users also want to know:
Recover Deleted Photos & Videos from Motorola Mobile Phone
How to Recover Lost Contacts from Motorola Phone
Download the free trial to get ready. In the following, we will set Windows version as an example and tell your how to get back deleted text messages from Motorola cell phones by using this professional SMS recovery software. If you are using a Mac machine, such a Windows-based guide is also suitable for you because the operations on Windows and Mac are similar.
Steps to Restore SMS Messages Deleted from Motorola Phones on PC
Step 1. Connect Motorola phone to PC and run the software
Have already downloaded and installed the Motorola SMS Recovery on your computer? Ok, you can directly launch it by double-clicking on the program shortcut icon. Use a USB cable to connect your Motorola phone to the computer and then you will see the software automatically recognize and detect your phone.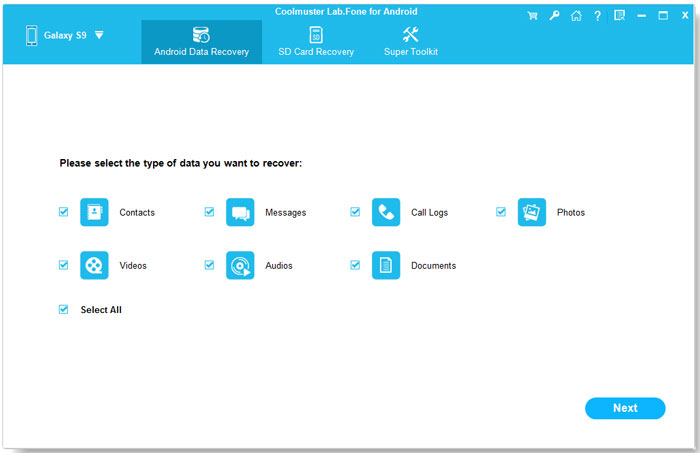 Step 2. Enable USB Debugging Mode on your phone (Optional)
You may need to enable USB debugging on your phone before your perform the recovery. The activated USB debugging is used for synchronizing data between your phone and computer. If you have already opened the USB debugging, you can move to the next step. Or, you need to follow the steps here to learn: how to enable USB debugging mode on your Android phone.
Step 3. Scan for the lost text messages on your Motorola phone
After you successfully enabled the USB debugging mode on you Motorola phone, click "Allow" on your phone to allow the program super user authorization when an Superuser Request pops up. Then, the SMS recovery program will show the phone along with its parameter information on the main interface. Click the "Start Scan" button and then the internal phone memory, SD card and SIM card of your Motorola phone will be all scanned by this software. When the scan finishes, all the contained files in your phone will be displayed in clear categories, including your lost text messages.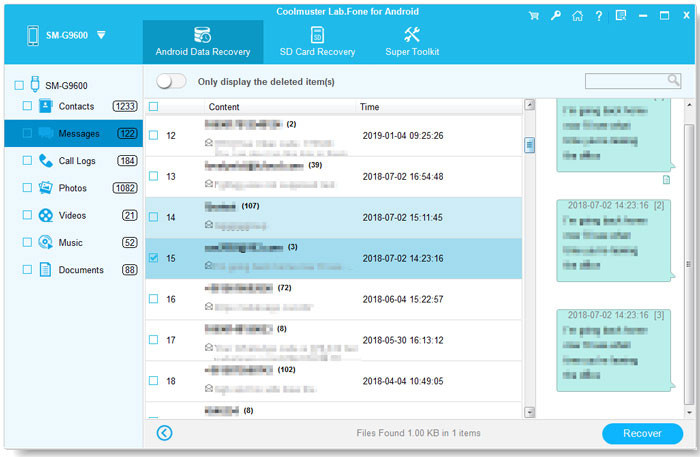 Step 4. Preview and recover the target SMS
Preview the scanned out Motorola text messages conversations one by one and check those you want to recover. Then, you can click on the "Recover" button, customize an output location to save the recovered SMS here. Only wait for a few seconds, you will get all you want!
Do You Know Motorola?
With Motorola's becoming world-famous for its tremendous innovation and amazing leadership in both wireless and broadband communications, it's recognized as one of the world's big three communications enterprises in addition to Nokia and Ericsson. Last week, Motorola launched a "fantasy-class" Android system model called Moto G, a mobile phone not only at an extraordinarily low price, but also with fairly good performance as well as a 4.5-inch display, which's highly representative of Motorola's mobile products. Its cost-effectiveness is the major reason drawing consumers towards purchasing and explains why its phones are loved by numerous people across countries.
By the way, Android SMS+Contacts Recovery is specially designed to recover lost or deleted contacts and text messages from Android phone.
Video Tutorial
Related Articles:
How to Recover Lost Contacts from Motorola