How to Recover Deleted Contacts from Samsung Galaxy/Note?
Where are my Samsung's contacts saved?
First and foremost, make it clear that where you have stored your contacts, the mobile phone or the SIM card. If it's the SIM card, but you have set your phone to display only those on the phone before, then you won't be able to see the ones on the SIM card. In this case, the contacts are merely hidden instead of being deleted. All you need to do is resetting your phone. In other cases where the contacts are deleted distinctly, the deleted ones have not been erased completely effectively. There're remains left on your phone which are recoverable. Once the wiped data are given new indexes, they can be restored to the original ones.
Here Comes the Best Samsung Contacts Recovery!
Try Coolmuster Lab.Fone for Android (for Windows 10/8/7/XP/Vista) or Lab.Fone for Android (Mac) (OS X 10.10 or later), widely used and convenient software tested thousands of times to have helped lots of users recover deleted contacts from their Android phones. It offers different search recovery mechanisms, including depth search, basic search, video search and picture search recovery mechanism, scanning and restoring the data you lost, not only contacts, but also text messages, music files, videos, call logs, etc. You can be left no trouble with Android Data Recovery whenever you feel helpless about having no way to recover your erased contacts from Samsung Galaxy or Note.
Your contacts are worth restoring, and you're worth given a means to restore them. No more hesitation, just own it! Download the free trial of the software to have a try. Below is the step-by-step guide showing you how to get back your contacts deleted from the Samsung Galaxy S8/S8 Plus/S7/S6/S5/S4/S3/S2/S or Samsung Galaxy Note 7/6/5/4/3 on Windows PC or Mac.
Read More Articles:
* How to Recover Data from Android Tablets
* Animated GIF Recovery for Samsung Galaxy
Steps to Retrieve Contacts Deleted from Samsung Galaxy S/Galaxy Note
Step 1. Connect your phone to computer
First of all, connect your Samsung phone to the computer with a USB cable and launch the installed Coolmuster recovery software. Once the connection is successful, the software will automatically detect your device and show it, along with its parameter information on the program interface.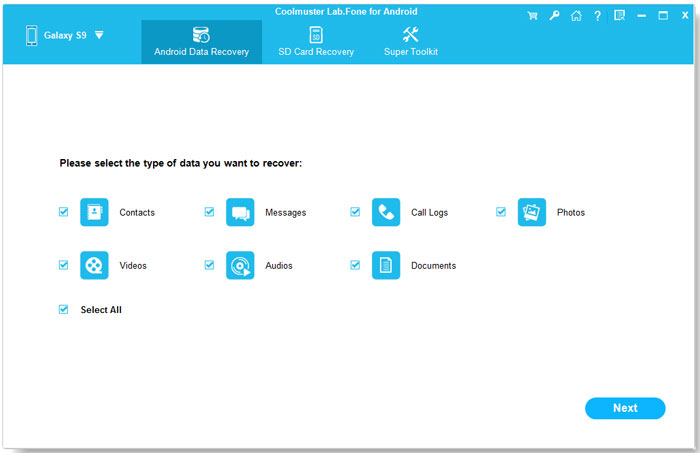 Tips: Not only Samsung Galaxy/Note, the software also supports other Android devices, including Motorola, HTC, LG, Google and so on. Click here to learn how to recover lost contacts from HTC.
Step 2. Enable USB Debugging Mode on your Samsung phone
Next, we need to enable USB debugging on the connected phone. The activated USB debugging is used for synchronizing data between your device and computer. If you have already opened the USB debugging, you can move to the next step. If not, you need to follow the steps in this article: enable USB debugging mode on your Android phone.
Step 3. Scan for the lost contacts on your phone
Once the USB debugging mode has been enabled successfully on your phone, click "Allow" on your phone to allow the program super user authorization when an Superuser Request pops up. Then, the launched program will automatically detect your phone and scan them deeply. When the scan finishes, all the contained files in your phone will be displayed in clear categories, including your lost contacts.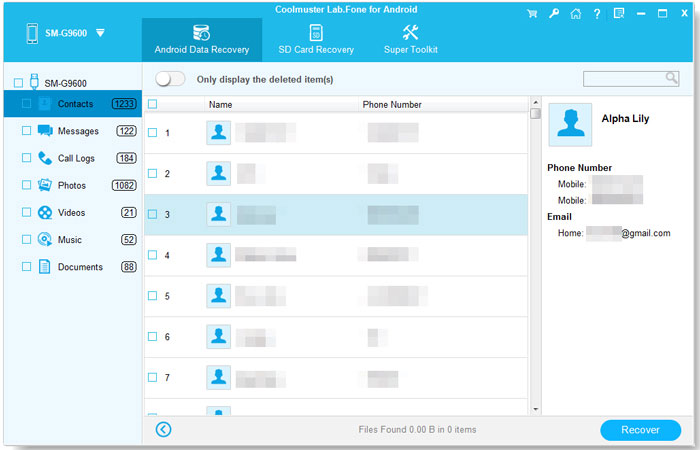 Step 4. Preview and recover the target data
Open the "Contact" folder and preview the contacts one by one. Check those you need to recover and then, you can click on the "Recover" button. Choose an output location for saving the recovered contacts and then the recovery process will begin at once. You'd better choose another place on your computer or external storage device as the output location instead of the phone where you lost them before, for safety consideration.
More about Samsung Galaxy S & Galaxy Note:
Striving to make consumers' life rich, simple and fun, Samsung Galaxy and Note smart phones have become great companions in numerous people's daily life. Galaxy S4 allows you to take photos of fantastic moments at the same time with cameras from both the front and the rear. More vividly, it adds sounds of different kinds to your pictures, and can capture consequent motions in one photo to make a dynamic one. By translating what you speak or type in shortly, S4 can also lift the language barrier for you. Air Command is a new function of Note 3, by which you can open a radial menu with five functions in no time by simply holding the s pen over the screen till dots appear and click on the stylus key. Fascinating functions as Samsung Galaxy and Note phones have, millions of people worldwide become users of them.
By the way, Android SMS+Contacts Recovery is specially designed to recover lost or deleted contacts and text messages from Android phone.
Video Tutorial
Related Articles:
How to Save Text Messages from Cell Phone to Computer