[Summary] Mistakenly deleted important messages on Facebook from your Android device and eager to recover them back? Here are two simple yet effective solutions showing you how to recover deleted Facebook messages from your Android phones easily!
As we all know, Facebook Messenger is one of the most widely used messaging applications on Android. It allows you to connect with people around the world through text, voice and video calls, photos, stickers, and more. At the same time, it is also an important application in the work environment. Facebook Messenger is considered the best way to communicate with corporate partners around the world. As a result, more and more smartphone users have installed this program and saved a lot of important information in it. This information can become critical.
However, in the process of using Facebook Messenger, there are many uncertain reasons that may cause data loss on your Facebook Messenger, such as accidental deletion, factory reset, operating system upgrade, virus attack, etc. Losing messages from Facebook Messenger can be frustrating. Not only will you lose unforgettable information with your loved ones, but you will also miss important work details.
Fortunately, with some work, you can recover deleted Facebook messages on your Android phone (If you are using iPhone or iPad, you can learn how to recover Facebook messages on iPhone/iPad). So don't worry when you encounter these situations. Follow us to follow this tutorial to restore deleted Facebook Messenger messages on Android step by step.
Solution 1: Get Back Deleted Facebook Messages on Android from PC
Solution 2: Recover Deleted Messages on Facebook from A Downloaded Archive
Tips: How to Back up Facebook Messages on Computer?
Solution 1: Get Back Deleted Facebook Messages on Android from PC
Facebook Messenger follows the Internet principle, so a copy of the same message is kept in the Android phone's memory. This means that when you accidentally delete your Facebook messages, you can still recover deleted chats from this copy.
Step 1: Plug your Android phone into your computer with a data cable. Once the connection is successful, locate your device on your computer and go to "SD card" or "Internal Storage".
Step 2: Move to the "Android" folder, select "data" and you will see "com.facebook.orca".
Step 3: Find and select "cache" in the "com.facebook.orca" folder, then go to "fb_temp". You can find your lost Facebook messages here.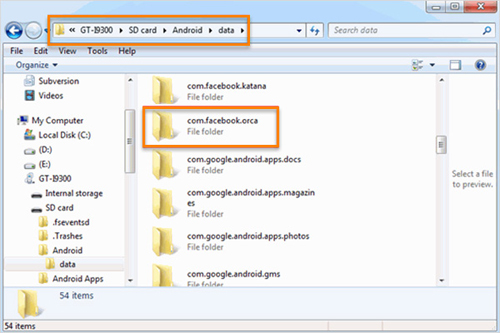 More Similar Guides:
Recover Text Messages from Android with Black Screen
Solution 2: Recover Deleted Messages on Facebook from A Downloaded Archive
If you backed up Facebook messages before deleting, then Facebook allows you to download a copy of the conversation, email, followers, friends, pictures, etc. So if you need to see the history of Facebook Messenger, you can try this method. Please note that this method only allows you to view the message log of Facebook Messenger, but not directly.
Step 1: Open the Facebook URL on your computer and log in to your Facebook account.
Step 2: Go to "Settings" on the homepage. Then select "General" and select "Download a copy of your Facebook data" at the bottom.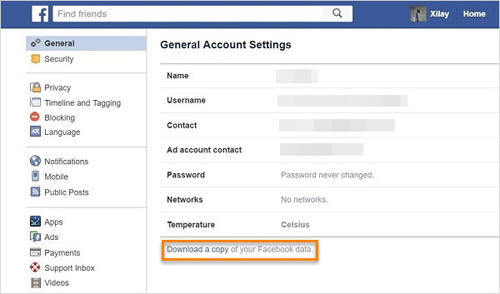 Step 3: Click on "Start My Archive" and Facebook will send you an email.
Step 4: Now you can view the downloaded page by email, download and save the Facebook data to your computer.
Tips: How to Back up Facebook Messages on Computer?
As you can see, recovering deleted Facebook messages is actually a very troublesome thing. So instead of thinking about how to recover, it's better to back up your important Facebook messages in advance. Below, we will introduce two ways to back up Facebook messages to your computer.
Method 1. Copy and paste Facebook messages to Word for saving
You can copy paste all the Facebook messages to Word and save it. You can even upload the Word file on cloud like Google Drive or Dropbox to ensure that you do not lose out on your memories at any time. Certainly, this method requires you to copy and paste the messages one by one manually, which is time and energy consuming, especially when you have too many messages that need to back up.
Method 2. Use a Free Software like Chrome Message/Chat Downloader
There are plenty of other software that you can try to help you back up messages on Facebook. These are the steps you need to follow:
1. Install the software on your computer on Chrome.
2. Now go to the Facebook conversation you want to download.
3. Select the conversation.
4. On Chrome, you will see the Facebook Messenger download button on the top bar. Click on it.
5 .Wait for the download to complete which will only take a few seconds.
6. Access the downloaded file on Firefox.
Once the process is done, all the downloaded files will be available on your device.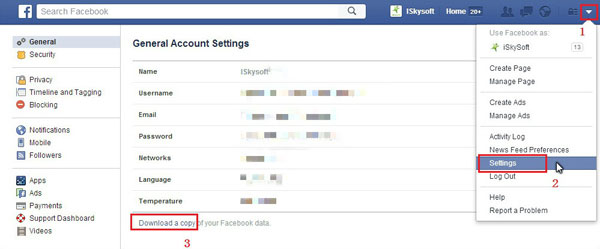 Conclusion
There are solutions available to help you recover deleted Facebook messages and restore your valuable conversations. And you can follow the methods mentioned above to get your Facebook messages back with possibility. Besides, remember to always be cautious when handling important data and regularly back up your messages to avoid any potential data loss.
Related Articles:
How to Back Up Data from Broken Samsung Galaxy
Recover Deleted Files from Android Phone Internal Memory
Best Broken Samsung Data Recovery Software