After you update the Android OS for your Android phone, you may pop up with a black screen bug when you want to take pictures or videos with the Camera app on the phone. How to solve the problem? Sometimes, the black screen problem can be resolved easily by rebooting the device. But it doesn't work all the time. You have no other way but to factory reset your Android phone. The black screen issue is solved, but the photos and videos you stored in the device are wiped away as well. Well, it is easy to restore the lost photos and videos from an Android device with black screen, as long as you have made back up of the Android data previously. But if you don't, you have to find other approaches.
Your search for the best data recovery software for Android is over. Broken Android Data Extraction is regarded as one of the best program which is able to recover your important contacts and messages from internal memory. Also content of SD card like music, videos, photos and documents can also be retrieved successfully. The program provides easy 3 step function to recover files. It deals with many reasons of data loss like ROM flashing, factory settings, damage, broken phone, etc. And it works on overall Android phones and tablets, including Samsung, HTC, LG, Motorola, Sony, Huawei, ZTE, Google Nexus, and so forth.
Read on and see how the Coolmuster Lab.Fone for Android works in details. Download the free trial version of this program and follow the steps to restore videos/photos from Android with Black screen.
How to Retrieve Photos Deleted from Android in Black Screen?
Step 1. Get ready with the broken Samsung data extraction software
Get the Broken Android Data Extraction software installed on your computer. Launch it and then select "Broken Android Phone Data Extraction" from the left panel. Then, use a USB cable to connect your black screen Android to the computer.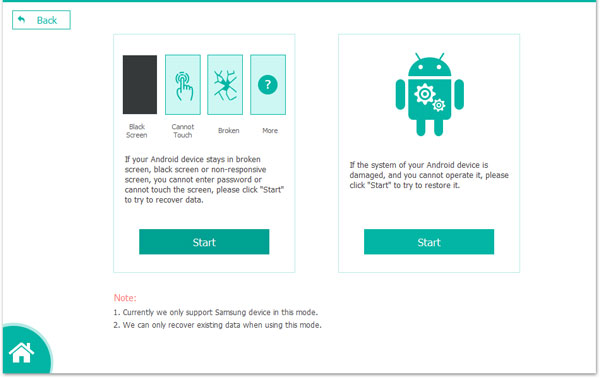 Step 2. Select and confirm device info
Select the fixing mode and click "Start". Then choose the name and model number of your Android and click "Confirm". If you are not sure about the information of your phone, you can click question mark the program will show you how to find the information.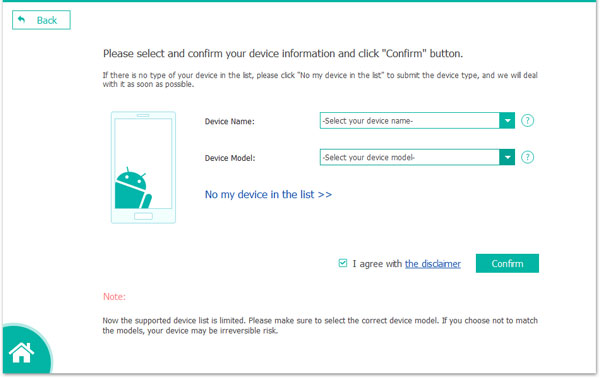 Step 3. Enter Download Mode and get it fixed
You will be asked to put your Android device into Download Mode. Just follow the onscreen prompts to put your broken Android in Download mode. After that, the program will detect the phone and scan out data on it instantly.
Step 4. Recover photos/videos from Android black screen
Preview and select the photos and videos you want to recover and click on the 'Recover' button placed on the right bottom part of the screen to begin the recovery process. You are allowed to select a destination folder to save the recovered photos and videos on your computer.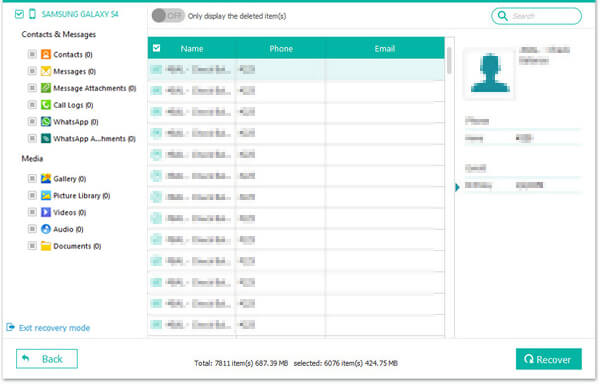 Check Supported Devices of Broken Android Data Extraction
Samsung Galaxy Note:
Note 3: SM-N900, SM-N9002, SM-N9005, SM-N9006, SM-N9007, SM-N9008 SM-N9008V, SM-N900S
Note 4: SM-N9100, SM-N9106W, SM-N9108V, SM-N9109W, SM-N910C, SM-N910F, SM-N910G, SM-N910H, SM-N910K, SM-N910L, SM-N910P, SM-N910R4, SM-N910S, SM-N910T, SM-N910U, SM-N910V, SM-N910W8
Note 5: SM-N920C, SM-N920G, SM-N920I, SM-N920K, SM-N920L, SM-N920P, SM-N920R4, SM-N920S, SM-N920T, SM-N920W8
Samsung Galaxy S:
S4: GT-I9500, GT-I9505, SCH-R970, SCH-R970C, SGH-I337M, SGH-M919, SPH-L720
S5: SM-G900F, SM-G900FQ, SM-G900I, SM-G900K, SM-G900L, SM-G900M, SM-G900P, SM-G900R4, SM-G900R6, SM-G900S, SM-G900T, SM-G900T1, SM-G900W8
S6: SM-G9200, SM-G920F, SM-G920P, SM-G920T, SM-G925F, SM-G925P, SM-G925T, SM-G928P, SM-G928T
Samsung Galaxy Tab:
Tab Pro 10.1: SM-T525