For some reasons, you need to update WhatsApp when you are announced with the updating news of WhatsApp. Generally speaking, people can enjoy much more new features with the latest version of WhatsApp. For example, WhatsApp 2.17.79 allows users to protect accounts with two-step verification. And when you want to change to another new phone and you need to download WhatsApp again on the new device. Below is the full guide on how to update WhatsApp on Android phone.
See Also:
Android SMS Backup and Restore
Backup & Restore WhatsApp on Google Drive
Part 1: How to Update WhatsApp on Android?
To fix bugs and launch new features, WhatsApp updates frequently. You are suggested to keep your WhatsApp to the latest version in order to enjoy more new features with the WhatsApp.
1. Open Google Play Store on your Android phone.
2. Find and choose the option "My apps & games".
3. All your installed apps are displayed here. Just check whether your installed WhatsApp has new version released.
4. Click WhatsApp > Update. Then, you will start to update WhatsApp on your Android device.
Part 2: How to Fix Google Play Errors When Updating WhatsApp
Many people say they often encounter with downloading or updating errors of WhatsApp in Google Play store. Here, we provide some methods for you to fix this problem:
How to Fix Error 413, 481, 491, 492, 921, 927 and 941:
1. Open your Android phone, go to click Settings > Accounts > Google > tap your account.
2. Go to click menu button and choose "Remove Account".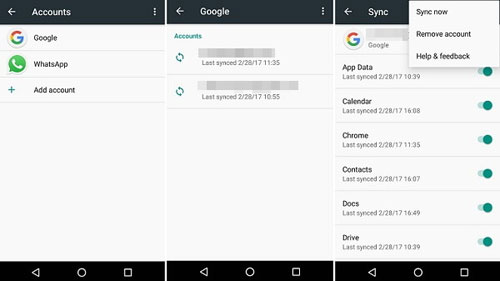 3. Reboot your Android phone and add the Google account again.
4. Choose the options as follow: Settings > Applications > Google Play Store > Storage > Clear Cache and also Clear Data.
5. Redownload WhatsApp now.
How to Fix Error 101, 498, 919, 403, 495, 504, 911, 920, 923, RPC, Package File Invalid, Installation/Download Unsuccessful:
1. Check and make sure you have enough space on your Android phone to download WhatsApp.
2. Go to WhatsApp.com to download and install WhatsApp APK file.
By the way, if you want to download WhatsApp from browser, you should go to Settings > Security > enable "Unknown Sources".
Conclusion
By keeping your WhatsApp updated and resolving any update-related errors, you can ensure a smooth and enhanced user experience with the app. Stay connected and enjoy all the latest features offered by WhatsApp!
Related Articles:
How to Copy Files between HTC Phone and Computer
Recover Deleted Text Messages from Samsung Cell Phone
Why Couldn't Download Video on WhatsApp from iPhone