If you've bought a new device, you'll undoubtedly want to transfer all WhatsApp files from your old device to a new one. You just have to back up WhatsApp files to Google cloud or iCloud on your old phone before restoring the WhatsApp data. This sounds easy, but honestly, it is not. One of the issues users has reported while restoring WhatsApp files is WhatsApp restoring media is stuck.
If you are experiencing this problem, this guide has answers. Keep reading to learn how to troubleshoot WhatsApp restoring media stuck problems.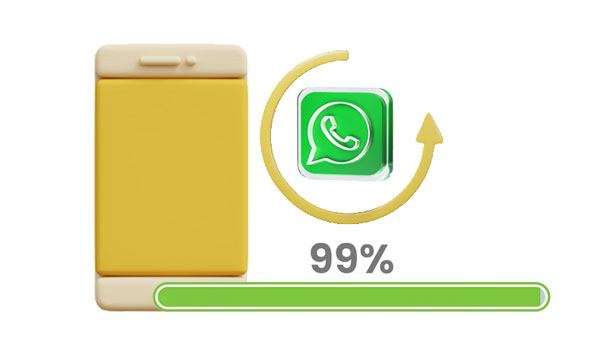 Part 1: Why Is WhatsApp Stuck on Restoring Media?
There are various reasons why WhatsApp is stuck on restoring media. Check the most common reasons why you may encounter such a problem:
Network problems: To restore media files, you need to be connected to the Internet and use a stable connection. The process may fail if your phone is not connected to the Internet or there are network problems.
Insufficient storage: WhatsApp media can take a lot of storage on your device, and if the storage isn't enough, the restoring media on WhatsApp will be stuck at 99%.
Corrupt files: As you restore files, there are 0 bytes files that are created, which might cause the process to be stuck.
Part 2: How to Fix WhatsApp Restoring Media Stuck on Android?
If you are experiencing WhatsApp restoring media stuck on Android, there are ways to fix the problem and, luckily, get your WhatsApp restoration process back on track. Here are some effective fixes if your WhatsApp can't restore media files.
2.1 Check to See If There Is a Good Network Connection
A poor network connection is likely to interfere with restoring your WhatsApp backup. It would make the process incomplete and get stuck along the way. That's why you need to check your network connection first.
To check the internet connection, you have to follow the below steps:
Step 1: Head to Settings on your device and proceed to "Connections".
Step 2: Look for the "Wi-Fi" option and toggle it on, then connect to a stronger and stable internet.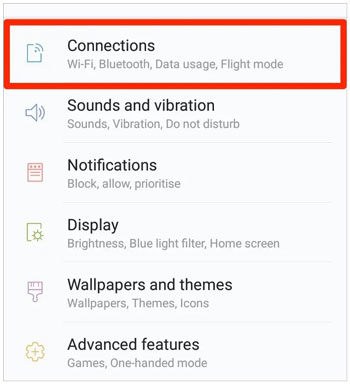 You might need: Can you fast back up WhatsApp messages from Android to Mac? If you need help, please read this article. It will tell you 5 proven ways.
2.2 Make Sure the Google Account & Phone Number Used Are Correct
If WhatsApp backup is still stuck even after checking the internet connection, there is a high chance that the problem is the phone number or Google account used on WhatsApp. Check to ensure the Google account is the same on your devices. Also, make sure you use the same phone number for logging into WhatsApp from all devices.
An incorrect phone number/Google account could make the restoration process get stuck. Even though it could not be the cause on your side, you still have to counter-check and ensure everything is correct. Here is how to check the Google account and number used on your WhatsApp:
Step 1: Open the WhatsApp application on your device and click on the three-dot menu at the upper right corner of your screen.
Step 2: Head to "Chats" and proceed to "Chat Backup". Then check if you're using the correct Google account.
Step 3: To check the phone number, navigate to "Settings" and click on the profile photo to see the number displayed. Just check if it's the correct one.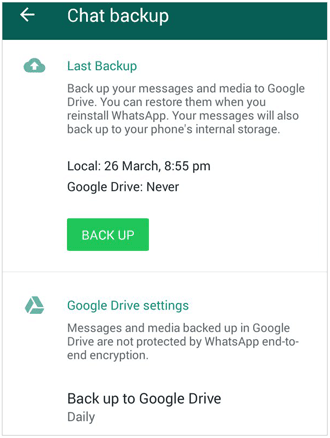 2.3 Check Android Storage
WhatsApp could restore media data on your Android phone and you tried several times? Actually, WhatsApp media files tend to take up a lot of storage space, and if there is not enough space to keep all the backup files, you'll find WhatsApp restore stuck at 99%. You must delete some unwanted files to create more space on your device. Do this to check storage space and delete applications you are no longer using:
Step 1: Open the Settings menu on your phone and head to the "Storage" option.
Step 2: Tap on "Internal storage" and check how much storage is left on your device. You can also see how much space each application is using.
Step 3: If you are out of storage, you should delete some apps by long-pressing the app, and hit "Uninstall" to remove the app from your phone.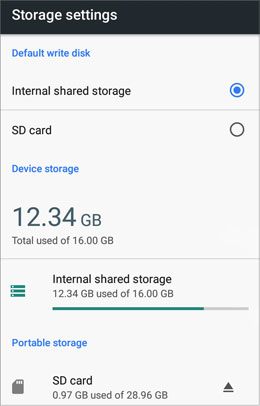 Guess you need: Which is the best WhatsApp recovery app? This list has the top 13 options for your reference. Let's check it out.
2.4 Update Your WhatsApp
Another possible reason for WhatsApp restore getting stuck is an outdated WhatsApp version. We must keep the app updated since the outdated version could have bugs or glitches that might interrupt the process. To update WhatsApp do this:
Step 1: Open the Play Store and type in the search bar "WhatsApp".
Step 2: If WhatsApp isn't updated, you'll see the option for "Update". Click on it to update the app.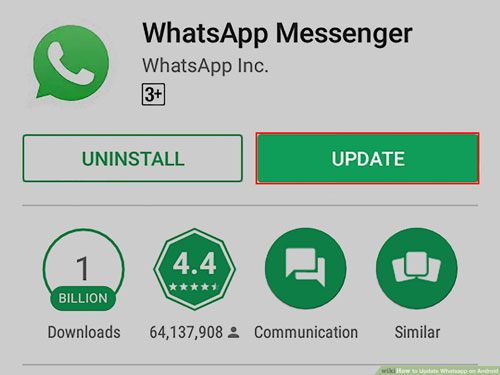 2.5 Update the Android Operating System
An outdated OS can also lead to WhatsApp restoring media stuck issues. Make sure you have the latest version of Android installed on your phone and check to see if the problem is solved. Here are steps to update the OS of your Android to the latest version.
Step 1: Navigate to the "Settings" page, look for the "Advanced" option, then click "System Update".
Step 2: Check for updates; if you find any, install them instantly.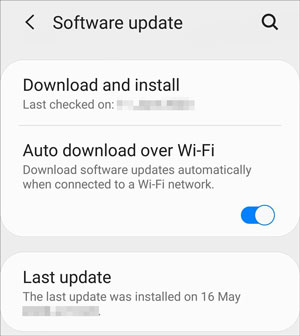 2.6 Restore WhatsApp Data on Android via Android Data Recovery
If you lose your data because of WhatsApp restoring stuck, this Android Data Recovery is the ultimate solution to restore your lost data from an Android phone. You can use it to recover your WhatsApp files from Android phones and tablets, including WhatsApp messages and media data. If needed, you can also use it to retrieve your deleted contacts, photos, etc.
Download this recovery software below.
Use this software to recover lost WhatsApp data from Android:
01Install the program on your PC and launch it. Select "Android Data Recovery" from the list. After that, use a USB cord to connect the Android phone to the PC and let the software detect the device automatically.
02You'll be asked to allow USB debugging if you do not open debugging mode. The tool will then detect the version of your device. Once done, hit the "OK" tab to proceed.
03You'll see the file types on the screen. Just choose "WhatsApp" and "WhatsApp Attachments". Once done, hit the "Next" icon to scan the data.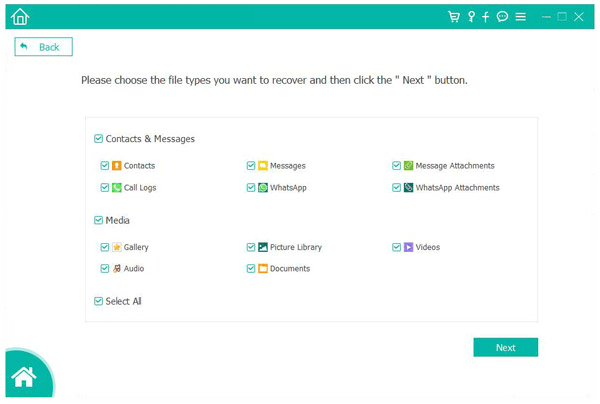 04After the scanning procedure is finished, you can preview the files in the left panel. Choose all the WhatsApp data you wish to recover and hit the "Recover" tab to finish the recovery process.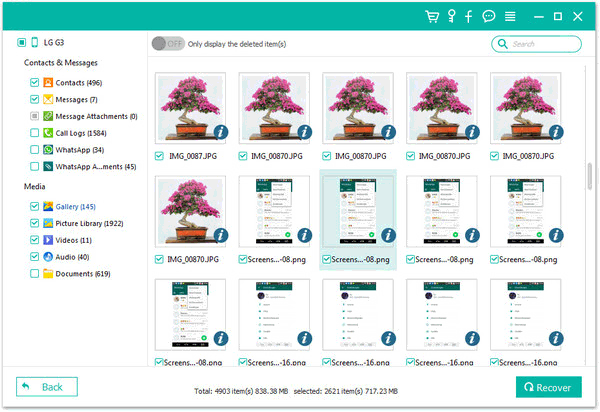 You might need: 3 Methods to Recover Deleted WhatsApp Messages on Android
Part 3: Couldn't Restore Media from WhatsApp on iPhone? 6 Fixes
If you are an iPhone user and you see your WhatsApp restoration isn't moving, it's just stuck at a certain percentage; you can try fixing the issue by applying the following solutions:
3.1 Check Your Network Settings
A stable internet connection is the most basic requirement for a successful data restoration from iCloud. If you are connected to a weak cellular network or Wi-Fi or aren't using a similar Apple ID, WhatsApp media restore is likely to get stuck. So, ensure your iPhone has a strong network connection.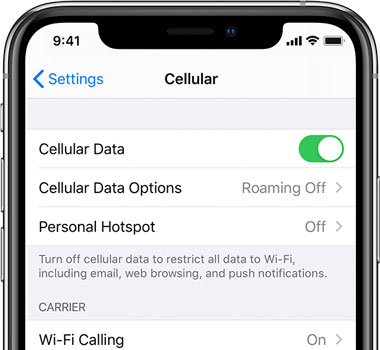 3.2 Update Your iOS and WhatsApp Version
Couldn't restore WhatsApp chat history on an iPhone? It's always recommended to use the latest version since new updates fix bugs or glitches in the system that could otherwise cause errors like WhatsApp media restoration being stuck.
If you last updated your WhatsApp to the latest version sometimes, then your restore process might get stuck due to the new version compatibility issue. You will need a recent iOS version for restoring and a current WhatsApp download for starting your restore.
To update your iPhone to the latest version, head to "Settings" > "General" > "Software Update". Afterward, click "Install".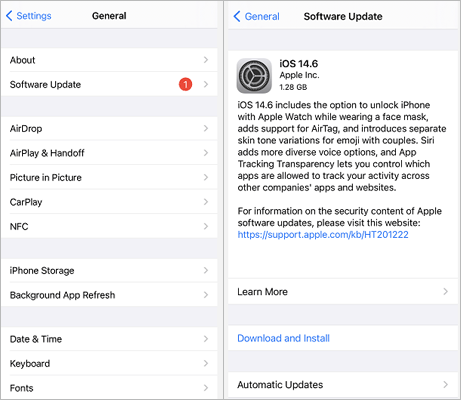 To update the WhatsApp version, open the App Store and press the tab for "Updates" at the lower section of the screen. Then find the WhatsApp application and click on the "Update" icon.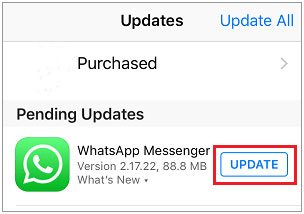 3.3 Enable iCloud Drive
Before you start the restoration process, make sure iCloud Drive is enabled. You can check if your iCloud Drive is turned on by going to Settings, selecting "iCloud", and then toggling on the "iCloud Drive" option.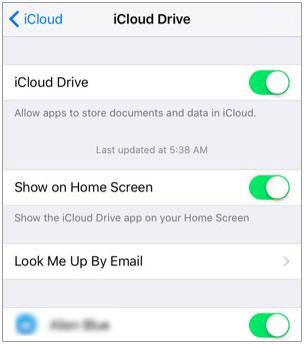 3.4 Check iPhone's Internal Storage Space
If the iPhone device does not have sufficient space to accommodate the media files, WhatsApp media restoration will likely get stuck. You have to delete unwanted files to create more space.
3.5 Use the Same Apple ID and Phone Number
Ensure you use the correct Apple ID and mobile number you used while backing up WhatsApp data on your previous phone.
To check the number used, open WhatsApp on your iPhone and click on the "Settings" icon to head to the settings menu.
From this menu, look at the top of the screen to find the username and phone number registered on WhatsApp. When you tap on your username, you'll see the profile page.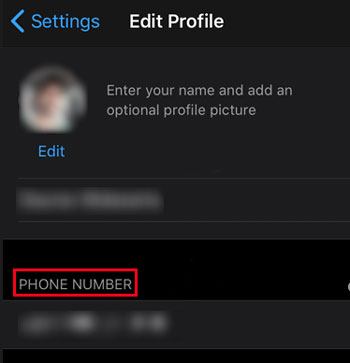 3.6 Recover Lost WhatsApp Data on iPhone via iOS Data Recovery
Once you find that you lost your WhatsApp data after restoring from your iCloud backup on your iPhone, you can try this iPhone Data Recovery to recover the lost WhatsApp messages and media data. The tool can recover not only WhatsApp but also Viber, Kik, LINE, Safari history, and more. Besides, it can restore data from your iTunes and iCloud backups.
How to restore lost WhatsApp Data from an iPhone using this software:
01Download the program on the computer. Open it, then connect the iPhone via a lightning cable.
02Unlock your iPhone and hit "Trust" as prompted. Next, tap the option for "Recover from iOS Device", then choose the "Start Scan" option, which will instantly begin downloading the files.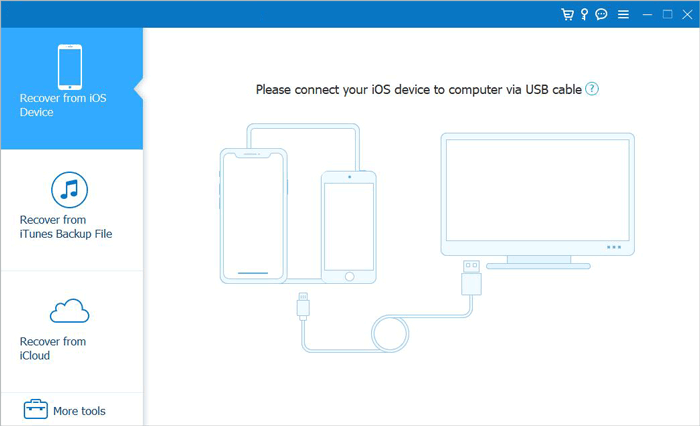 03After scanning, you'll see all files listed in the primary interface in categories. Choose "WhatsApp" to find the recoverable media files.
04Select all WhatsApp data you wish to restore and hit the "Recover" option.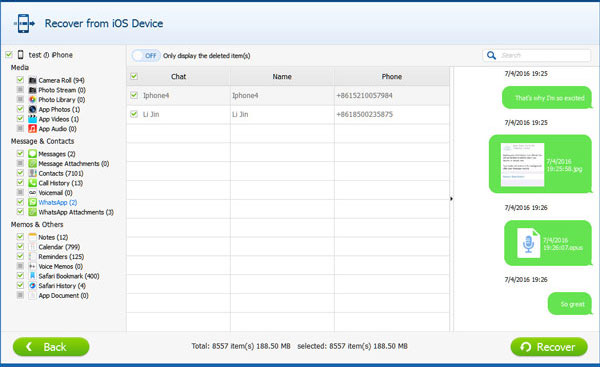 Learn more:
How to Back Up WhatsApp Photos/Videos? (Proven Tips for iPhone & Android)
[Fast Transfer] How to Transfer WhatsApp from iPhone to Android
Part 4: Can't Restore WhatsApp Backup? Use WhatsApp Transfer (Best)
Even though WhatsApp has a data backup and restoration feature, you still have to be sure you can back up and restore everything from your device. The best way will be to use a powerful yet effective program - WhatsApp Transfer.
This software is good at backing up and restoring WhatsApp data between your mobile device and computer. With it, you can easily restore WhatsApp media data without any blocking. And you can view your WhatsApp backup files on your computer directly. What's more, it is compatible with Android and iOS devices.
Apart from backing up, restoring and transferring WhatsApp data, the tool can also back up chats for Viber, Kik, Viber, and WeChat for iOS devices.
Top features of this WhatsApp transfer software:
* Quickly back up WhatsApp/WhatsApp Business messages and media files from your phone to a computer.
* Seamlessly restore your WhatsApp backup data to a smartphone.
* Transfer WhatsApp history chats between iOS and Android devices.
* Back up chat history for WeChat, Line, Kik, and Viber on iOS devices.
Download this WhatsApp data transfer program.
Here is how to back up and restore WhatsApp media files via this desktop app:
01Install and launch the software on the computer and hit the "WhatsApp Transfer" option from the list.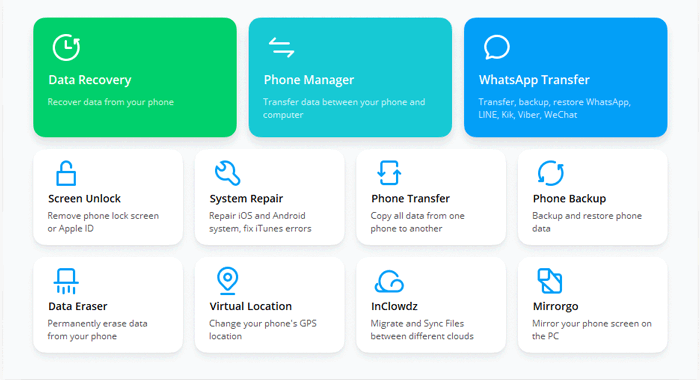 02Connect the device to the computer via a USB cord and choose the option for "WhatsApp" on the left panel.
03Click the "Backup WhatsApp messages" option to start the process. Wait patiently for the backup process to complete. Once done, you can tap the "View It" button and check the file you want.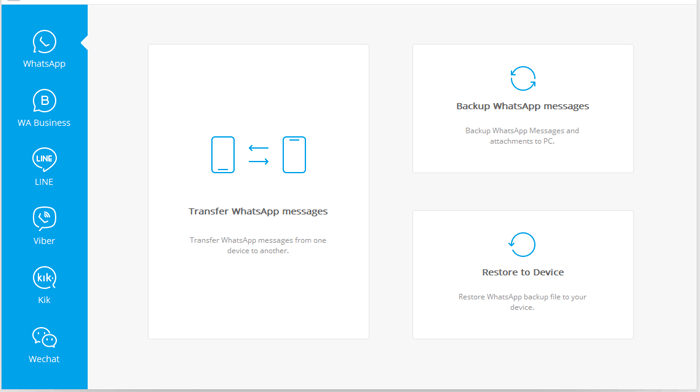 04To restore your backup WhatsApp data, please select the "Restore to Device" option. Then tap the backup file, and pick the messages and media files you want. At last, press the "Restore to Device" button. The WhatsApp data will be transferred to your smartphone.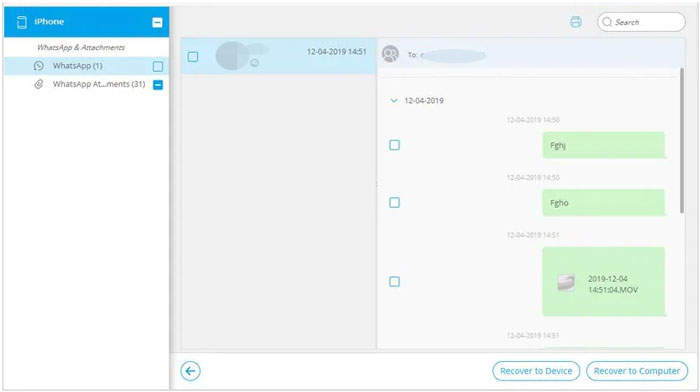 Conclusion
That's it! You know why Whatsapp restoring media is stuck on your Android or iPhone. Hopefully, you'll fix it with the effective methods in this article. Whatsapp won't restore issues without a struggle. Additionally, it's always good to back up and restore your WhatsApp files with a reliable tool like WhatsApp Transfer. It will not be stuck during the backup and restoration procedure. Thus, it is worth a try.
Related Articles:
How to Recover Deleted WhatsApp Videos from Android or iPhone? (8 Methods)
Fast Fix WhatsApp Backup Stuck with Practical Tips
How to Transfer WhatsApp from Old Samsung to New Samsung in 4 Hassle-free Ways?
Does Samsung Smart Switch Transfer WhatsApp Messages? [Comprehensive Guide]
2 Ways to Transfer WeChat Messages from Android to iPhone
How to View Text Messages on Computer for Android Phone Users? (Solved)