"How do I convert/export WhatsApp chat to PDF so that I can open it on a computer? I've tried several methods: manual way using screenshot and stitching it using Android app and using Backup Text for Whats. My Android is 4.2, but now with the current WhatsApp version, it is not functioning. I don't know why. Does anyone know any other method? Note: Whatever the method, it should maintain how it is displayed in WhatsApp, if possible."
- Excerpted from StackExchange
Are you looking for a way to export WhatsApp chat to PDF for future reference? Generally, the saved WhatsApp messages feature Text format. Do you know how to convert the WhatsApp chat to PDF? If you don't, no worries. Since you are here, you will master the top four methods to save WhatsApp chat as PDF. Let's get started.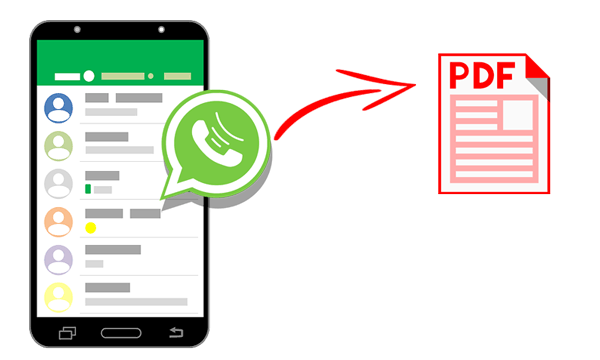 Way 1. How to Export WhatsApp Chat to PDF via WhatsApp Transfer
Way 2. How to Convert WhatsApp Messages to PDF with Email
Way 3. How to Save WhatsApp Chat in PDF Using File Manager
Way 4. How to Export WhatsApp Chat into PDF with PDF Share App
Way 1. How to Export WhatsApp Chat to PDF via WhatsApp Transfer
The best way to make WhatsApp chat backup as PDF format is using WhatsApp Transfer. As a professional WhatsApp solution, it allows you to transfer WhatsApp chats between iOS and Android devices and back up WhatsApp messages to a computer in PDF format and restore the backups to your iOS/Android device.
The highlights of WhatsApp Transfer:
* Directly export iOS WhatsApp chat to PDF or HTML format on your computer.
* Transfer WhatsApp chats from iPad/iPhone to Android or Android to iPhone/iPad.
* Transfer WhatsApp Business chats from iPhone/Android to iPhone/Android.
* Back up and restore LINE/Viber/Kik/WeChat chat history from iOS on the computer.
* Work with all iPhone models running iOS 16 and former versions, including iPhone 14 Pro/14 Pro Max/14/13 Pro/13/12 Pro Max/12 Pro/12/12 mini/SE/11 Pro Max/11 Pro/11/XS Max/XS/XR/X/8/8 Plus/7 Plus/7/6S Plus/6S/6 Plus/6/5S/5C/5/4S/4, etc.
How to make a PDF file in WhatsApp with one click?
1. Back up your WhatsApp messages from your iPhone/iPad.
Install WhatsApp Transfer on your computer, choose the Backup WhatsApp messages section under the WhatsApp feature, and connect your iPhone/iPad to the computer. Once connected, it will start backing up your iDevice automatically. When the backup process is complete, tap the View it button on the interface to check the backup file details.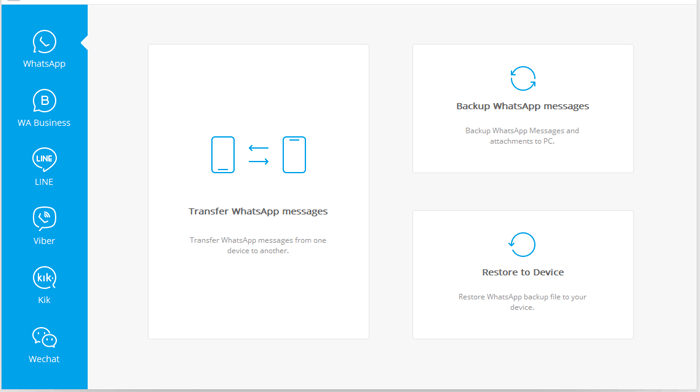 2. Choose the wanted backup file to preview from the list, and you will see all the detailed information.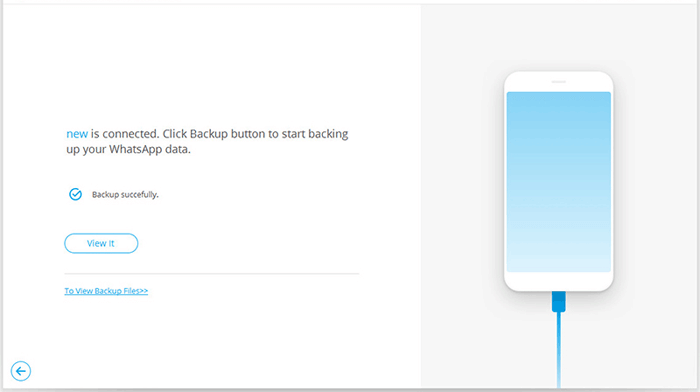 3. Save WhatsApp chat as PDF files.
After backing up the WhatsApp data on your iDevice, tap WhatsApp or WhatsApp Attachments from the following interface, choose the messages you want to export as the PDF file, and tap the Recover to Computer button. Later, select a path from the pop-up window to save the file. Then, you can view the file in HTML or PDF format on your computer.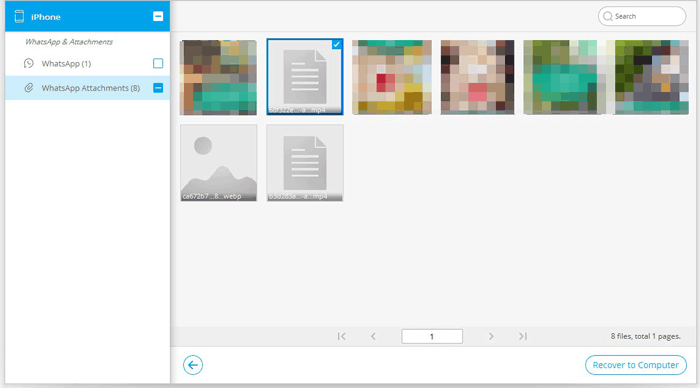 Further reading:
How to Back Up WhatsApp Photos/Videos? (Proven Tips for iPhone & Android)
How to Back Up Viber Messages on PC? (Fixed)
Way 2. How to Convert WhatsApp Messages to PDF with Email
If you want to save all WhatsApp chats with one contact as PDF, using email is a better choice. Besides email, this method will also use Microsoft Word processor or WPS Office together.
How to create PDF in WhatsApp via email?
1. Run WhatsApp on your phone, open one WhatsApp conversation group, and hit the three vertical dots icon > More.
2. Tap the Export chat option > select Without Media from the window > choose Gmail or any other email service you use on your smartphone > send the email to your own. After that, the WhatsApp chats will be saved as a .txt file.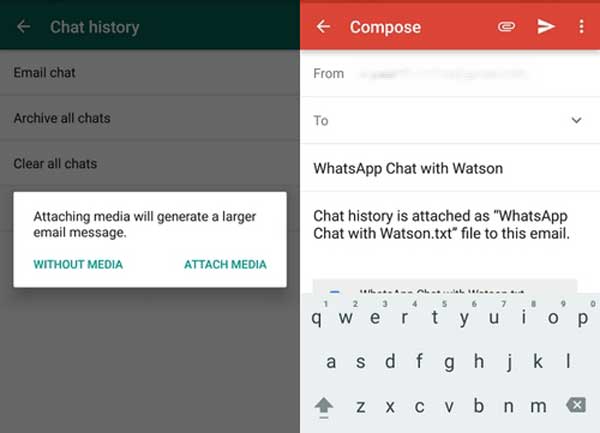 3. On your computer, open the email client app and download the attached file from the email you just sent. Next, right-click the .txt file and pick the option Open with > Ms. Word (or WPS Office).
4. When opened, click the File section on the Ms. Office window's top-left corner, tap the Save As, and choose PDF (.pdf) under the Save as Type. Finally, press the Save button to convert the .txt into a PDF file.
You might need:
Want to find the iPhone garbage bin to restore your deleted files? Don't worry. This full guide will tell you what to do.
This article has offered 10 great tools for GoPro video editing. If you are interested in it, you can open the link.
Way 3. How to Save WhatsApp Chat in PDF Using File Manager
Alternatively, you can also back up the WhatsApp chat on your phone first and export the backup file to PDF on a computer. Note that you will need to use WhatsApp Viewer to convert the file format in the subsequent operation, and it only works with Android devices. Yet, you cannot export the images as PDF using this way since the folder only stores the thumbnails, not the source pictures.
How do I export an entire WhatsApp conversation via File Manager?
1. Open the File Explorer app on your smartphone, choose Internal storage, and find the WhatsApp folder > Databases.
2. Open the Databases folder, navigate to the file named msgstore.db.crypt12, and copy it to another location. (Note: The file extension may be slightly different in some cases, like .crypt8. This case also goes for this method.)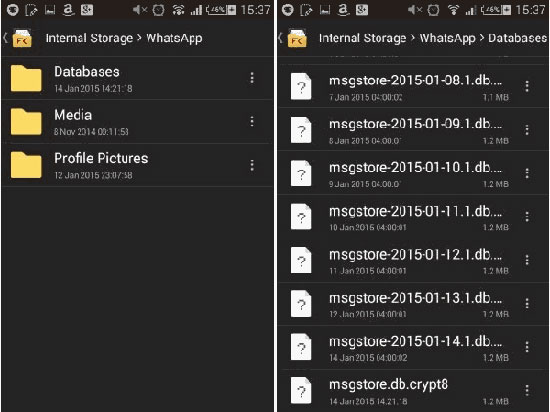 3. Transfer the duplicate file and the key file to your computer to decrypt the file. The key file is located at Android's internal storage: /data/data/com.WhatsApp/files/key.
4. Download WhatsApp Viewer on your computer, locate the extracted folder under File to open the .exe file, and hit Open to select all files here. Then, search for the msgstore.db file you sent to the PC, and select the file. Please leave the account name column vacant.
5. Tap the Continue button, locate all the WhatsApp chats, and export them as a text file. Eventually, convert the text file to PDF with Ms. Office or a conversion tool. That's done!
See more:
Wonder how to unlock an iPhone without its touch screen? You can get effective solutions from this post.
How can you get your iPod out of recovery mode? You can follow this guide to achieve it.
Way 4. How to Export WhatsApp Chat into PDF with PDF Share App
This way works for both Android and iPhone. You can follow the instructions below to export WhatsApp chat to PDF.
1. Install PDF Share from Google Play Store on an Android device or App Store on iPhone.
2. Open the WhatsApp chat you wish to export, tap the three-dot icon at the upper-right corner, and tap the Export Chat option. After that, choose the Without Media button, click the Mail icon from the Share menu, and forward the file to yourself.
3. Download the attachment from the email you sent several seconds ago and open the file with the PDF Share app. Next, choose the file you want to export and select the Export to PDF button to convert it into PDF.
Final Thoughts
This post introduces four different methods to export WhatsApp chat to PDF. However, you may easily find that at least two of them have something in common: they need to export chats from WhatsApp and use Ms. Office. Therefore, you can say that the Email, File Manager, and PDF Share ways share the same ideas.
Moreover, these three ways are more complicated to handle than WhatsApp Transfer. If you choose WhatsApp Transfer, the conversion will get much easier and quicker to operate. So, I will recommend you try the amazing WhatsApp Transfer.
Related Articles:
Top 3 Ways to Make WeChat Backup to PC in 2023
6 Easy Ways on How to Backup WhatsApp Messages from Android to PC
How to Back Up WhatsApp Chats on iPhone without iCloud?
How to Restore WhatsApp History from iCloud to Android?
How to Export iPhone Contacts to CSV/Excel in 3 Ways?
How to Export Android Contacts to Excel Format (CSV or XLS)?