With billions of active users, WhatsApp is one of the most popular messaging apps that's skyrocketing at a rapid pace. Even though most people like it, it's said to have a few problems here and there. One of the most commonly reported problems is "Whatsapp download failed".
You'll see this error message when you're trying to view videos or audio sent to you which can leave you in a dilemma. Know that it's not something very terrible. You should not lose hope and shut your WhatsApp down just because you've encountered such a problem. Just read this post to have your answers.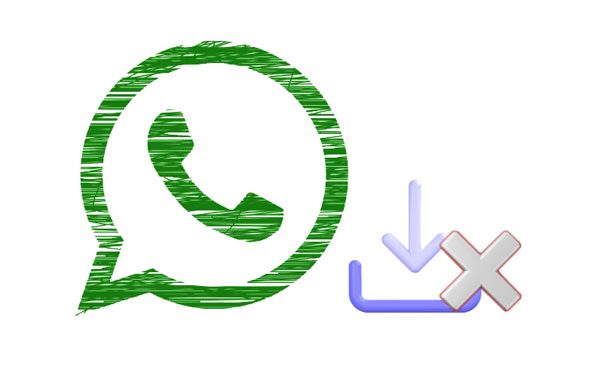 Part 1: Why Download Is Failed in WhatsApp
When the download was unable to complete on WhatsApp, you probably want to know the reason. In fact, there are various reasons behind WhatsApp failing to download. So, before you remedy the issue, you must understand precisely what's causing this.
The first possible reason is that the server is experiencing a momentary breakdown. WhatsApp operates by exchanging data with servers that may hit a speed bump at some point leading to errors while using it.
An unstable internet connection could also be a possible reason.
After knowing the possible cause of WhatsApp not being able to complete downloading, you now have to take matters into your own hands and apply the tricks we will show you in this article.
See also: Wonder how to transfer your WhatsApp data to a new phone? It is easy. Please refer to this guide.
Part 2: How to Fix Whatsapp Download Failed
WhatsApp download was unable to complete on your mobile phone? In this case, you can work it out with the following fixes. And they're pretty simple. Here we go!
Fix 1. Check Your Network Connection
The network connection could be the leading cause. If the internet is not stable, you will likely see a pop-up message saying "The download was unable to complete, please try again later." Ensure you check the connection and see if it is stable. If you are using a Wi-Fi connection, switch to mobile data and back to Wi-Fi again. Doing this should solve this error.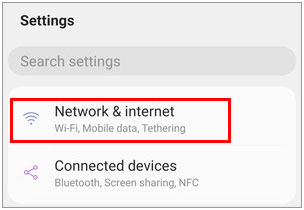 Read more: Planning to recover deleted videos on WhatsApp? That sounds difficult. But you can get help from this comprehensive tutorial.
Fix 2. Make Sure There's Sufficient Storage on Your Phone
If your Samsung WhatsApp download fails, it's always advisable to check the storage space available. Downloading a large media file with insufficient storage space on your device could lead to this error. Try deleting unnecessary files from your device to free up space. Here are steps to free up space on your Android:
Step 1: Open the Settings application, find the "Storage" option from the page and tap on it.
Step 2: You'll see the available storage and used space consumed by apps.
Step 3: Delete unwanted applications or files to get more space.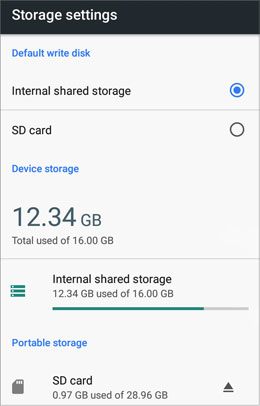 Learn more: Top 8 Options of WhatsApp Transfer Software - Handily Move WhatsApp Data
Fix 3. Update WhatsApp
Another critical thing to do is to verify the version of WhatsApp you are using. Often, you are likely to see updates released in the market, making the old versions of apps obsolete, hence not performing as expected. This is the case for WhatsApp too. It's essential to update your WhatsApp whenever there's an update. The latest version can resolve this problem as it comes with bug fixes and improvements. Here is how to solve The WhatsApp download problem via updating the app:
Step 1: Go to App Store and search WhatsApp at the search bar.
Step 2: If the version of your WhatsApp is old, you'll see an "UPDATE" option highlighted.
Step 3: Press "UPDATE" to install the latest WhatsApp version.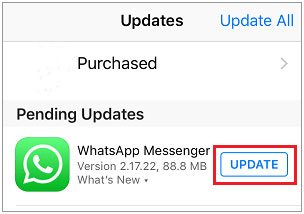 Fix 4. Clear WhatsApp Cache
Another way to fix the WhatsApp download not working is to clear the cache. This helps in removing the data stored on your phone that prevents the download from completing. A cache can confuse the software preventing it from managing the data as supposed to. So, clearing it can help. Here are steps to fix download failed in WhatsApp by clearing cache:
Step 1: Open the Settings application, tap on "Apps" and look for "Storage".
Step 2: Select "WhatsApp" to appear as a new page in your application list.
Step 3: Press "Storage" and select "Clear cache".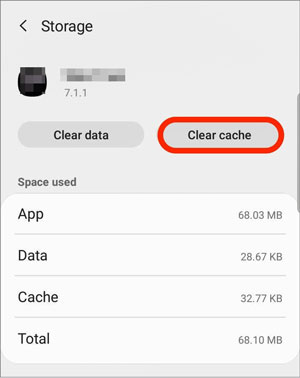 Fix 5. Reboot the Device
To many, the idea of restarting a phone or tablet sounds like a waste of time. However, if your WhatsApp doesn't seem to download the media files, try restarting it. There may be some glitches in the system, causing the app to not function properly. Here are steps to restart an Android:
Step 1: Long-press the Power button till you see the message asking you to either power off or reboot the device.
Step 2: Press the "Restart" button to restart the device.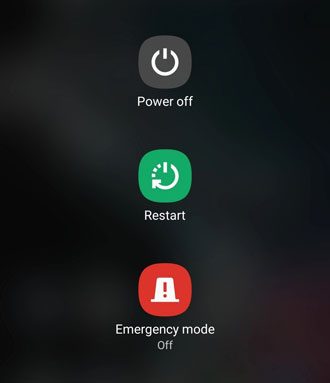 Fix 6. Check the Date & Time
If you still get the WhatsApp download failed on Android 11, it could be due to an incorrect date and time on your phone. The wrong date and time don't work with WhatsApp servers; that's why you may find your WhatsApp unable to finish downloading. To resolve this problem, follow the below steps:
Step 1: Head to Settings on your Android device, find "General management" and tap on it.
Step 2: Choose the "Data and time" option, set the current time and date, and check to ensure the time zones match your time zone.
Fix 7. Quit WhatsApp Beta Version
It's time you do away with the Beta version; if you keep getting the "download was unable to complete, please try again later" message. Sometimes, the beta version comes with a lot of bugs. And these bugs can sometimes, this WhatsApp version prohibit users from downloading media. Use the WhatsApp version from the Play Store instead of the beta version.
Here is how to quit the beta version of WhatsApp:
Step 1: Head to the Play Store and search for the "WhatsApp" application.
Step 2: You'll see the option to quit WhatsApp beta version.
Fix 8. Check Storage Space on SD Card
Why is the media data failed to download on WhatsApp? The answer might be because of insufficient storage space on the SD card. If you've set the media files to always download on an SD card and it's full, the download is likely to fail. Here are steps to check the storage space of your SD card:
Step 1: Press the Settings application to go to the settings page.
Step 2: Hit the "Storage" button. Here. You'll see two storage options; an SD card and internal storage. Choose an SD card.
Step 3: A new window will open, showing all files stored on the SD card. Delete the unnecessary files to create more space in the SD card.
Perhaps you need: Want to back up WhatsApp messages from Android to Mac? Here are 5 proven methods you can use.
Bonus: Transfer WhatsApp Chats and Media Files with WhatsApp Transfer
Nowadays, with all WhatsApp issues happening daily, you need a powerful WhatsApp data transfer tool that can save you in times of crisis. And that app couldn't be anything other than this WhatsApp Transfer.
With this app, you can transfer all WhatsApp data like WhatsApp messages, contacts, multimedia files, and so on between Android and iOS devices with just one click! Through this handy tool, you can transfer files in bulk without any download issues. By the way, it also helps when you cannot restore your WhatsApp media files on an iPhone or Android phone.
Highlights of this WhatsApp data transfer tool:
* Transfer WhatsApp data between Android and iOS devices with ease.
* Back up your WhatsApp messages from Android or iPhone to the computer.
* Support almost all Android and iPhone devices.
* Enable you to restore your WhatsApp backup data to mobile phones.
* Easily transfer your LINE messages to your computer for backup.
* Support the backup for WeChat, Kik, and Viber on iOS devices.
Download this WhatsApp transfer software.
Below are steps to transfer WhatsApp chat history and media files between Android and iPhone:
01Launch the app on the computer and choose "WhatsApp Transfer" from the primary interface. Connect your devices with USB cables and choose "Transfer WhatsApp messages".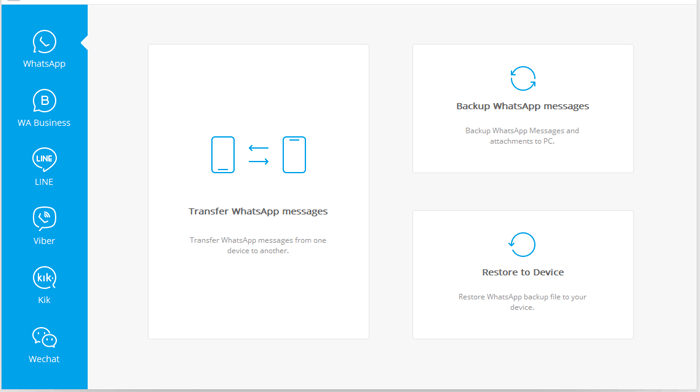 02Make sure both devices are in the correct positions, or you can click "Flip" to change sides. Next, click on the "Transfer" option to start the transfer process.
03Wait for the transfer process to finish and view the transferred files on the destination device.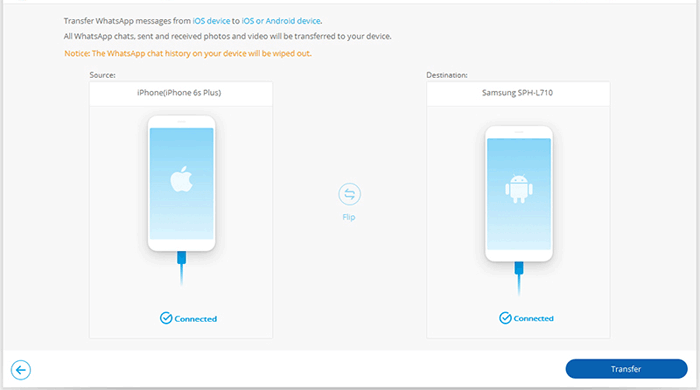 Conclusion
WhatsApp is one of the most used messaging apps we can install on our devices and use without restrictions. If you are getting a WhatsApp download failed error, the above are the applicable fixes that will solve the problem. Additionally, if you want to transfer WhatsApp files between Android and iPhone devices, WhatsApp Transfer is at your service. The app is effective in transferring files between Android and iPhone devices.
Related Articles:
How to Print Text Messages from Android [Clear Steps]
[Full Guide] Where Are WhatsApp Messages Stored On Your Device?
A Guide on How to Recover Deleted WhatsApp Images on Samsung in 5 Ways
Does Samsung Smart Switch Transfer WhatsApp Messages? [Comprehensive Guide]
Fast Fix WhatsApp Backup Stuck with Practical Tips in 2023
How to Recover Deleted PDF Files from WhatsApp? [4 Effective Ways]