Inside ePub books, there can be various errors in respect of covers, table of contents, texts, pictures or layouts that need modifying. Among all the aspects, table of contents is the most significant one, for it tells readers which page to turn to for each chapter or section. While in some books, the numbers of the pages are wrong, resulting in creating a bad impression on readers and wasting their time to look for the correct pages to continue reading. Furthermore, as the table of contents includes multi-level titles, once there're mistakes within, the same conditions will come up, dampening people's reading enthusiasm, or worse, losing a huge group of potential readers. In addition to these circumstances, you may also need to add something to the table of contents, or intend to edit the font, size and color of it to make it complete or look more attractive.
Generally, ePub files have two distinct tables of contents. One is nested with the document, and the other is merely a bookmark page inside the file, which lists all the entries to the table of contents available for readers to click on. ePub files bear a striking similarity to websites, since they both are made up of XHTML (Extensible HyperText Markup Language) codes, CSS (Cascading Style Sheets, a type of computer language used to display HTML or XML documents), and folders involving all pictures or links to these pictures. Hence, when you edit the table of contents of an ePub file, you need to edit the corresponding XHTML codes as well as the CSS for the bookmark links, just as what you have to do with a web page.
Currently there're a wide variety of ePub editors on the market. However, according to feedback from the users, quite a few of the editors have drawbacks that cause trouble. Some keep the files from being read on different devices after the contents are edited, and some fail to divide the files into proper parts. Coolmuster SignPub is an effective tool that helps you edit your ePub documents with ease and without those problems produced by other editors. You can either edit or add things to the covers, tables of contents, texts or pictures conveniently. No matter you're a Windows, Linux or Mac user, it will be compatible with your device. Don't hesitate, just use it, for this powerful software is truly worth your try!
Download the free trial version of the ePub editing software for Mac or Windows on your computer and then follow the Windows based tutorial on how to edit the table of contents in the ePub files. The operations on Mac are similar.
Can't Miss:
How to Embed Audio or Video Files in ePub
How to Edit Author Name in ePub Files
Step-by-step Guide Shows How to Edit Catalog Table in ePub Files
Step 1. Open Source ePub eBooks/Files in The Program
After getting the program downloaded and installed on your computer, there will be a shortcut icon of the program on your computer desktop. Double-click on the icon to launch the program and then import the target ePub eBooks or files to the program like this: click the "Open File" option to browse and open the ePub eBooks you want to edit, or directly drag and drop the ePub files to the software.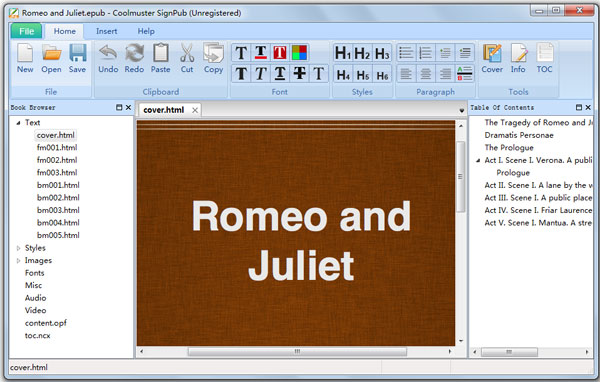 Step 2. Make editing on the ePub table of contents
Once loaded the ePub eBooks, all book information like name, author, pages, etc. will be shown clearly and all the ePub contents become editable. Double-click on the area of the table of contents and then you can add, delete, correct them as you like.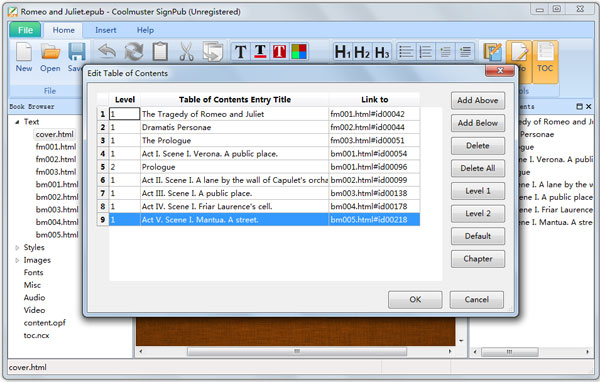 Step 3. Save The Editing of Table of Contents
After all the necessary editings, you can then click "Save" or "Save As" option to confirm the editing you've made for the ePub table of contents. There will be an output choosing dialog pops up, asking you where you want to save the edited ePub eBooks. Just specify an output folder from your computer and the whole process can be finished successfully.
A well-edited table of contents is crucial for a seamless reading experience in ePub books. Errors in covers, table of contents, texts, pictures, or layouts need to be addressed. Incorrect page numbers can frustrate readers, and mistakes in multi-level titles can dampen enthusiasm and deter potential readers. ePub files contain two distinct tables of contents, and editing them requires modifying XHTML codes and CSS. Among the wide variety of ePub editors available, Coolmuster SignPub stands out as an effective tool without the drawbacks of other editors. It allows convenient editing of covers, tables of contents, texts, and pictures. Compatible with Windows, Linux, and Mac, it offers a free trial version for users to try. Clear and correct table of contents is essential, and Coolmuster ePub Editor is the recommended software for precise editing.
Related Articles:
How to Edit ePub eBooks with Ease