The figure of users reading e-books, books in electronic edition, has been continuing the upward trend in the e-market in recent years. Since the PDF format developed by Adobe, which used to be the most widely used e-book file format, cannot adapt the contents to displays of different sizes, ePub, a new open and free e-book standard that provides automatic content arranging according to the display devices for optimized reading, has emerged to offer a key to such a problem. As a well-recognized e-book format, ePub supports changing the font, dynamically altering the text layouts, embedding images, is attached with complete book information, and uses the CSS typography.
EPub files internally utilize XHTML (a more strict type of HTML, HyperText Markup Language) or DTBook (an XML, Extensible Markup Language, standard) to show the texts, and pack up the file contents with the Zip compressing format. As a result, anyone can make such files, and because the contents are based on XHTML, anyone can read them as well. In addition to reading, some of you may also want to edit the ePub books on your devices. I heard an online friend who used to work in the traditional publication industry now attempts to learn about every step of the process of e-publication from selecting the font and colors of the words and the background, adding numbers to the pages, and setting different formats to appending notes and references to the books. Besides what's mentioned above, you may feel like adding videos or audio files to your ePub books to make them more vivid, exciting and appealing.
The ePub standard itself can cause some trouble for creating and editing e-books, as HTML is designed for web browsing, while e-books possess some certain features, such as pagination and have more accurate layouts. So as to well edit ePub books, you need a powerful third-party tool which makes such editing as easy as editing your Word files. Coolmuster SignPub is such a multifunctional piece of software that offers a one-stop solution to your editing needs of ePub books. Providing a user-friendly interface and supporting different operating systems, such as Windows, Linux and Mac, this useful editor developed specially for e-book users has a cornucopia of functions, including converting different formats for reading, automatically generating multi-level table of contents in line with the book titles, editing or adding electronic texts, pictures, photos, videos or audio files, offering various e-book viewers, book management, importing of texts of different formats, as well as publishing e-books.
Download the free trial version of the ePub editing software on your computer. Then, follow the steps as below to learn how to edit ePub eBooks or files directly on your computer.
Can't Miss:
ePub Title Editor - How to Edit Title in ePub Files
How to Embed Audio/Video Files into ePub Files
How to Change Author Metatag in ePub File
Step-by-step Guide on How to Edit ePub Files/eBooks on PC
Step 1. Open ePub eBooks/Files
Here, we set the Windows version as an example. First of all, download and install the program on your PC. Launch it and you will see its clear and user-friendly interface showing like below. Directly click the "Open File" option to locate and open the ePub eBooks you want to edit.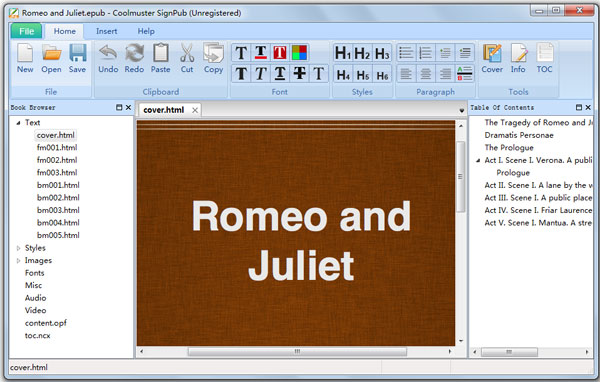 Step 2. Make Editings as Need
Once loaded the ePub eBooks, all book information like name, author, pages, etc. will be shown clearly. You can then choose all kinds of editing tools from the tool bar to add text, insert images, check spellings, and enjoy more ePub editing functions in this program. Just edit the ePub files as your needs.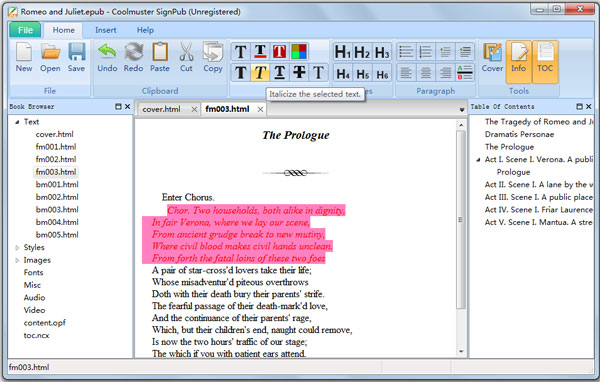 Step 3. Save ePub Editing
After all the necessary editings, you can then click Save or Save as option to confirm the editing you've made for the ePub files. There will be an output choosing dialog pops up, asking you where you want to save the edited ePub eBooks. Just specify an output folder from your computer and the software will put the newly created eBooks here.
Trying to make, edit or issue ePub books? Coolmuster ePub Editor will be the best choice to assist you in creating exceedingly beautifully-designed layouts with utter ease!
In conclusion, ePub has become a popular e-book format due to its flexibility and compatibility with different devices. While reading ePub books is convenient, editing them can be a challenge. That's where Coolmuster SignPub comes in. This powerful editing software offers a wide range of functions, including format conversion, table of contents generation, text and multimedia editing, e-book management, and publishing. With a user-friendly interface and support for various operating systems, it provides a seamless editing experience. Follow our step-by-step guide to learn how to edit ePub files on your computer and unlock the full potential of your e-book editing endeavors.
Related Articles:
How to Convert eBooks to ePub Format