ePub is a free and open eBook standard that created by the International Digital Publishing Forum. Files have the extension .epub can be read on all ePub friendly reading apps and devices like iPad, iPhone, iPod, Sony Reader, Nook tablet and so on. Nowadays, ePub is one of the most famous eBook format that can be compared with PDF format, another file format that is widely used in distributing and sharing files and documents among friends or colleague. Last time we talked about how to add music to PDF files so that the PDF file can be interesting and fascinating. Believe it or not, we can also add additional elements such as images, audio files and videos to beautify your ePub book and make it vivid.
To emed addtional elements into ePub files, you also need a third-party ePub editing application. Maybe your first thought is Sigil, also the free and open source software to edit and manage ePub books and files. However, you couldn't find any kind of documents or tutorials on the web that can tell you how to add videos or audio files to ePub by using Sigil, and there was no any functionality available on the tool to indicate the related inserting options. Well, it may already have occurred to you that Sigil doesn't support to insert any audio or video file into ePub books. We need to look for another way to helps embedding additional elements into ePub book or ePub file.
Sigil allows you to create a new ePub book but it doesn't include the function to add audio or video into an eBook. If you want to find a tool that can not only enables you to create an ePub book, but also edit the ePub book such as inserting images, videos and music into the book, you should try out the Coolmuster SignPub, which is fully capable of inserting audio/video into ePub book, adjust the fonts, embed text or tables, modify the author, title, series, type and more, create new ePub book and even customize the cover for your ePub books. With it, embedding music and videos into ePub book can be a piece of cake.
Since SignPub comes with Windows and Mac version, you should choose the right version according to your own situation. The following is the guide on how to add audio and video files into your ePub books step by step:
Tutorial on Adding Music/Videos to ePub Books on PC
Step 1. Launch the software and add source ePub book
After downloading and installing the software, launch it and click the "Open" button to import the target ePub eBooks or files to the program. Or you can directly drag and drop the ePub files to the software. After loading the ePub book, navigate to the target page, point to the location where you want to insert the audio/video with your cursor.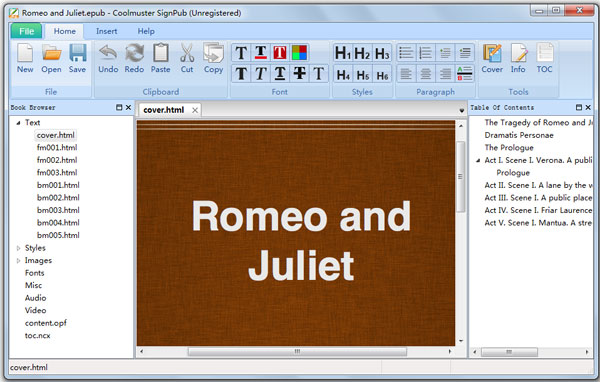 Step 2. Browse for the target audio/video files
Go to the top menu, click on the "Insert" button and choose "Add Video/Audio" from the drop-down menu. A file browing window will appear, from which you can choose the audio or video files you want to insert into this ePub book.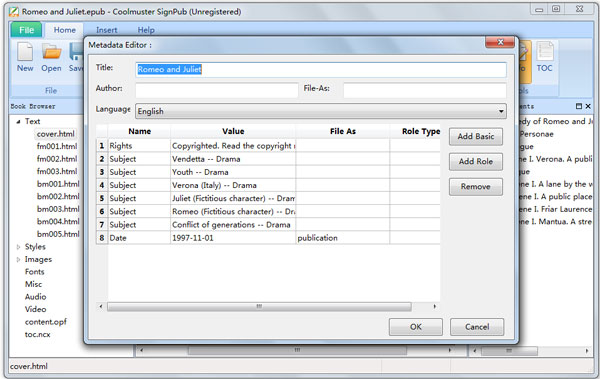 Step 3. Save the edited ePub book
After the above editing, you can then click "Save" or "Save As" option to save the edited ePub book with the additonal video and audio file embeded. The last thing you need to do is choosing an output location from the pops up dialog to save the edited ePub book. Done!
Related Articles:
How to Edit ePub Table of Contents