It is no more a strange thing to see more and more people are reading books directly on their iPhone and iPad. But among these people, quite a few people are just reading books online. Although the books are free for your reading, you have to spend much money in paying for accessing the Internet every time you are reading books online. Actually, the fees spent on internet can sometimes buy you a paper book. So in this passage, I will tell you several useful books applications to download free books on your iPhone and iPad, so you are free to read these books without accessing the internet.
Get Best Books Apps:
Being the most popular eReader,Amazon boasts of the most books in the world. This application has access to more than 3,000,000 books and audiobooks including over 850,000 Kindle exclusive titles. With the Kindle app, you are able to get your book once and read it on any device and share across your family's devices. You are free to choose from a wide selection of books, newspapers, and magazines from Wall Street Journal, New York Times to Reader's Digest. But not all books are free for your download, you can hit up Amazon's Kindle store and ask it to sort by price: low to high.
More Features:
* This application allows you to build your own library. You can read a sample of any books before adding it to your library. After downloading one book, you can share it between your families and friends without any limitations.
* With this application, you can have the best reading experience. For example, with this application, you are able to enjoy nighttime reading since it can adjust the screen brightness, you can change highlight colors and do everything to optimize your reading experience and enjoy your reading journey.
2. Barnes & Noble via Nook App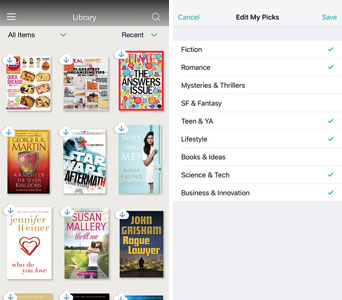 This application is also a powerful eReader worth for your attention, although it is not as popular as Kindle. This application is totally free for all iPhone/iPad users. Within this application, you can find your wanted books at different categories. This free reader app has a library of over 4 million free best-selling eBooks, magazines, comics, and kids' books in every genre including fiction, romance, business, sci-fi, mystery, and more - including 1 million free titles. Not all books in this application are free to iPhone/iPad users, but you can find free books within this application. You can download free sample Nook books and try any newspaper or magazine free for 14 days.
More Features:
* You can shop the NOOK Store and find titles tailored to your interests with ultra-personalized recommendations. This will display all recommended books in accordance with your taste.
* You are able to enjoy a wonderful reading experience with this application. This application will save bookmarks so you can continue from where you have stopped last time.
* Best of all, this application has a section to donate free Nook books, so others can share various resources from different people.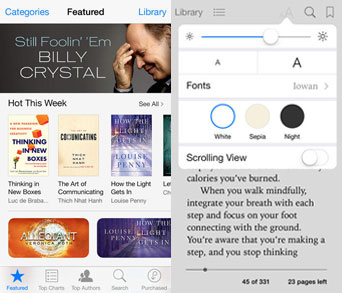 iBooks is an eReader developed and released by Apple company. This application is fully compatible with all generations of iPhone, iPad and iPod devices. With iBooks application, you can freely download or read any books on your iDevice. The iBook Store within this application allows you to download the latest bestsellers or your favorite literature works.
More Features:
* This application allows you to open as many books as you like when you are reading on a Mac.
* You are free to choose the way you want to read. You can read one page at one time, turn on your iPad on its side and view two pages in one window, read books on a full screen or read in nighttime mode.
* You can find many fully illustrated books, including children's picture books, designed art books, photo books, cook books, and more from the iBooks Store.
* Once you have downloaded the wanted books, you can also see these books in iCloud right on your bookshelf. These books can be saved on your iCloud as a backup!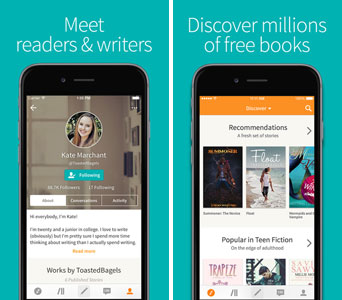 As a top 5 book application for the consecutive third year, this book application allows you to download stories and books so you can read offline. You can search popular genres and trending topics to find any story which may suit your taste. You can follow stories as they have been finished or get updates for new chapters.
More Features:
* After saving books to your library, you can share what you are reading and how you think about the book with your friends by making comments on Facebook, Tumblr, Instagram, Twitter, and all the social media platforms.
* Once you have found interesting books to read within this application, you are able to directly connect with writers to share your feelings or with other readers to discuss the plot twists and characters if you like.
* With this application, everyone can be writer, as long as you have the sheer passion for being a writer. You can write your own stories and then share your writing with the supportive Wattpad community.
Write in The End:
The four ebook applications mentioned in the above are top-notch eReaders to directly download books on your iPhone and iPad. But the sharing disadvantage of the four applications is that not all books within the application are free to download. Therefore, you can also try another way, i.e. download books to computer and then transfer books from your computer to iPhone or iPad. Then this Coolmuster iOS Assistant might be the tool you will need to transfer files from computer to iPhone/iPad. Moreover, in this way, you can also save these interesting books on your computer as a backup in case of sudden data losses!
Related Articles:
How Can I Keep iPhone/iPad/iPod Healthy