Listening to music is one of life's greatest pleasures. It can uplift your mood and enhance your overall quality of life. Music nourishes your soul by connecting your mind and spirituality, triggering the release of dopamine.
When you listen to music, you can distract yourself, spend your quality time well and reduce any stress you might be having. There are many sites and platforms where you can download music. However, many people don't know how to download music on iPad.
In this article, we'll provide you with everything you need to download music to your iPad.
Part 1. Can I Download Music to iPad?
Yes. It is possible to download songs on iPad. With the right tools, you can do that efficiently and effectively. There are several music streaming services that providers can help you access your favourite artists and songs. This way, you will be able to listen to the beats you like on your iPad comfortably. Whether you like pop, rap or any other music genre, you can easily download the music that best fits your taste.
Part 2. How to Download Music to iPad with Music Transfer?
If you transfer music from iTunes to an iPad, all your current songs available on your iPad will be deleted. This can be a problem if you don't want any of your songs to be lost. Although iTunes may not fully meet your needs, you can use a powerful iPad transfer tool called Music Transfer to transfer music between your PC and iPad.
With this service, you can easily sync music from your computer running on Windows 11/10/8/7 to your iPad without losing any of the songs that are already on your iPad. It also allows you to transfer music from your laptop to your iPad, even if the iPad does not recognize the file format.
Some key features of Music Transfer:
Transfer songs from computer to iPad.
Transfer various files, such as videos, music, and pictures, between your iPad and your PC or sync them directly to iTunes.
Get contacts, calendar, and photos from iPhone onto Mac or Windows computer.
Compatible with all Apple products.
Below is the download button for the Music Transfer.
Check out the steps:
01First, download and install Music Transfer. Then, connect iPad to the computer using a USB cable and wait for a few seconds until the device is recognized.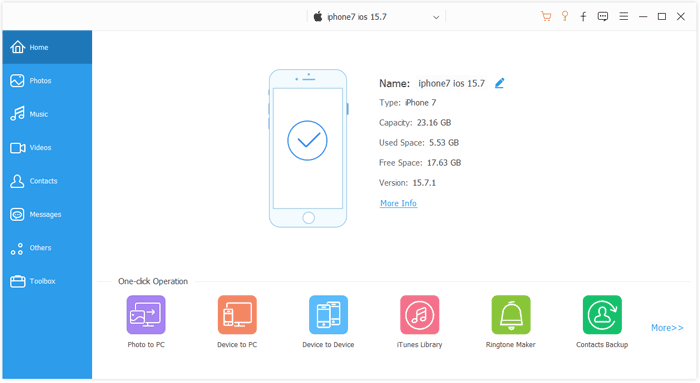 02To view only music files, click "Media" and select the "Music" category.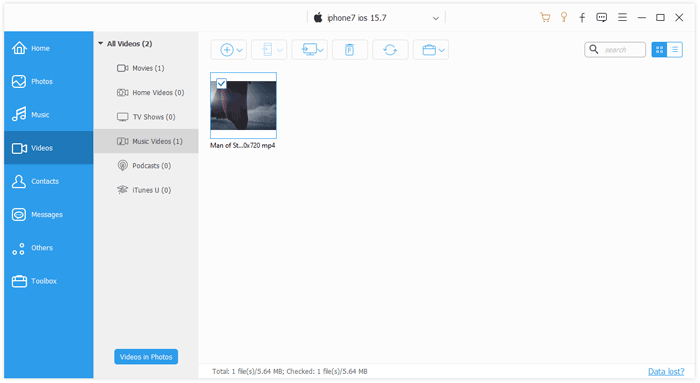 03To transfer music files from your computer to your iPad, select "Add" and then choose "Add Files" or "Add Folder". Make sure to select the music files you want to transfer.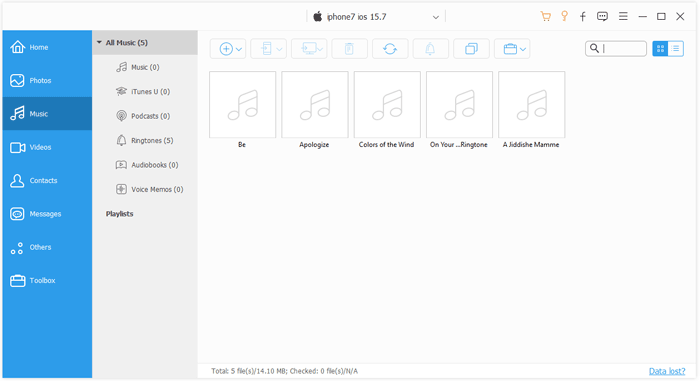 May Like:
How to Retrieve Deleted Text Messages on iPad?
How to Transfer Music from iPad to iPod [Simple & Reliable]
Part 3. How to Download Music on iPad Directly via iTunes?
iTunes is an official companion application that allows you to handle everything from music list management to content curation based on your personal preferences. With a massive user base and the ability to effortlessly search for and listen to your favourite artists, iTunes truly serves as the ultimate hub for all your music requirements.
You can download songs to an iPad by purchasing them from iTunes or getting a copy from an external source. It is always easy to get content from the internet, but it does come with its share of problems. First, you have to arrange the music manually, which is a hassle. Thankfully, iCloud Storage helps sync content between iTunes and iPad. However, you won't be able to choose because all your songs will be synced automatically.
Let's check the steps to download songs onto your iPad manually:
Step 1. Plug in your iPad to your PC with a USB cord and launch iTunes.
Step 2. Select the songs to sync to iPad from the iTunes library.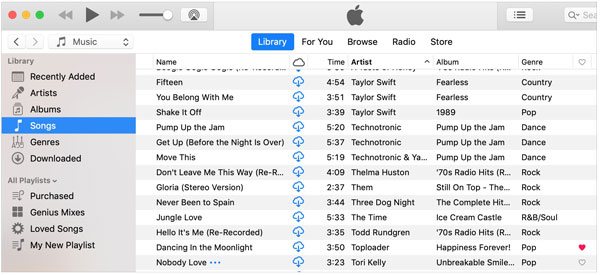 Step 3. Find your iPad on the left window, then drag the items you've selected to it.
Read More:
How to Transfer Music from iPod to iPhone Easily? (3 Simplest Ways)
How to Put Music on iPod without iTunes? (4 Effective Ways)
Part 4. How to Download Songs on iPad by Spotify?
Spotify is one of the best apps you can download music from. It provides various genres, from hip-hop, rap and pop to electronic music. Just search for artists or songs and download them directly on your iPad.
However, before downloading the songs, you should have the Spotify application already installed on the device. Also, you must have a Spotify Premium account. After that, you can now start downloading your songs.
Here are the steps:
Step 1. Download the Spotify iPad App
Open the App Store application on your iPad, then search for Spotify. From there, click on the "Get" button and hit "Install".
Step 2. Save Songs to iPad
Open the Spotify app on your iPad and sign in to your Spotify Premium account. You can then search for and select the music albums, tracks, or playlists that you wish to download onto your iPad. To save music for offline listening, tap the downward-facing arrow located on the top left. You can access the downloaded music by clicking on "Your Library", and then on Music.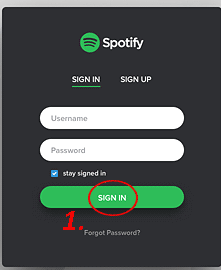 Can't Miss:
How to Transfer Music from Android to iPod in 2023? (3 Efficient Ways)
How to Transfer Music from iPod to iPod [Must Read]
Patr 5. How to Download Music on iPad Through eSound Music?
eSound provides a user-friendly interface for downloading music for free based on your preferred type or artist. It is a convenient platform, allowing for easy downloading with just a few taps. This app is considered the best option for those looking to download free music that suits their preferences.
The app has a sleep timer feature that functions similarly to Spotify's Sleep Timer. You can set a timer for the songs to automatically stop playing at a specific time. Additionally, it is simple to download songs from eSound, and they will be saved to an offline playlist. Here are the steps for downloading music to an iPad:
Step 1. Open the eSound app, and register. Then click on the artist's name. If not, you may use its search button located at the lower right to find a song.
Step 2. After finding the song, choose it to head to the menu for the music player. Tap on the horizontal dots located next to the name of the song. Once done, click on "Download offline".
To access your downloads, tap the "Cancel" option at the lower part of the screen. Then click the "Library" option at the lower section and head to the "Saved songs".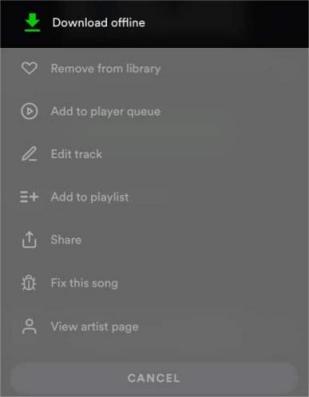 Further Reading:
How to Transfer Music from iPad to Computer? Top 3 Ways You Can't Miss
How to Transfer Music from iPod to Android (2023 Updated)
Conclusion
Downloading music to iPad is a simple process that can be completed in just a few steps. Whether you want to use Spotify, the eSound Music app or Music Transfer software, the choice is yours. All of these methods offer different ways of downloading music from your computer or online sources directly onto your iPad. With these methods, you can easily access your music without the need for an internet connection. Among these methods, the most recommended one is still Music Transfer. So what are you waiting for? Download and enjoy your favorite songs on the go.
Related Articles:
How to Transfer Music from Computer to iPod [Fast Transfer]
4 Best Ways on How to Recover Deleted Notes on iPad
iPhone Music Manager: Transfer, Add and Organize Your iPhone Music
How to Transfer Music from iPhone to Computer Effectively? (4 Tips)