How to Recover Deleted Notes from iPad Pro/Air/4/mini?
Imagine spending a whole afternoon creating and loading up an iPad, such as iPad Pro, iPad Air, iPad 4, iPad mini and other iPad models, with notes for an upcoming exam. Yet, on the day of the exam, you get your iPad out for some last minute revision and find that the notes have vanished. Well, the long term solution is to stop letting people with clumsy hands use your device – the likely story is that the notes have been accidentally deleted. The real question is, are there any short term solutions? Fortunately, there are a number of ways to recover notes on the iPad. If you have ever synced your iPad notes with iTunes before, you can extract the iPad's iTunes backup file and restore them to your iPad.
However, we all know that iTunes files are unreadable and inaccessible. To access the iTunes backup file, you can ask help from third-party tool like Coolmuster iPad Data Recovery or iPod Data Recovery for Mac. It recovers deleted and lost files from not only iPad, but also iPhone and iPod as well. The software is compatible with notes, videos, music, contacts, text messages, images, and text based files, so there is nothing which has to be out of reach forever. Its functions as not only a recovery program, also it allows you to backup recovered files on computer so that your data can be kept safe and secure. With the Coolmuster iPad Data Recovery tool, however, iPad notes recovery is simpler than you might think.
The reality is that files do get unintentionally deleted from iPads, especially when users are distracted by other programs or they lend their devices out to inexperienced family members and friends. If you want to find out how to recover important notes which have been lost or deleted from an iPad, use this three step guide to get to grips with Coolmuster iPad Data Recovery.
These articles may also help you: iPhone 6 Data Recovery; iPod Data Recovery.
Tutorial: Recover Deleted or Lost Notes from iPad with iPad Data Recovery
The following steps are running on a Windows PC. Mac users can take the Mac version and follow the steps below, too.
Step 1: Download and install iPad Notes Recovery program
The first step is to hit the DOWNLOAD button on the above and wait for the install process to finish. The Coolmuster interface window should open automatically and present you with a list of all the iTunes backup files you have made on the computer. Choose the one for your iPad and click "Start Scan" option.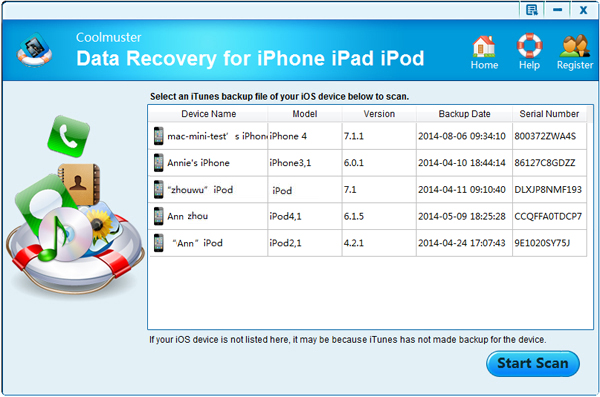 Step 2. Select the notes you want to recover
The program will start to scan all the backup files for your iPad, which can be recovered. This should only take a few minutes and when it is finished, the recoverable data will be sorted into clearly organized categories. Now, navigate to the NOTES folder and browse for the files which you want to recover.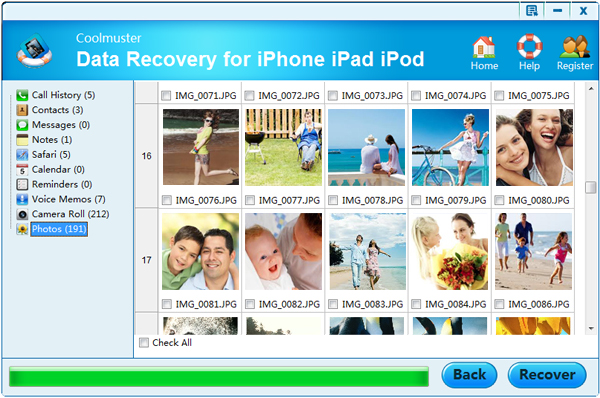 Step 3. Hit the RECOVER button to begin the iPad notes recovery
Once you have checked all of the notes which you want to retrieve, hit the RECOVER button and wait for the process to finish – again, this should take no longer than a couple of minutes.
It is a good idea to backup recovered notes by saving them in more than one place. Then, if they do get accidentally deleted again, you have another copy.
Related Articles:
How to Recover Data from A Stolen iPhone