How to Transfer Music from Computer to iPad
Music is food for the soul. Listening to some of your favorite songs may be what you need to lighten up a dull day. But what if, these songs are on your computer and you need them on your phone where you can easily access them? It seems much flexible for you to have them in a small portable device and listen to them irrespective of where you are. Here in this article, you will get to know how you can transfer this music easily and quickly from your personal computer to your iPad.
Method 1. Sync Computer Music to iPad via iTunes
Method 2. Easiest Way to Transfer Music from Computer to iPad Pro/Air/4/mini
Why need to transfer music from computer to iPad?
• When you want to easily access and listen to it even when you are away from your computer.
• To restore the music back to your phone if you had a computer as a backup.
• When you lose your phone and want to retrieve the music and copy it to your new iPad.
Read More Articles:
* Guide on Syncing Ringtones to iPhone
* Sync iPhone Music to New Computer
Method 1. Sync Computer Music to iPad via iTunes
i. Open the latest iTunes on your personal computer.
ii. Tap on iPad on the left top and select "Summary" menu.
iii. Click on checkbox of "Sync Music" to allow you to manage music and videos and click on "Apply" button to save the settings.
iv. Click music icon on the library then drag and drop each song you want from the playlist to iPad's name.
v. To move many songs, choose the keyboard shortcut by holding the "CTRL" key on your computer and select the song(s) you want to export.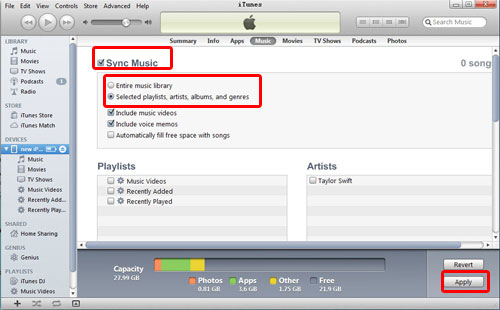 Method 2. Easier Way to Transfer Music from Computer to iPad Pro/Air/4/mini
The iOS Music Transfer is an essential software that allows you to transfer the necessary files like music, albums, contacts, photos and videos and other data from computer or one mobile device to another. If you lose some data on your iPhone/iPad/iPod and have backed up the contents on a computer, the software should be a perfect option for you to transfer music, contacts, photos, calendars, videos, notes and etc. among computer and iDevice.
It is highly recommend this software because it is 100% efficient in dealing with any data transfer matter. It is effective quick and easy to use. And simple steps are enough to easily transfer music from computer to iPad in a batch! So what are you waiting for?
Here is how:
Step 1. Download and launch the installed program on your computer, and link your iPad to PC with a USB cable.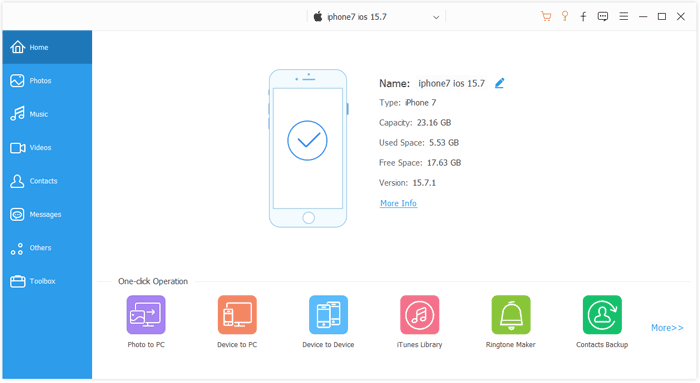 Step 2. Then you might see an interface of the program, then click the "Media" option where you can preview all the multimedia files including the music files on your iPad.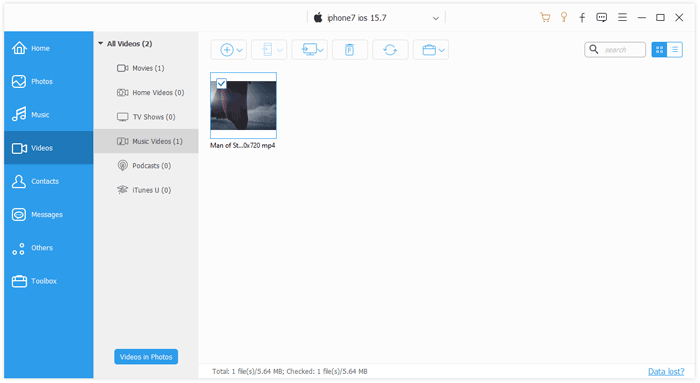 Step 3. Click "Add" option the top and select the music files from computer to export to your iPad device immediately.
Know more about this software:
1. Moves files from iOS device to computer. When you want to move content from the computer to your iPad, many people have a problem. This software enables you to transfer files with 100% compatibility and without losing any data. You can export the data from computer to iPad/iPhone/iPod, from one iOS device to another and from iOS device to computer.
2. It enables changes like allowing you to preview data in a different mode which is thumbnail or list view mode.
3. It helps you find the file you want quickly and efficiently. With the use of a search box, you can type in the name of the archive to find it in one click.
4. It enables you to manage the contents like music, videos, photos, etc. from your personal computer.
Related Articles:
How to Easily Transfer Songs from CD to iPhone