Why do you need to export iMessages from iPhone to your computer? In these situations, it is important that people know how their iphones works and what kinds of functionality that they have available to them. One of which involves exporting iMessages from their iPhone to their computer. Even though this type of process is relatively common, there are several key reasons why people would elect to export this information and that include the following:
- Backing up information to keep a duplicate
Some people send all kinds of messages via iMessages today. In fact, when they want to keep up with friends and family that they like, they may send lots of text messages on different types of topics and pictures too. Because these messages and photos can be invaluable to them as memories or documentation that they may need at a later day, it is essential that they keep this information in a format that is always easy to access. This is one of the main reasons why many of today's users will export their messages from their iPhone to their computer.
- Broken phone
Another common reason for exporting iMessages from an iPhone to a computer involves phones that have been broken. When a phone has been broken and cannot be fixed for use again, people can still access this information when they need it, if they transfer this data to their computer by exporting it.
Related: Restore iPhone with A Broken Screen
- The purchase of a new phone
In addition to exporting imessages from a broken iPhone to a computer, it is also a very common practice for people to transfer the text messages, photos and other media to their new phone. This process is normally done when their iPhone may be transferred into the hands of a new user. So, they will no longer have access to the phone nor do the other user need to keep this old information.
Also Read: Things to do after getting a new iPhone
User Guide: How to Export iMessages from iPhone to Computer
Exporting imessages from an iphone to a computer can be done easily if the user has access to the right type of software application. In fact, this is where Coolmuster iOS Assistant (Windows/Mac) software is highly recommended, especially by people who have had these and other similar processes to take care of. With coolmuster.com, the process is simple and easy to do since it can be done in 1 to 3 steps. For instance, the user can follow the steps provided below.
Step 1: Download and launch the coolmuster.com application on the computer and connect a USB cable to both the computer and the iPhone.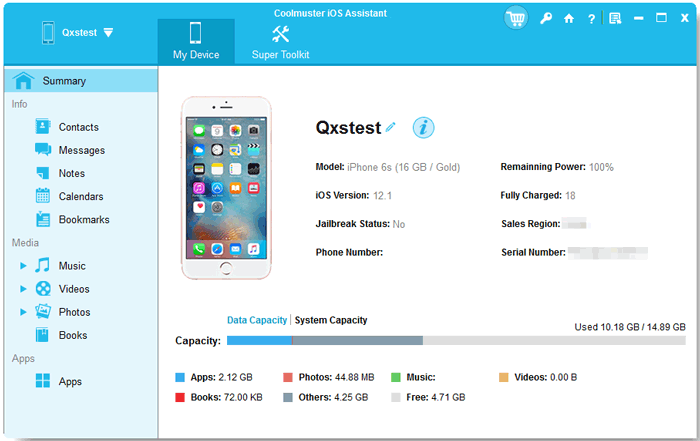 Step 2: When this step is complete, the user will see an option that allows them to export their imessages.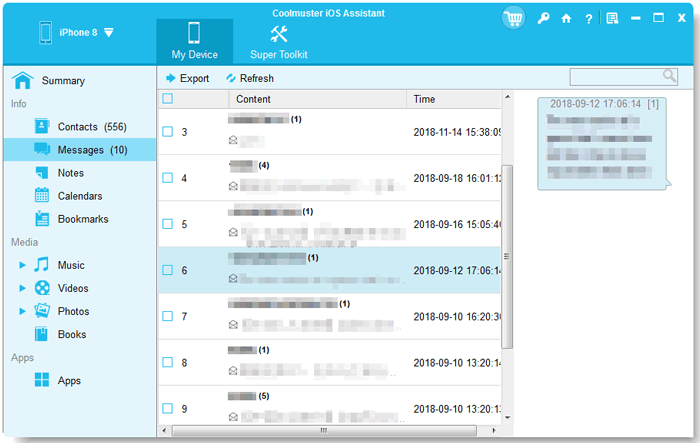 Step 3: Before the Export button function is clicked from the menu that the user views, they will also have a chance to send all of the imessages at one time or to pick and choose only those imessages that they need or prefer.
Other major features of this software:
Actually, this iOS to Computer Transfer software has a wide range of features that people can use to do a number of different essential things. Some of the most notable are provided below;
- Backup iphone data on a computer before transferring an old iphone to a new user.
- Transfer photos, videos, and other media from an iDevice (iPhone, iPod, iPad) to a Mac computer.
- Unlike other professional files, this software offers you the simplest user interface.
The Bottom Line
To name just a few. If you want to know all details about this software, why not simply get the free trial version of this software and give it a try by yourself? It surely won't let you down!
Related Articles:
Back Up iPhone to iCloud and Restore iPhone from iCloud Backup Fast
9 Top-ranking Titanium Backup Alternatives to Back Up Your Android Phone Easily
How to Transfer Photos from iPhone to Flash Drive with or without Computer?
How to Transfer Files between Android and Flash Drive via OTG?
How to Transfer Photos from Android Phone to USB Flash Drive [3 Ways]